CARIBAVIA'22:

Backing leisure travel - keynote speaker highlights how tourism can help

By Alison Chambers.
Airlines are back and people are flying again, highlighted Gavin Eccles, Professor Aviation and Tourism at Lisbon University, Portgual, making his debut at CARIBAVIA.
The low cost carriers have led the ramp up, especially in Asia - which is forging ahead as the real growth territory. Asian LCC's have been booming pre pandemic but Covid forced China to go domestic, which was very strong in 2020 and 2021. Slowing over the last few months with their lockdown, China nevertheless opened new airports. US LCC's also logged more bookings during the pandemic and new two LCCs were launched - Breeze Airlines and Avelo.
Domestic tourism has surged globally with crazy recent examples like Bozeman Yellowstone International Airport in Montana becoming the busiest airport in the world - with 30 movements an hour inside two weeks.
In Europe Lufthansa is piling into Greece and Portugal. Sun Express in Turkey is making great strides with its leisure-driven focus, capitalising on its joint venture with Lufthansa and Saudi Arabia is self sufficient with its own tourism drive through the introduction of the Saudi National Air Connectivity Programe. It is focusing on 330 million passengers in 2030 coming into its new resorts - 227 million of them it anticipates, will be new travellers.
Covid has changed airline planning
The pandemic has changed airlines' behaviour he opined, which has brought about the emphasis on leisure destinations and the traveller's constant wish to follow the sun. Even in Portugal it gets chilly in the winter, Prof Eccles quipped. Understanding seasonality and how quickly to move and position aircraft to fulfil travel demand is key.
Typically, airlines would be doing their network planning over six to eight months; now it's more like four to six weeks – so airports and tourist boards need to be adaptable and flexible to keep up. It has become a challenge, he notes, because the airports don't have easy slot availability. Gatwick and Schiphol Airports have just confirmed they are capping annual movements – on the one hand there is the sustainability argument - but in truth it's also about workforce challenges - not enough staff for the operational hours.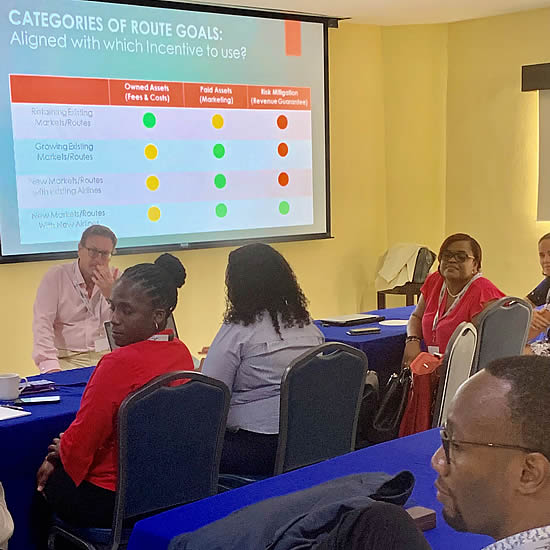 Professor Gavin Eccles' Routes and Tourism workshop.
Gavin had some solid advice for the tourism representatives at his well-attended workshop the following day. Don't just leave connectivity and route development planning between airlines and airports. Tourism boards should work hand in hand with their partners to maximise the value to their regions and local economies, because the days of the fully integrated airline/tour operation/hotel grouping are falling out of favour.
Understand the strategies and drivers and constraints of the airline and airport when it comes to building routes of strategic importance and brush up your own marketing strategy. Focus on the key selling points of your destination - and don't leave the air 'service' to the airlines.
Partnerships becoming key and Airbus XLR game changer
Airlines are now relying on more partner agreements to carry passengers into partner home markets (with known brands and their local knowledge). Corsair and Air Caribes may for example align with Air France - neither being full schedule airlines nor integrated with tour operators, he suggested. There will also be less choice for the Caribbean airlines when more US airlines align or merge.
Long haul leisure travel and the advent of the low cost hybrid (leisure) carrier is going to be a big driver in the future, he suggested. A big game changer in this and for the Caribbean too will be the arrival of the new 4,800 nm Airbus XLR Xtra Long Range aircraft, being readied for service entry in 2024. It has the range to connect the Caribbean with West Europe, West Coast USA and West Africa - deliver 15% more range than the A321LR and minus 30% fuel burn per seat. What a great opportunity for airline/airport/tourism to come together and explore the best destinations for this single aisle, Prof Eccles suggested.