CARIBAVIA'22:

Ampaire - hybrid electric will deliver big benefits in the Caribbean

By Alison Chambers.
Bringing the right people together to make business happen is what drives Cdr Bud Slaebbart, founder of CARIBAVIA and this year audience reaction to an especially engaging presentation by Brice Nzeukou, Director Business and Product Development, looks like it has set Ampaire on the path to establishing a Caribbean base
Introducing the Los Angeles based company and its mission since 2016 to decarbonise traditional aviation, Brice spoke about the platforms that Ampaire is working on. "We have a vision for air travel with energy-optimised aircraft that are clean, quiet and affordable," he said, noting we are right on the precipice of making a major impact on the aviation industry as a whole. Ampaire's offering toward carbon neutrality combines sustainable aviation fuel and hybrid electric technology.
"Every single category of aircraft will go hybrid first we believe," he said, because it is scalable to existing regional aircraft programmes. ESG will enable net zero emissions for aviation as well as reduce fuel consumption by 50% reducing MRO costs and aircraft noise profile.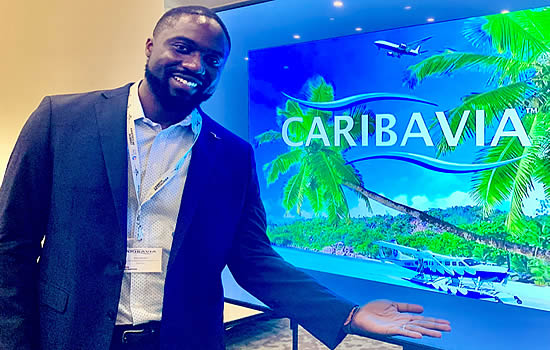 Brice Nzeukou, Director Business and Product Development, Ampaire.
Ampaire, now stand alone after the Surf Air acquisition collapsed earlier this year, actually started out to develop an eVTOL aircraft, Brice explained - a market that has now started to get crowded with the likes of Joby, Lilium, Eve, etc. However, when we looked at it the technical and regulatory challenges were complex. We looked at where the traditional regional aviation sector was evolving and determined our move to hybrid electric models. "This is because batteries are heavy and sensitive to weight. Hydrogen pledges net zero and once the costs come down to an appealing price point we can incorporate that into our aircraft too in the long term. With our solution we don't have to wait for 'magic batteries' and other components to get better performance, he explained.
The Eco Caravan pledges attractive savings
The Ampaire solution - a converted Textron Cessna Grand Caravan utility aircraft - ready to market in 2024 - seems an efficient, affordable fit for Caribbean operators / and airports because it doesn't require specialised infrastructure – at origin or destination. Also, battery maintenance will only be needed at 50,000 hrs - that's more than the life of the Cessna Caravan itself.
Ampaire's roadmap started with the Cessna 307 Electric Eel in May 2019. Successful demonstrations were made in the USA, Hawaii, Scotland and latterly in Devon and Cornwall last summer. After the Eco Caravan it is eyeing a hybrid version of the Twin Otter (called the Eco Otter). Future applications presented in a slide showed the Pilatus PC-12 and King Air - right up to a 30 seat turboprop.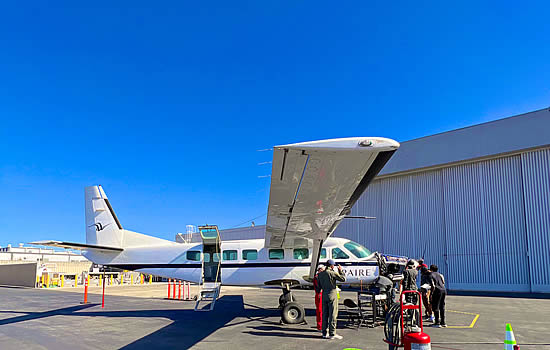 Eco Caravan on its first ground test.
Ampaire is positioning its hybid electric Caravan as the Prius - with a 40kw battery (the Tesla car has a 100w battery). "Our combustion system does not tap any life-limited parts," said Brice and with inter-island flying taking place at low altitude, the aircraft can make make multiple round trips before having to recharge the battery, giving it a higher cycle time between recharging and actually improving the powerpack's longevity.
Appealingly too, charge can be carried out during cruise. For example, on the popular St Maarten to St Barth route less than 10% of the battery would be used back and forth. Recharging is also achievable on the ground in just an hour.
For Caribbean operations this is going to be compelling for new routes and previous routes that were unprofitable before, he suggested. On point, Brice highlighted St. Barth Commuter which uses the Grand Caravan EX. for the 20 statute mile flights between Grand Case Airport in St Martin and Princess Juliana Airport in St Maarten. Journey time is eight to nine minutes, altitude 1,000 ft. The Eco Caravan, he highlighted will burn five gallons of fuel, versus 13.3 gallons for the Grand Caravan, resulting in an overall cost trip of US$100 for the Eco Caravan aircraft versus $173 for the Grand Caravan.
The Eco Caravan would also be suitable for longer, higher altitude routes beyond Guadeloupe - with a range of 470 nm with 10 occupants, taking in Dominican Republic or Grenada from St. Maarten. With short distances between these islands, operations in the region are generally characterized by high cycle-to-flight-hour ratios, increasing the maintenance costs on turbine aircraft by hitting life limits on the rotating section more rapidly and meaning overhauls every two years.
Ampaire has started ground testing on the Eco Caravan and is targeting 18 to 24 months for a supplemental type certificate, which would see entry into service by mid 2024. Brice meanwhile, is likely to be back in the Caribbean well before that.