United Kingdom
BBGA leads industry in mourning the passing of bizav veteran Howard Povey
The British Business and General Aviation Association (BBGA) has expressed sadness at the passing of industry colleague and valued BBGA Board Member Howard Povey on 30 May after a short illness.
Howard was a popular, revered business aviation professional, with nearly 30 years' experience in aircraft sales, customer service and MRO.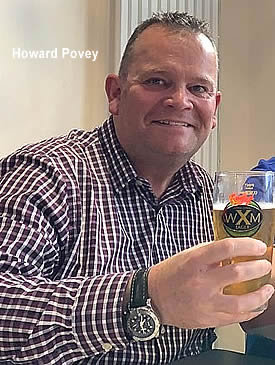 He started his career as an apprentice with British Aerospace Corporate Jets in the late 1980s at Chester Hawarden, along with several industry contemporaries Alan Barnes, Peter Griffith and James Dillon-Godfray, who were based at Hatfield. The four would regularly meet on BAe HS 125 projects and remained firm friends right through their careers.
Howard's first aircraft support role was with Raytheon's Hawker Aircraft maintenance business at the Chester Service Centre, overseeing post-sales upgrades and modifications. He worked alongside then commercial manager Colin Singleton, quickly becoming an integral part of the team, liaising with the Hatfield-based sales team.
Howard built up terrific working relationships with customers from across the world who would return their BAe 125 jets to Chester for maintenance work.
After a few years, Howard moved into aircraft sales, brokering Hawker aircraft in Europe, the Middle East and Africa. In 2007 he took responsibility for sales of new and pre-owned King Air aircraft as the OEM's Regional Sales Director, Northern Europe.
Following the sale of Chester-based Hawker Beechcraft Ltd to The Marshall Group in 2012, Howard widened his role under the new management.
Howard supported Marshall Business Aviation and Marshall Executive Aviation when the business, led by Steve Jones, became the first UK sales representative of the HondaJet. Howard worked out of Chester and Cambridge Airports supporting Marshall's expanded portfolio of businesses.
Aerocare General Manager Jason Davies had the honour of working with Howard for nearly 30 years on a shared career path. "He was always extremely professional in the way he conducted himself and was dedicated to all his roles. His priority was always to put the customer first, ensuring they had the best experience possible. "The business aviation community has lost a true ambassador," he remarked.
In early 2019 Howard was delighted to join Guernsey-based aviation group Pula Aviation Services as Business Development Director where he had been focusing on the growth of the group's various businesses, including aircraft sales, charter and management, FBO and maintenance divisions as well as exploring new business opportunities. Howard was actively involved in the acquisition of Capital Air Ambulance and Airpart Supply, as well as overseeing the winning bid for the prestigious MoD CSAT programme in January this year.
Howard was a keen golfer and was thrilled when aviation events included a round of golf. He regularly scooped up the prizes. He also enjoyed football and was delighted when his local club Wrexham FC secured high profile new owners.
Howard also loved tennis. Former work colleagues fondly remember not daring to take holiday during Wimbledon week because Howard had already booked it off to help provide line judge support – an interest he shared with his younger brother Owen who passed away at an early age. Howard also played hockey in his younger years.
Howard leaves a widow, Camilla and teenage children Abigail and Matthew. Our deepest sympathies to them.
Former colleagues/ friends wishing to make a donation: https://howardpovey.muchloved.com/