France
Falcon 6X - The last lap before the World Tour
The Falcon 6X flight test program has cruised past 900 hours, completing envelope expansion, engine performance testing and many other certification requirements.
Flooded runway tests are ahead. The fourth of six aircraft will undergo route proving tests, which will take it around the world; while aircraft #5 and #6 are undergoing completions in Little Rock, Arkansas.
Production is ramping up with the 2nd serial number starting. Aircraft number 16 is at the head of the production line. Pilots from the European Union Aviation Safety Agency (EASA) are flying with Dassault crews for final checks, with entry into service expected mid-2023.
The toughest test of all - the real world
Later this month, the first production aircraft will begin a grueling 40-stop, 150-hour, round-the-world tour. These aren't publicity flights. The aircraft is loaded with engineers and technicians who will put all sorts of cabin systems to the test: tray tables, satphones, air conditioning and galley equipment as well as much more.
It's an evaluation of the durability and reliability of the aircraft that goes beyond tests required for certification with 250 evaluation points in all. The crew will fly legs of 10-12 hours: Paris to Los Angeles, Sao Paulo to France, Johannesburg to Kuala Lumpur at Mach 0.87-0.88.
The 6X will bake on Middle Eastern ramps this summer, then fly low circuits over the desert to test maximum cooling efficiency of the environmental control system. This is the corollary to tests previously this winter in Iqaluit, Canada where the aircraft was cold-soaked to -37°C, almost -40°F!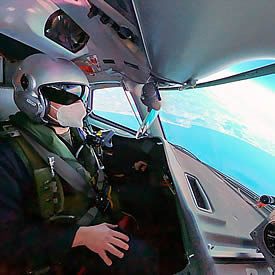 Flirting with the sound barrier
Test pilots Philippe Duchateau and Bruno Ferry completed a series of high-speed tests in April, up to Mach 0.97, 7 points above the aircraft's max cruise speed. Precise flying skills are essential for these tests; Duchateau and Ferry have honed theirs on Dassault fighters and Falcons.
During the test series, the pilots repeatedly rolled into a 110-degree, slightly inverted dive to accelerate and then rolled level at the desired speed, followed by roll reversals.
Test equipment induced vibration modes into the flight controls to ensure there were no bad habits at high speed. Not your typical day at the office, even for test pilots.