EBACE2022, Geneva
Irish business aviation lands at EBACE
Fledgling Irish Business Aviation Association announces its official launch and conference this November
The Irish Business & General Aviation Association marked its formal launch at EBACE in Geneva this week, coinciding with news it is to host its own network-focused destination conference this autumn.
The debut edition will take place on 17th November in a partnership with the European Business Aviation Association (EBAA), at Adare Manor, Limerick, ranked the fifth top ranked resort in the world. IBGAA is also delighted to confirm Gulfstream as its first, premier sponsor.
The Association's founding trio, Josh Stewart, Joe Buckley and Dave Scully, intend to make the conference - which will include an end of day gala dinner - an annual event. It will appeal to senior decision makers in business aviation, with a target audience of corporate jet operators, private aircraft owners, plus charter users from various sectors (MICE, sport and entertainment).
Conference topics will cover:
-New opportunities for business aviation in ultra-luxe tourism
-How private charter can support international corporates and bolster economies
-Business aviation for leisure in the post-Covid world
-How aircraft technology and innovation is driving efficiency and sustainability
-Connected aviation – what's next inflight and on the ground
-How US CBP Pre-clearance at Shannon Airport has become a major success story
-The advantages of setting up in Ireland, the world's capital of aircraft leasing, as a friendly gateway to Europe.
-How setting up in Ireland can provide entry to the European market.
The IBGAA was formed with a handful of founding members including ACASS Ireland, Gainjet Ireland and Woodgate Aviation, during September 2020, in the teeth of the pandemic.
The Association was pleased to secure a member sharing agreement with the EBAA at the outset, with EBAA COO Robert Baltus commenting: "With business aviation facing many challenges both at national and European level, it's more important than ever for associations to work together and help the industry move forward."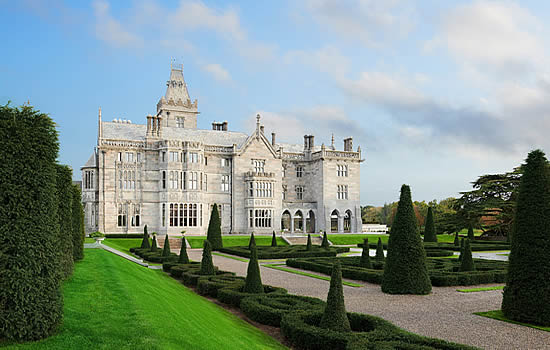 Adare Manor, Limerick - venue for IBGAA's debut conference in the Autumn.
The IBGAA is also an accepted member of the International Business Aviation Council (IBAC), enabling it to expand its international reach as it promotes the advantages Ireland offers to the global Business aviation industry."
"EBACE is the most relevant opportunity to meet with members, entice prospective members and highlight our conference and launch, which we are very excited about," said IBGAA's Josh Stewart. Josh brings solid industry association experience honed with the Middle East Business Aviation Association and IBAC to the IBGAA team.
"We are delighted that Adare Manor, owned by private jet owner and legendary golf and horse-racing entrepreneur JP McManus, is enthusiastic to partner with us for our debut conference," said Joe Buckley. The Irish Tourist Board is also providing considerable support.
"Our aim is to establish a must attend event on the international business aviation calendar at Adare Manor, or another of Ireland's luxury castle hotels in the future, annually," he added.
"Our conference will outline the advantages of using Ireland as a European base," added Dave Scully. "It is a highly attractive location for business aviation aircraft registration, ownership and aircraft leasing. "Its gold standard registry, operated by the Irish Aviation Authority, is one of the most highly-regarded national aviation regulatory authorities in the world."
The Irish Aviation Regulator, Diarmuid Ó Conghaile welcomed the establishment of the association: "Private jets are a long-established segment of the Irish aviation eco-system and the formation of the IBGAA is a welcome development in this space as Ireland looks towards the future and the recovery from the past years of stagnation in the sector.
"We look forward to working with the IBGAA membership and continue to offer our world-class registry services through the EI & EJ register."