Geneva, Switzerland:

EBACE Aces its return

Alison Chambers, Emerald Media, reports on the opening day of EBACE2022.
---
We're back! declared a jubilant EBAA Secretary General Athar Husain Khan yesterday during the formal opening of EBACE 2022 in Geneva.
He was assisted by two very special guests - keynote tennis champion Martina Navratilova who lobbed signed tennis balls from a racket to an enthusiastic seated audience - and young aviator Zara Rutherford.
The Belgian-UK teenager became the youngest woman in the world, aged 19, to circumnavigate the Earth, flying for five months in a VFR microlight - without oxygen - prompting Martina, a keen pilot herself, to exclaim 'bloody hell - that's brave!'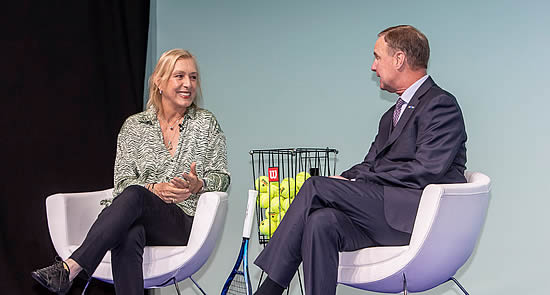 Interviewed by NBAA President & CEO, Ed Bolen, Martina recollected going solo for the first time | Photo courtesy EBAA/NBAA.
Speaking about her own flying, Martina highlighted that a double fault in her tennis career could easily (and quickly) be recovered - but in aviation - "that is a big deal." Interviewed by NBAA's Ed Bolen on stage she recollected going solo for the first time, having trained in Aspen, Colorado, and admitted she was scared. I wanted to make a U turn - but then her thoughts turned to the centre court - that match point. "Let's go," she said.
Zara Rutherford became the youngest woman in the world, aged 19, to circumnavigate the Earth, flying for five months in a VFR microlight - without oxygen | Photo courtesy EBAA/NBAA.
Over 700 delegates watched these two inspirational women and Martina went off to enjoy the static line up with Athar - staying at the show for five hours.
Inclusion and attracting more women and people of colour into aviation should be a key for the industry, Kenny Dichter, founder and CEO of Wheels Up stated. He joined EBAA and NBAA executives in his first speaking engagement at EBACE, following his business' recent acquisition of Air Partner in the UK.
"We are still," he highlighted, a white, male dominated industry. What better time to do this, he said, in this heyday in aviation where the drive back, post pandemic, has been relentess, with unprecedented growth. Much of the travel is leisure, however, and there will be a further uptick when business gets fully back. "The biggest problem we are facing now is aircraft parts, getting maintenance slots, supply chain issues. Where once we would have been able to get a MRO fix in four hour - now it can be two to three days. Add to that general talent shortage; pilots, ATC, security and airport staff, this is a big issue for the industry at large."
Speaker Dr André Schneider, CEO of Geneva Airport, highlighted that EBACE 2019 closed on May 23 and how pleased he was it was re-opening May 23, 2022. Business aviation has played a crucial role in getting us back flying, he said. In July 2021, the sector was busier than the same month in 2019. "Right now as the airlines recover we have 80% of 2019 movements and by summer we will be back 90% with 100% activity," but he assured EBAA that the airport will do its utmost to support business aviation - and the great innovations you are bringing in - as slot pressure mounts. He highlighted his pleasure that the airport was able to offer Sustainable Aviation Fuel (from the Jet Aviation FBO) for all departing business jets.
The big theme at EBACE is sustainability, with 40% of the panel sessions, including today's Newsmaker Luncheon and AIN's Sustainable Business lunch, putting the spotlight on the issue with expert speakers. Supplier companies were also hosting conversations and thought leaderships in integrated theatres within the man hall. Gogo hosted an insightful one talking about advances in inflight connectivity and introducing new partners with OneWeb; Air bp introduced SAF education clinics on its stand and UAS International Trip Support's Forward Discussions drew interest.
Just this afternoon on their stand European operators SaxonAir, Elit'Avia, GlobeAir and brokerage Hunt and Palmer discussed consolidation among operators, how infrastructure is creaking as business aviation brings in more and more new users and why jet cards aren't such a good thing.
"We like to be able to recommend an operator - not just on the price and availability, but the onboard product; the personalisation, catering on board, nationality choice of crew, whether you like a chocolate covered Hobnob or an accompanying dog that will only eat organic chicken!" said Julie Black, Hunt and Palmer. This is important with the increase in leisure charter.
In summary, the brokers, who play a very important role the panel agreed, desperately need more aircraft to charter.
More next week . . .