Production Sustainability

By Dietmar Ulreich, Director of Health and Safety, F/LIST.
---
F/LIST provides exclusive interiors for business jets, yachts and residences and prides itself on the passion, quality, and visionary spirit that drives pioneering product development. Since inception sustainability has underscored its approach to business.
In a series of new columns for BlueSky, experts from F/LIST explain how sustainability goes beyond the surface of everything the company accomplishes. This month we hear about Production Sustainability from Dietmar Ulreich, Director of Health and Safety.
The F Stands for Forward-Thinking
At F/LIST sustainability is a mindset. As individual crafts people we are inherently seeking to optimize every piece of material we handle, achieve the maximum from each design and ensure that waste is always minimal.
To that end we have created a forward-thinking sustainability team to ensure that all aspects of our work - production, people, products - are viewed through a sustainability lens. Together we are constantly seeking out new ways of achieving our environmental goals now and in the future, and we collaborate to implement the opportunities presented. It is this determination to fulfil our environmental commitment that has defined our production facility development.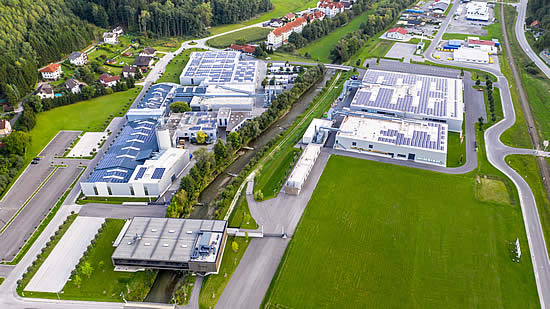 A River Runs Through It. F/LIST's HQ at Thomasberg, Austria, is cooled by river water..
At our headquarters in Thomasberg, Austria, our facility is cooled by river water. This is not the easiest, nor the least expensive choice, but if your business ethics, work culture and your community are all committed to sustainability, it is not just possible, it is necessary. And this is how we cool our production facility by optimizing the natural environment.
Our production plant is entirely heated by renewable energy sources from our local district supply. We use the latest machines and systems for heat recovery, and, as mentioned above, we cool the facility with river water. The intelligent application of LED lighting brings light to our interiors. The motion sensors in the corridors ensure we only use what we need to though.
In 2016, we covered the roofs of both production plants in Thomasberg with a photovoltaic system at a total investment of €1.2million. Today, it is one of Austria's largest photovoltaic power plants, generating 1,179 kilowatt hours/year. We consume 20 percent of what we produce, and the rest is returned to the city. This clean energy source saves 565 tons of CO2 a year, which is equivalent to the amount produced by 444 cars driving 10,000km/year.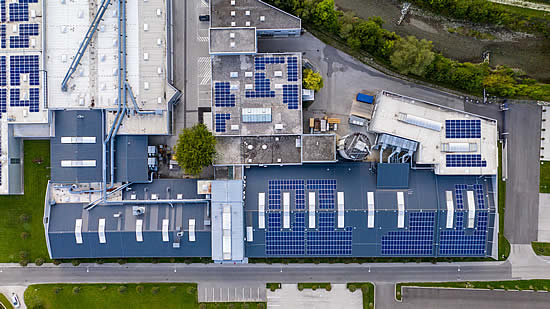 The facility is one of Austria's largest photovoltaic power plants, generating 1,179 kilowatt hours/year.
For optimal energy use, our ultra-modern plant has an intelligent energy management system. It measures performance, internal consumption of energy and total consumption in real time. Excess energy is directed to separate outlets via a sophisticated control system. For example, over the weekend, electric forklift trucks are charged with the stored energy and are ready to go on Monday!
Sustainability even comes into play in our on-site restaurant where meals are freshly prepared on site. Food is sourced from local farmers and producers with a focus on bio-quality.
In addition to our headquarters in Austria, we operate seven sites worldwide which offer services and production. Being close to customers means we can serve their needs more efficiently, and at the same time cut down emissions from transportation. We also aim to source responsibly, for example, real wood veneer that is used in Europe comes from European sources, whereas the Canadian production site uses American sources.
Our next focus is on waste management. We produce luxurious goods using valuable materials and when we can't upcycle them work to find a process for passing material remnants to third parties who can use them. We are currently considering burning leftover wood and harnessing the heat for our own use.
We have achieved a lot over the years in our commitment to sustainability and are proud to have achieved ISO 50001 certification. This means that F/LIST assumes the responsibility to continuously increase energy efficiency and decrease energy consumption, quite the challenge but an inspiring one. We are committed, and we are encouraging those that work with us, our suppliers, customers and partners to think as proactively around the subject of sustainability. It is not just the big things that make a difference.
Small Steps. Big Impact.
Turn off the lights. Arrange furniture so that employees get the benefit of natural light. Turn off equipment that isn't being used. Make sure faucets don't drip. Talk about sustainability. Make it a part of your culture. These are all messages we are constantly reinforcing across our teams.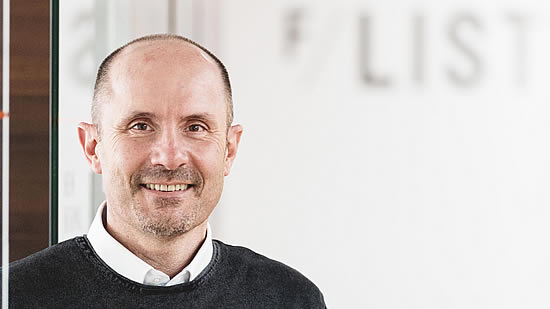 F/LIST Director of Health and Safety, Dietmar Ulreich
We have invested significant sums in technology, but we won't have success if our team isn't on board. Every colleague must realize their impact and their responsibility. There is power in our everyday actions. Essentially, sustainability isn't just a company production issue, it's a personal one, and we urge all our industry colleagues to think beyond the surface around this topic too.