What makes CARIBAVIA a different kind of conference?

Cdr. Bud Slabbaert, Chairman of the Caribbean Aviation Meetup, 'CARIBAVIA'.
As we approach the event date June 14-16, conference chairman/coordinator Cdr. Bud Slabbaert explains how and what make the conference different:
When I organized my first Meetup conference years ago in London, I received a comment that it was not a conference but rather an un-conference. I considered that to be a potential compliment and further developed it.
We don't need sit and listen conferences. I strongly believe that smaller, more focused and more targeted, as well as affordable events are more efficient and effective. But, the events also have to be more unique and not copying what others are doing.
I handpick speakers and usually have a telephone conversation first. I am honest enough to ask them whether it is worth their while to join us. Some of the responses I get are, "I come because I just love the event", or "I cannot attend and do nothing, I want to do a workshop", or "You might think it is a risky investment but if I get just one lead out of it, it is all paid for."
I select all speakers and presentations for the purpose of providing insight, new ideas, opportunities. After all, CARIBAVIA is an international solutions and results oriented platform.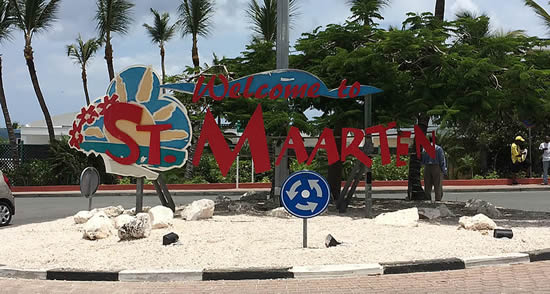 Photo: Kathryn B. Creedy
I don't want a speaker who is a rambler who will fit one sentence in a 45-minute presentation. It is proven that the most beloved speakers are the ones who are on top of their subject and without much preparation can talk about how they came to their accomplishments, so that we can learn from it. We have one speaker this year who told me: "I could talk right of the couch for hours". She has developed the unique concept of a "drive-through" FBO. That is something that one would like to hear more about. Another told me that she intends to give her presentation a question-and-answer format to encourage a lively conversation with the attendees in the room."
A town hall-type discussion is very much liked. I don't favor panel sessions that are a discussion between the three or four persons on stage and the rest in the room must just watch and listen as if they are not smart enough. One could have stayed home and listen to a radio interview. Yet, I don't mind creating what musicians call a "jam-session" and invite some of the attendees (they're all professionals) on stage and have an ad-hoc panel discussion on a high interest topic as it became noticed during the event, and then still involving the audience in the room. A comment received from one of the attending speakers: "A jam session sounds like even more reason to be present."
Too many conferences invite keynote speakers with a big name, in the hope that the tail makes the dog wiggle. Don't need anyone to come to polish up an ego. Most likely it would need a sandblast anyway. I don't care what someone's title is, I want to know what the person can do or has accomplished. Don't need people who cannot open a door but won't shut their mouth. Sorry, if my honesty sounds downright cruel. We need to hear of realistic opportunities and how to actually turn them into tangible lucrative business. No need for statistics of the past, or predictions as if they are made by an astrologer. We need to hear about solutions.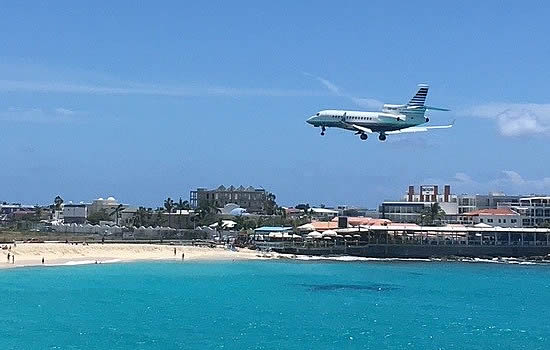 A managed ExecuJet aircraft lands at St. Maarten
An event must bring up one's pulse a beat or two. One of our speakers wants to organize a "scavenger hunt" at the event, in a way that participants get to meet and learn to know each other. Sound crazy, but he will have free hand to do it. We have free yoga sessions at 7 a.m. at the swimming for those who want to be fit for the conference day. I'm working on a 10-minute intermezzo that will get the attendees up from their chairs and clap their hands and start doing dance moves and 'singing' along although none of them knows what the heck the lyrics are. At our Welcome Dinner, we have steel pan music in the background, because it belongs to the Caribbean.
Some may draw conclusions when looking the speaker's list. Don't be mistaken. For instance, I cannot put one speaker on the list just yet because I have to respect an official Royal protocol. Another speaker is the owner and creator of one of the top ten best resorts WORLDWIDE. Why at an aviation conference? I was asked by him about recommendations for charters for his high-end clientele. The thing is that one wants to come to a conference and meet people one hasn't met before, but who can be important to do business with, in the future, or to find out first-hand what is exactly going on in a region. A presentation on the inter-relation between helicopters, yachts, the Mediterranean and the Caribbean? Done that! That is why a relatively high number of participants coming from abroad exploring possibilities to do business in the Caribbean. The Caribbean does offer interesting opportunities if one knows where, and how it works best.
The CARIBAVIA Summit and Retreat will be held June 14-16 on St.Maarten/St.Martin (IATA code SXM). Considering the maximum capacities, a limit for the number of participants is set. Conference website: www.caribavia.org