Fort Lauderdale, Florida
VIP Completions and John Ruiz unveil spectacular interior of completely refurbished Boeing 767
Unparalleled luxury and highly-personalized décor characterize truly exceptional private aircraft
Completions and refurbishment specialists, VIP Completions, together with client John H. Ruiz - entrepreneur, businessman and attorney - unveiled the spectacular interior of a Boeing 767 that VIP Completions has delivered to Mr. Ruiz.
John H. Ruiz is the Founder & CEO of digital consumer healthcare tool, LifeWallet and its parent company, MSP Recovery - the nation's healthcare reimbursement recovery, data analytics and technology leader. He is also the Founder of MSP Recovery Law Firm, Owner of legendary boat manufacturer, Cigarette Racing Team, Founder of NIL TIME IS NOW, the nation's leading Athletic Name Image and Likeness Platform, Founder of LumiSea, marine channel marker technology company, and Founder of the LuminSea Offshore Powerboat Races. Mr. Ruiz will utilize the luxury aircraft for business and personal use.
This is the fourth project that VIP Completions has delivered to Mr. Ruiz. Previously, it refurbished a Gulfstream GIVSP, a Cessna Citation X and a Gulfstream G550 - aircraft that Mr. Ruiz continues to own and operate. A fifth project, the refurbishment of a Sikorsky S-92A, is now underway.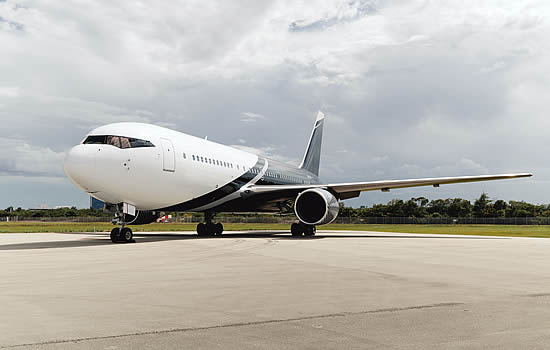 The 767 project is a showcase in interior design vision and customization. The exceptional degree of personalization reflects the client's character and passions. The overall feel is bright and modern. Colors include light grey, off-white, taupe and sable. The project employed 'hydro dipping', an innovative process to paint/veneer woodwork and cabinetry. Cabin accessories and soft goods are sourced from premium luxury brands including Loro Piana and Garrett Leather. All passenger touch points - high-speed internet, HD audio and full spectrum LED lighting – are state-of-the-art, controlled by an iPad-enabled custom cabin management system.
"This project is the realization of my dream to create a unique private aircraft for business, pleasure and family travel," says John H. Ruiz. "Truly a flying home, it mirrors our tastes and preferences, including my love of entertaining. I am very pleased with the final results and thank the VIP Completions team for their amazing attention to detail."
The aircraft seats 33 and comfortably sleeps 16 passengers. The floorplan features six distinct living spaces, plus four lavatories. Design highlights include: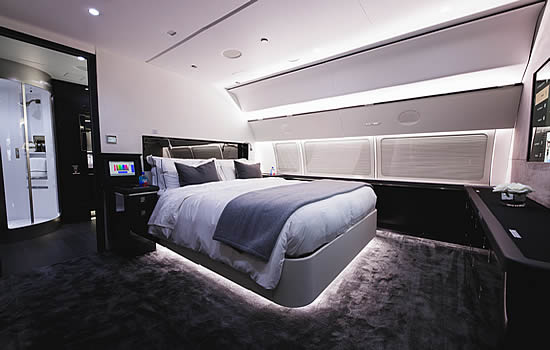 Master Bedroom: A queen size bed with Frette linens and elegant details including leather-lined cabinets.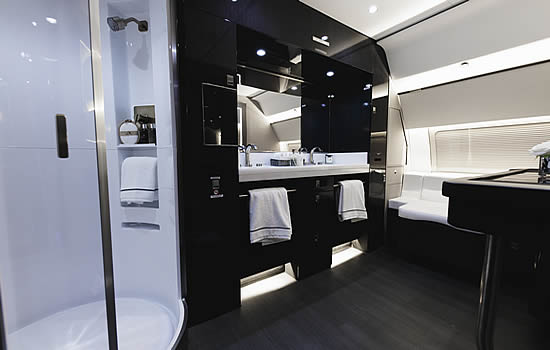 The master bedroom is connected to the first ensuite VIP lavatory with full stand-up shower and sable-colored Ultraleather cabinet tops, Techno Aerospace wood-like flooring and white marble vanity countertops.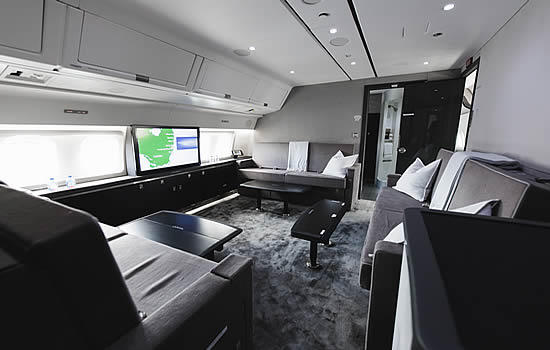 Private Lounge I: A custom L-shaped divan with fabrics and cushions by Loro Piana, and a able-colored coffee table.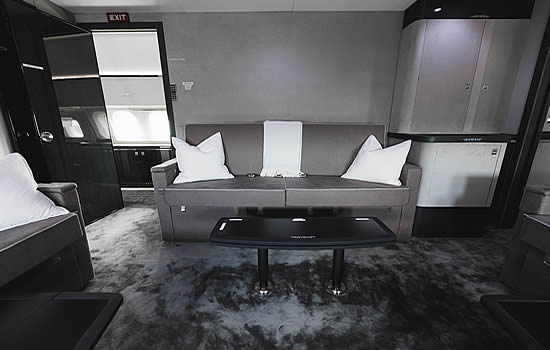 Private Lounge II: Three divans in Loro Piana fabric, each convertible into sleeping configuration. The lounge connects to the second ensuite VIP lavatory with its own full stand-up shower.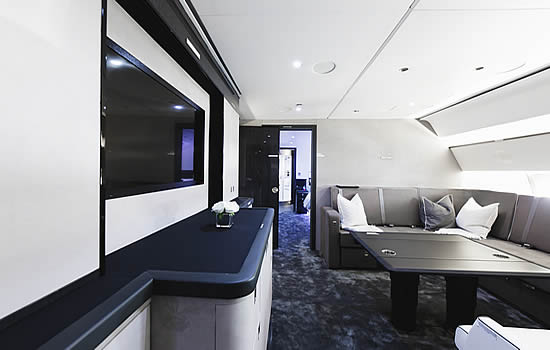 Entertainment Area: A custom U-shaped divan, coffee table with large surrounding cushion that converts into an ottoman, 80-inch home cinema and DJ plug-ins integrated cabin-wide with ALTO Aviation Premium Cabin Audio System providing the most powerful listening experience customized for each zone of the aircraft. Integrated with large HD monitors, it provides an immersive experience for passengers enjoying movies, video games or music concerts.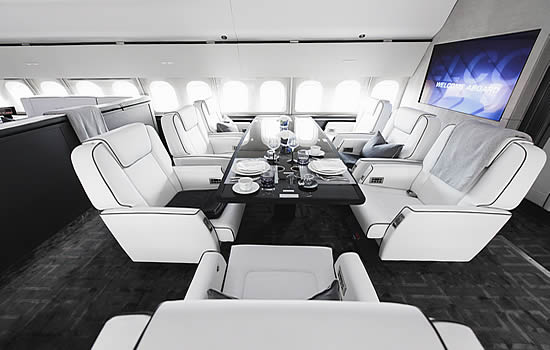 Dining Area: A custom dining table for seven with Ultraleather sable trim.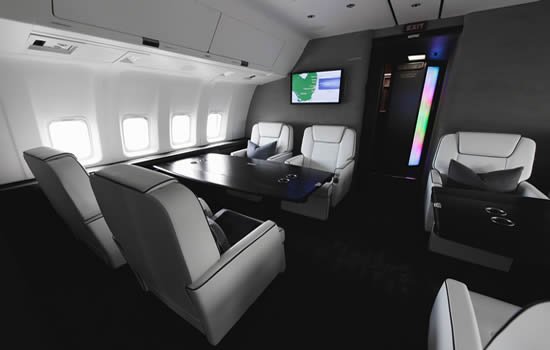 Conference Area: Dedicated seating and workspace for eight.
"This was the biggest project in our company's history," continues Ben Shirazi, President, VIP Completions. "It involved hundreds of technical and aesthetic choices that came together to create something as unique as John's character and life story. This aircraft is at the pinnacle of private aviation customization and personalization. We thank John for his continued trust as we begin to work on a fifth project together. We are immensely proud of this work, which places us among a tiny group of aviation professionals worldwide able to deliver unique in-flight experiences and realize clients' dreams."