United Kingdom
CharterSync lands its 250th Covid-19 cargo flight ex-China
Digital air cargo charter business and "Air Business of the Year", CharterSync, has landed its 250th flight out of China carrying vital Covid-19 medical supplies including test kits and syringes.
Between November 2021 and March 2022, CharterSync facilitated the arrival of 57 flights of Covid-19 syringes and test kits into the UK, with an additional 193 flights unloading at European airports including Frankfurt, Paris Charles de Gaulle, and Madrid's Barajas International Airport.
Against a background of an elevated Covid-19 testing regime, airport congestion, and limited belly capacity, CharterSync deployed a fleet of aircraft from around the world, including 777-200 freighters, and National Airlines' 30th Anniversary special-liveried Boeing 747-400 from the USA, which thrilled plane enthusiasts at Birmingham International Airport. Capacity was further extended by the use of passenger aircraft such as Airbus A330s and Airbus A321s.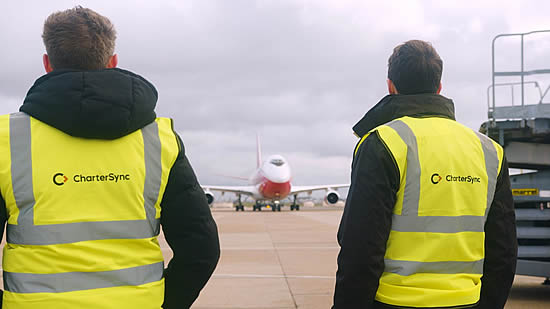 Co-founder and director of CharterSync, Ed Gillett, says, "Covid-19 infection rates continue to grow in the UK. When Omicron first hit the UK, and demand for test kits accelerated, it was vital to think creatively to find the required belly-space against ultra-tight deadlines.
"While narrow-bodied aircraft like the Airbus A321 are not typically employed for long-haul flights due to their lower fuel capacity, we made the unconventional - and ultimately successful - decision to use short-haul passenger and freight aircraft to complement the wide-bodied Boeing 747s, Boeing 777s, and Airbus A330s. Even when factoring in a refuelling stop en route, CharterSync was able to deliver the goods on schedule."
Faced with continued pressure on ground handling services due to labour shortages at departure and arrival points, CharterSync targeted regional airports in Britain and China to facilitate the fastest possible turnaround. In the UK, the company bypassed traditional hubs such as Heathrow and East Midlands Airport to land cargoes at Liverpool, Birmingham and Bournemouth, and was responsible for the first wide-body cargo flights at Liverpool John Lennon Airport.
In China, the company targeted regional airports such as Wuhan, Shanghai, Chengdu, Shenzhen, Xiamen and Zhengzhou.
"Using regional airports was a key part of our strategy," continues Gillett, who is himself an Airbus A321 pilot. "In the UK, leveraging spare capacity in Liverpool, Birmingham and Bournemouth allowed our customers to skip the queues at Heathrow and East Midlands Airport, and to expedite unloading when the major hubs were congested. In China, where major hubs are experiencing a chronic shortage of trained ground staff, we off-set this by targeting lower-volume airports."
Paul Winfield, Director of Aviation Development at Liverpool's John Lennon Airport, comments, "Liverpool Airport has been delighted to work alongside CharterSync handling critical flights, serving the Northwest community and beyond. The airport has proven itself more than capable of handling regular wide-body services, and looks forward to welcoming more over the coming months."