Melbourne, Florida
Satcom Direct launches connectivity services for sports fishing vessels, super- and mega-yachts
Launch of new marine services streamlines multi-asset connectivity solutions
Satcom Direct, the connectivity solutions provider, is expanding its marine division, by launching a suite of new services for sports fishing vessels, super- and mega-yachts.
In a first for multi-asset ownership Satcom Direct is harnessing the combined power of SD infrastructure, SD hardware and SD software solutions, to deliver a seamless connectivity experience for customers transitioning between private jets and yachts.
To support the newly expanded division, Satcom Direct is extending its hardware portfolio with the addition of the SD Marine Router and the SD Marine Rack. The low profile, rack-mounted router is based on the established SD Router family, which is currently flying on more than 2500 business aircraft. The router manages onboard connectivity, and coupled with the SD Marine Rack, provides a standardized, modular solution for securely housing marine entertainment and communication electronics. The SD Marine Rack allows flexibility for marine integrators to install their own equipment, supports variable power demands, and enables the system to be scaled as necessary.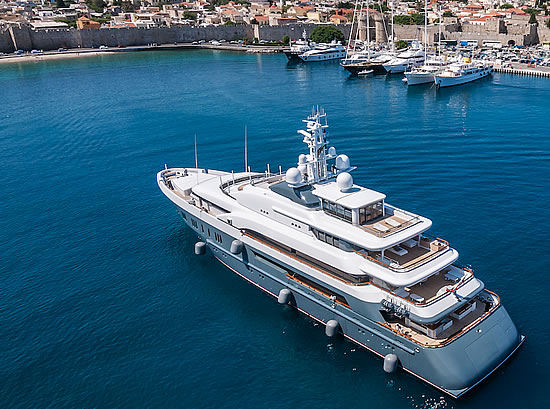 Satcom Direct launches connectivity services for super- mega-yachts and sports fishing vessels.
Remote marine connectivity management is supported by the SD Cabin Marine app which allows subscription, outage and connectivity troubleshooting from any smart device. To further strengthen security and safety at sea the SD tracking functionality provides real-time, historical and last reported location tracking capabilities. Owners, operators and yacht brokers are also buoyed by the global SD customer support team.
Secure, reliable, consistent, connectivity options supporting safety, productivity and leisure communications will be underpinned by existing airtime operator relationships to deliver voice and data communications, and streaming video. The advanced ecosystem of hardware and software meets International Maritime Organisation requirements, and enables flexible customized packages, simplified upgrades, and consolidated billing for owners already subscribing to SD aviation solutions.
Value-added services feature a robust range of SD cybersecurity products which includes the ability to create an SD Private Network and tailored Entry into Service training for crew and owners. With a single touchpoint for all aircraft and yacht services SD is revolutionising the connectivity experience for owners, operators, and brokers that manage a portfolio of valuable assets.
"Clients expect and demand reliable connectivity on their aircraft, and they now want the same service standards at sea," says Jim Jensen, SD Founder and CEO. "We are taking 25 years of experience providing best-in-class aviation connectivity solutions, and adapting and modifying that knowledge to give customers a similarly streamlined experience at sea.
"SD is the only provider offering the ultimate continuity for customers in-journey. Our partnerships with the satellite operators mean we can customize solutions to meet specific requirements and budgets, and evolve with their changing needs. This is a natural progression of SD's vision as we respond to customer demand for flexible, cutting-edge technology that connects customers beyond expectations, no matter where they are."