Montreal
Independent study indicates Bombardier contributed $5.7bn to Canada's GDP in 2021
Supported 33,276 in full-time jobs
A newly released independent assessment by PwC Canada highlights the significant economic and social impact of Bombardier's manufacturing activities in Canada, Québec and Ontario.
The report analyzes the company's contribution to Canada in terms of wealth, GDP and job creation, as well as Bombardier's international competitiveness and ESG milestones.
Results for 2021, the year in which the company completed its transition to a pure play, market-leading business jet company, show that Bombardier's total contribution reached $5.7bn to Canada's GDP, and supported 33,276 full-time jobs.
In Québec, where Canada's aerospace industry is significantly concentrated, Bombardier supplied high-value direct jobs, ranking it among the largest employers in the province's manufacturing sector, as well as supporting an extensive network of suppliers from across Canada.
"We're proud of the significant role Bombardier continues to play in growing high-paying jobs and wealth for Canadians - in the next three years, our strong manufacturing activities will contribute an estimated $25.2bn to Canada's GDP and generate more than 37,000 full-time jobs across Canada each year," said Éric Martel, President and CEO, Bombardier. "In Québec alone in 2021, Bombardier supported direct jobs that represented 20% of all the jobs in the province's aerospace sector. What's more, these positions are high-value, skilled jobs with an average salary that is nearly 70% higher than the average salary in Québec."
Bombardier's extensive economic footprint also encompasses its support for a broad network of specialized suppliers and subcontractors, from parts manufacturers to suppliers of high-performance alloys. In 2021, Bombardier spent $1.9bn on goods and services provided by suppliers across Canada, of which 400 were located in Québec and 240 in Ontario.
After aluminum and before iron, aircraft topped the list of exported manufactured products in Québec, at $7.2bn or 7.6% of the province's total export value in 2021. Bombardier was responsible for 70.5% of the value of exported aircraft from Québec.
The study also projected that Bombardier will continue to make a strong economic contribution going forward. With demand for business jets trending strongly upward, Bombardier is currently forecasting revenues of $8.4bn for 2022, increasing to $9.4bn in 2025. Between 2022-2025, the company's total economic contribution1 from manufacturing activities in Canada is estimated at $25.2bn in GDP (or an annual average of $6.3bn), and 150,485 job-years (or an annual average of 37,621 full-time jobs). Overall payroll taxes to be collected in relation to ongoing operations would total $3.0bn for the period.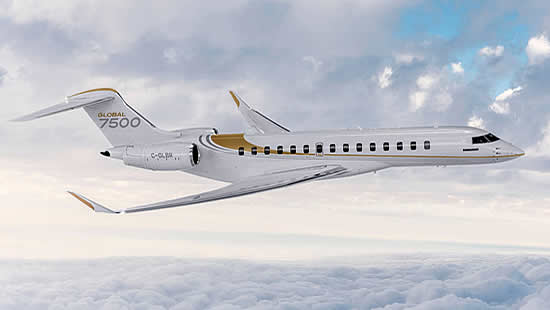 Global 7500
The report also emphasized Bombardier's leading role in developing the knowledge, innovation and expertise, which has directly strengthened the Canadian skilled talent pool and the aerospace ecosystem as a whole - innovation that is convincingly showcased in the company's award-winning flagship aircraft, the Global 7500. Between 2022 and 2025, Bombardier is expected to continue this leadership, with projected average spending of $150m during this period in R&D activities in Canada.
Beyond its significant contribution to GDP, high-value job creation, support for a broad network of aerospace suppliers and its leadership in innovation, Bombardier recently committed to achieving significant milestones in Environmental, Social, and Corporate Governance aimed at fostering sustainable development and the well being of its employees. Between 2016 and 2021, Bombardier and the J. Armand Bombardier Foundation have together invested over $38.5m in local communities worldwide.