London
RAF Northolt Airport to extend operating hours to 7 days a week
Airport will now be open on weekends for the first time in 5 years
The Royal Air Force will extend London RAF Northolt Airport's (RAF/EGWU) operating hours to seven days a week starting June 1, 2022, making the airport accessible on weekends for the first time in five years.
"We commend the RAF for making this change, which is a huge win for Northolt and for business aircraft operators traveling to London," said Sean Raftery, Regional Managing Director, Universal Aviation.
"Northolt is already an extremely popular London airport. Business aircraft operators love Universal Aviation's level of service and safety combined with the airport's lack of congestion, privacy, security, and most importantly, its great location. These extended hours are certainly going to make Northolt an even more attractive option for accessing London and everything to do here."
Northolt's new weekend hours will be Saturday 0800-1500 • Sunday 1200-1900.
RAF Northolt is the closest airport to Central London (12.8 miles and 32-minute drive to Hyde Park vs. 39 miles and an hour for Farnborough Airport) and the city's popular cultural activities, which commonly draw private flyers. In addition, it's close to many of London's stadiums that host major international sporting events, including Wembley (14 km), Twickenham (18km), Wimbledon (25 km), Emirates Stadium (27 km), and Tottenham (30 km). And it's the closest
airport to Heathrow for airline connections or crew swaps.
"Consider if two people leave the same hotel in Hyde Park at the same time, the one departing Northolt could be in Paris before the other even arrives at Farnborough Airport," said Raftery.
This is the second time Northolt has extended hours since Universal Aviation UK took over the operation of the GAT in January 2021. In mid-2021, Universal Aviation UK – London Northolt worked closely with the RAF to test expanding the airport's operating hours by three hours a day Monday-Friday. The success of that extension helped lead to the new weekend accessibility.
"We expanded to Northolt in the heart of the pandemic when traffic was at a standstill in anticipation of the eventual recovery and belief that we could unlock its tremendous potential by successfully working to make it more accessible," said Raftery. "I'm proud to say that we've been able to achieve that in close coordination with the RAF."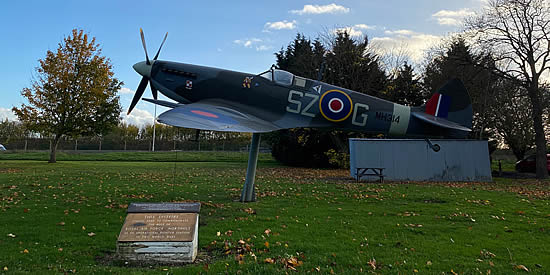 RAF Northolt played a key role during the Battle of Britain, when fighters from several of its units, including No. 303 Polish Fighter Squadron, engaged enemy aircraft as part of the defence of London. It became the first base to have squadrons operating Supermarine Spitfire aircraft within German airspace.