WINGX Global Market Tracker:
Record January activity as bizjet bandwagon rolls on
January 2022 was the busiest start to the year on record for global business aviation activity according to WINGX`s weekly Global Market Tracker, published today.
Compared to locked-down January 2021, business jet sectors were up by 35%. Back in January 2020 there was little impact from coronavirus, yet this January, with many countries still heavily restricted, business jet flights were 19% higher.
January 2019 was as busy as any January in the previous decade, and this January has seen 15% more activity. Scheduled passenger movements present the mirror image, with a bump-up on last year, but still 29% lag on pre-pandemic January 2019. The global cargo sector continues to see elevated utilisation compared to each of the last three years. Combining all fixed wing sectors, global flight activity is still down 22% compared to January 2019.

---
Global fixed-wing flight activity in January 2022 compared to 2021, 2020 and 2019.

(click for larger format)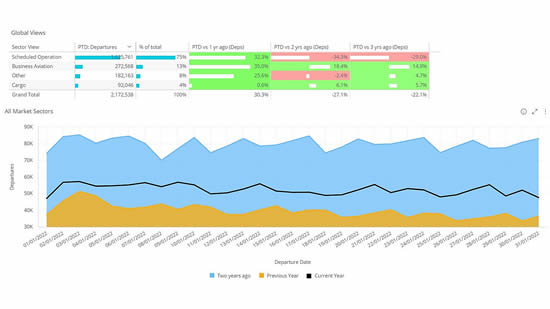 ---
Europe
Business jet activity eclipsed previous records in January in Europe, 38,000 sectors, up 56% compared to January last year, up 10% and 13% retrospectively compared to 2020 and 2019 months of January. Passenger airlines are starting to recover faster, with more than double the sectors flown last January, but still 38% fewer than in January 2019. The pace is varied by country, with Spain, for example, slightly ahead, France on trend, the UK and Germany well behind.
When it comes to business jets, France was the busiest business jet market in January, with 43% more demand than in January 2021, 9% more than 2020. The UK leapfrogged Germany to rank as second busiest market, flights within Germany trailing 13% below January last year.
The busiest international connection is between Switzerland and France. The busiest city connection for business jet travel in Europe is once again Paris to Geneva, 28% busier than last year, 3% busier than January 2020. Flights within Russia are down compared to last year, but still up 52% compared to January 2019.
In terms of aircraft types, the largest cabin aircraft are not yet back to 2019 levels, with bizliners and ultra-long range jets flying respectively 46% and 11% less than in January 2019. Dassault jets flew 12% less than in January 2019, Embraer jets 44% more. The preference for smaller aircraft was typified in outbound flights from London airports: business jet departures were up 2% compared to two years ago, but available seats were down by 19%.

---
Top European Countries ranked by departures January 2022

(click for larger format)

---
North America
Demand for business aviation aircraft in North America in January also beat records. Over 321,000 business jet and turboprop sectors were flown, up 26% compared to last January and up 14% vs January 2020 and up 8% vs January 2019.
The lighter end of the fleet is furthest ahead of pre-pandemic, with the Pilatus fleet 13% busier, Embraer aircraft 28% busier, Honda and Cirrus flight activity up by more than 200% compared to January 2019. The larger aircraft fleets are also flying more than ever, with January's activity for Bombardier jets up 9% on pre-pandemic, Gulfstream jets flying 17% more than two years ago. Challenger 300/350 flight activity was up by 18% compared to January 2019.
Rest of World
Business jet activity outside the busiest markets in North America and Europe was 11% higher than in January 2021. Most of the impetus is coming from aircraft owners, with private flights up 21% higher than last year. Charter activity is up 7% on where it was pre-pandemic, but has cooled off since last January. Government activity is up 44% this January compared to January 2019.
Busiest markets in China, Brazil, India and UAE all saw more activity than in January 2019 but less than in January last year. Business jet demand in China has been eroding for much of the last year, with this January 30% less busy than January 2019. In Beijing, where the winter Olympics start next week, business jet activity was down by 44% compared to January 2019.
Managing Director Richard Koe comments "Business jet demand was well ahead of the normal January low-point of the year, and the record margin increased towards the end of the month. This may reflect the remaining big gap in airline connectivity, and the ongoing concerns around Omicron.
"More than ever, wealthy travellers are prepared to pay a big premium to have the flexibility and autonomy offered by business jet operators."
WINGX is a data research and consulting company based in Hamburg, Germany. WINGX analysis provides actionable market intelligence for the business aviation industry. Services include: Market Intelligence Briefings, Customised Research, Strategic Consulting, Market Surveys. WINGX customers range from aircraft operators, OEMs, airlines, maintenance providers, airports, fixed base operators, fuel providers, regulators, legal advisors, leasing companies, banks, investors and private jet users.