Addis Ababa, Ethiopia
Krimson Aviation anchors business aviation growth in East Africa
Dawit Lemma selected as an EBAA ambassador.
Celebrating its most successful year ever in 2021, Krimson Aviation is poised for even more growth in 2022.
During 2021, the Addis Ababa-based flight support, charter and aviation consultancy, expanded into 38 airports in 20 African countries and handled 1,143 flight-related operations and 274 ground-related requirements. This best year ever confirms that since founding in 2015, Krimson has become the largest African flight support company in terms of geographic footprint and number of airports serviced.
In 2021 growth was driven by a shift in geographic requirements, pandemic related movements and intra-regional East African activity, as more than fifty percent of Krimson Aviation business originated from outside of Ethiopia for the first time. "The increased customer diversity, airport numbers and flight movements has been spurred by the associated requirements driven by COVID, increased business activity and a new set of clients ranging from medevac to military. Our growth certainly indicates customer confidence in the Krimson team, and in business aviation in East Africa and beyond," says Dawit Lemma, CEO and Founder.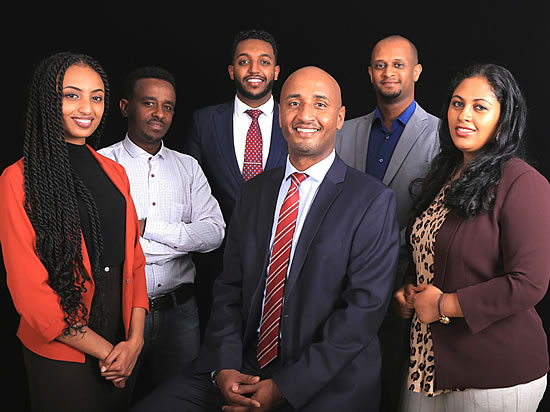 The Krimson management team, L to R Betelhem Shumu (MarCom Executive), Leul Mesfin (Flight Ops Team Leader), Gideon Girma (Commercial Manager), Dawit Lemma (CEO), Michael Mesfin (Koncierge and Services Manager), Helina Teshome (Managing Director)
The strength of Krimson, and Lemma's experience in managing flights between Africa and Europe has been recognised by Lemma's selection for the European Business Aviation Association's Ambassadors programme. The initiative sees industry leaders join dedicated workshops and forums to address the greatest challenges and opportunities for business aviation in Europe. Lemma's experience managing flight movements between, and within, the two continents will bring valuable insight on best practice and effective flight management linking the two continents.
For 2022 Krimson is eyeing major expansion projects and will continue building on its solid foundations to make reality the plans for a series of new FBOs across Eastern Africa. "There are no FBOs in the region, yet demand is high. We have proven that our service is strong enough to increase business steadily, and we now want to turn that service philosophy into a physical presence through dedicated business aviation FBOs and associated maintenance facilities," adds Lemma.
"We have worked tirelessly to build our reputation, clientele and revenue, and now we're beginning to see solid results that will underpin our future plans. Not only are we building our own infrastructure we are contributing to the growth and development of African business aviation by raising the bar for standards, service and business practice. We're also bringing more human resource into this industry at an exciting time."