WINGX Global Market Tracker:
2022 off to fast start as bizjets get record New Year demand
In the first ten days of January 2022, business jets flew 26% more flights than two years ago, on the eve of the pandemic. Compared to January 2019, business jet activity so far this year is up 18%. Versus the virus-affected slowdown last year, this year is up by 38%.
Scheduled passenger airlines have been much worse affected by the surging Omicron wave, with stop-start recovery back on hold, and flights down by 31% globally so far in 2021.
Despite Omicron raising concerns, WINGX`s weekly Global Market Tracker, published today, reports that North America is the strongest bizjet market, flights up almost 30% so far, whilst the airlines flying 30% less. Europe is also buoyant in bizjets, sectors up 20%. Asia bizjet traffic is running at early 2020 levels, with its regional airline traffic down almost 50% so far this month compared to that period.

---
Business Jet sectors flown vs Scheduled and Cargo activity January 2022.

(click for larger format)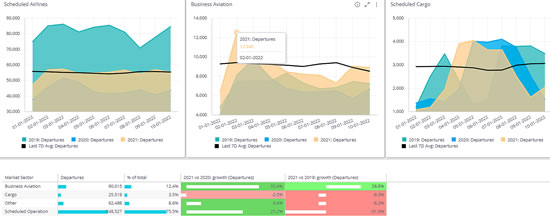 ---
North America
The stellar rebound in 2021 in business jet utilisation continues in the United States, with the first ten days of 2022 seeing flights increase by 31% compared to January 2020. On a rolling 7-day basis, flights are up 45% on January last year, up 30% on January 2019. January 2nd was relatively the high point; business jet holiday makers flew over 7,000 flights on January 2nd 2021, compared to 4,500 sectors on January 2nd in pre-pandemic 2019.
Florida was the global hub of business jet travel in 2021, and demand has continued into 2022, traffic up 21% on an-already strong 2021, and 45% ahead of January 2020. Notably, international connections are up 47% on last year, domestic flights up 24%. The strongest international connections are with Canada, Mexico, and Bahamas, well up this year compared to last year.

---
Business jet departures from Florida, United States, 2019-2022.

(click for larger format)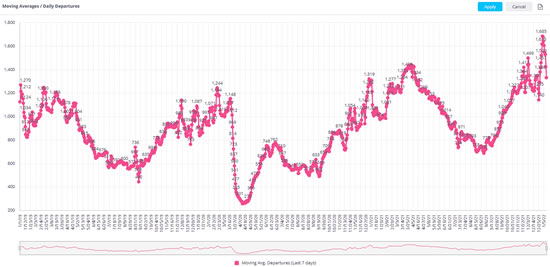 ---
Europe
Business jet demand in Europe is powering ahead in January 2022, up 53% on January last year, up 16% on January 2020. International traffic is rebounding on last year's lows, sectors up by 69% as the most severe cross-border restrictions are lifted, and even compared to January 2019, international flights are up 16%.
France is the busiest market, domestic flights up 25% on last year. The busiest international connection is from Switzerland to the UK, with almost four times as many flights as January last year. Reflecting new travel restrictions, business jet flights are down compared to two years ago on France-UK connections. The UK has seen a strong recovery from the rut of January 2021, outbound bizjet flights up by 87%.
The ski season normally elevates Geneva in the European bizjet ranking and January was no exception, especially this year as UK holiday makers diverted from destinations in France. Compared to January 2021, business jet departures from Geneva are up 91% this year, and up 29% versus January 2020. Le Bourget is down relative to January 2020, in contrast Vnukovo traffic is up 66%.
Busiest airports in the UK are seeing a strong comeback, with Farnborough seeing 339 business jet departures in January so far, more than double the traffic last year. Biggin Hill traffic is up 140% on last year, which is rebounding well above pre-pandemic levels, flights up 40% on January 2020.

---
Business jet departures by country in Europe in 2021 vs 2020 and 2019.

(click for larger format)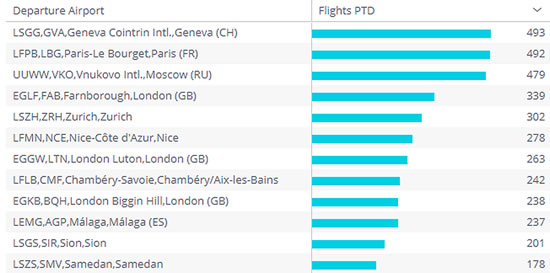 ---
Rest of World
Outside Europe and the US, the busiest business jet markets include Canada, Australia, Brazil, New Zealand, Russia, Turkey, UAE, and Colombia. Most of these markets are ahead of where they were last year.
The exceptions so far are Canada, still recovering from the first wave of the pandemic in 2020, Australia, which recovered in early 2021 but has since flagged, and UAE, where business jet traffic is still way ahead of pre-pandemic, but slightly down vs January 2021. Business jet departures from the Maldives are almost 50% lower in January year on year, even if still 78% up on two years ago. Business jet traffic in China is slumping, down 33% on January 2021, 16% behind January 2020.
Managing Director Richard Koe comments "Business aviation is off to a flying start in 2022, with the holiday season generating very strong demand, despite the Omicron concerns.
"The activity footprint is less concentrated than at the start of 2021, with Maldives, for example, less busy than last year though still much busier than two years ago. Switzerland is notably busier with UK travellers, diverting from France."
WINGX is a data research and consulting company based in Hamburg, Germany. WINGX analysis provides actionable market intelligence for the business aviation industry. Services include: Market Intelligence Briefings, Customised Research, Strategic Consulting, Market Surveys. WINGX customers range from aircraft operators, OEMs, airlines, maintenance providers, airports, fixed base operators, fuel providers, regulators, legal advisors, leasing companies, banks, investors and private jet users.