WINGX Global Market Tracker:
Business aviation records continue to fall as transatlantic
connections open up
Following record flight activity in each of the last six months, global business jet activity is still surging in the first week of November 2021. Compared to the same week in November 2020, worldwide business jet and turboprop sectors were up 54% compared to November 2020, and in comparison to pre-pandemic November 2019, sectors were up 16%.
Business aviation evidently continues to attract passengers from commercial aviation, with schedules continuing to trail comparative 2019 activity by over 30%. So far this year, 2.7 million business jet sectors have been operated, up 4% compared to 2019. Cargo operators have extended a 7% increase on comparative 2019 flight activity.

---
Global scheduled and business aviation activity Jan 1st - November 7th 2021.
[click on the image for larger format]

---
The Biden Administration´s decision to open up transatlantic travel from November is already seeing a marked increase in flights between Europe and the United States. 168 business jet departures flew from the EU into the US in the first week of November, 7% more than in November 2019.
This is a big improvement on the trend since June, down 14% on the summer of 2019. In turn, that was a pick-up on the trend in the first half of the year, during which transatlantic business jet connections were down by 48%. The commercial airlines have the biggest deficit to make up, with scheduled transatlantic connections trending down by 59% so far this year compared to 2019.

---
7 Day trend transatlantic business jet sectors Jan 2019 through Nov 7th 2021.
[click on the image for larger format]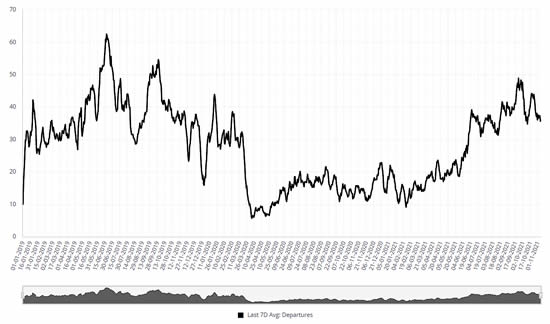 ---
Europe
Within the wider European area, just over 11,500 business jet sectors were flown in the opening week of November, up 33% on the first 7 days in November 2019. Year to date, business jet flights are up 3% vs 2019. This compares to scheduled airline flights trending down 29% vs the opening 7 days of November 2019, down 53% vs 2019 year to date. Almost 60% of business jet flights from Europe are less than 90 minutes long, departures of flights of this length are up 27% vs 2019.
The Cessna Citation Excel / XLS is the most popular business jet platform, operating 1,243 sectors in week 1 of November, up 45% vs 2019. Switzerland is a particularly popular destination this month, business jet arrivals up 55% vs 2019, the United Kingdom enjoys similar growth, boosted by the traffic into COP26.

---
Ongoing use of business jets at COP26 UN Climate Summit Conference.
[click on the image for larger format]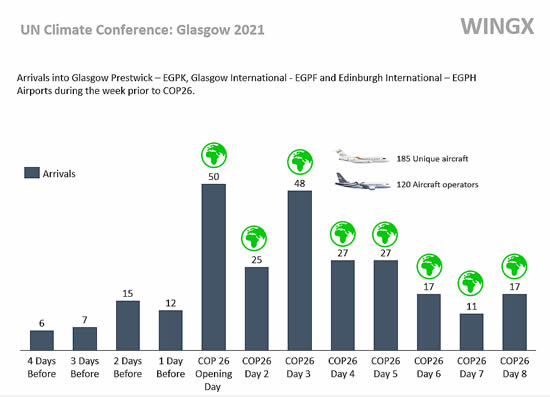 ---
North America
Business jet activity in North America is up 14% vs the first week of November 2019, with the United States seeing a 17% jump in compared to the first week in November 2019, 60% above the same week in 2020. Fractional and Branded Charter operators are at full tilt, respectively flying 28% and 23% more sectors than in the opening week of November 2019. Private flight departments are also now seeing a strong rebound, beating pre-pandemic levels by 19%. Charter operators are flying midsized, very light, and ultra-long range jets at close to 40% above 2019 levels. Scottsdale and Jacksonville are two airports which have seen double the activity this November than in 2019.
Rest of the World
Regions outside North America and Europe originated 10,642 business jet departures in the first week of November, an increase of 2% compared to the start of November 2019, up 39% compared to last year. Government activity is one of the growth drivers, these flights are up by 14% versus pre-pandemic. Amongst the countries with strongest growth in the last week compared to 2019 are Brazil, UAE, India, Colombia, Nigeria and Egypt. Dubai stands out, with Dubai International Airport seeing 77% increase in flights compared to November 2019, Al Maktoum Airport getting more than 200% growth; year to date, Al Maktoum outbound business jet traffic is up 135% compared to 2019.
Managing Director Richard Koe comments "The rebound in business jet traffic was expected to taper off after the summer, but the ongoing record demand, into the second week of November, underlines the appeal of on-demand travel, post-pandemic. US business jet operators will be nervously anticipating demand for aircraft for the upcoming Thanksgiving holidays, with current fleet capacity unlikely to suffice.
"The US is by no means the only growth hub; the Dubai Air Show next week will meet up with a bullish outlook, reflecting on business jet demand more than doubling so far this year, compared to pre-pandemic 2019."
WINGX is a data research and consulting company based in Hamburg, Germany. WINGX analysis provides actionable market intelligence for the business aviation industry. Services include: Market Intelligence Briefings, Customised Research, Strategic Consulting, Market Surveys. WINGX customers range from aircraft operators, OEMs, airlines, maintenance providers, airports, fixed base operators, fuel providers, regulators, legal advisors, leasing companies, banks, investors and private jet users.