Farnborough, UK
On Air Dining bounces back to pre-lockdown revenues
Investment, expansion, and efficiency prove the key to On Air Dining's COVID bounce back
Remaining open throughout the COVID-19 lockdown, On Air Dining's focus on investment and efficiency has led to doubling month over month revenue, increased market share, and trending higher than the London private aviation recovery rate.
At a time where the catering and hospitality industries are struggling to restart and keep up with demand, the On Air Dining team are thriving having made the necessary and forward-thinking improvements to their operations whilst the country was in lockdown.
"Myself and my fellow shareholders decided on the risky move of investing when the market dropped to ensure our clients continued to receive the product and service we are renowned for," says CEO Daniel Hulme. "Providing a top-class service to our clients whatever the circumstances is simply our reason for being."
Daniel believed that Farnborough Airport would recover quickly from the pandemic and made the strategic decision to bolster the Farnborough kitchen team, launch the On Air Café in coordination with Farnborough Airport, and invest in infrastructure. Having a team firmly in place along with the onsite café has positioned On Air Dining to meet the sudden influx of flights with the easement of UK travel restrictions and be a much-needed resource at the airport for crews, staff members and tenants.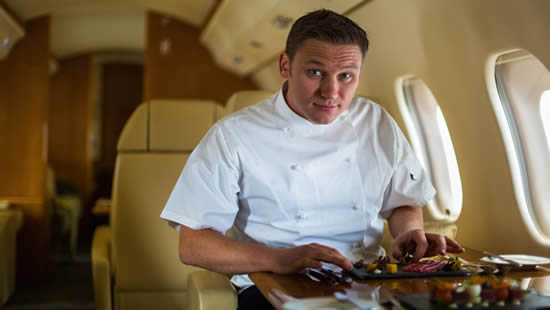 On Air Dining CEO, Daniel Hulme.
The strategy for the company's presence at Stansted airport during the pandemic was one of long-term vision. Stansted Airport is where it all started for On Air Dining over 10 years ago, with a well-established customer base and relationships with the FBOs. Daniel made the decision to take advantage of the slowdown in movements to move the operation out of the Diamond Hangar to Inflite The Jet Centre where they are about to finish expanding the kitchen space and have invested in a full refit of a brand-new kitchen. This move placed On Air Dining in a better location at the airport to support its customers and allows them to expand their kitchen footprint to better accommodate wide body aircraft catering.
"It was important to me that we remain open during lockdown to continue to support our customers and crews in their effort to get passengers and supplies safely to their destination," continued Daniel. "It was most certainly a risk, and it has paid off in customer goodwill, increase in market share, and an ability to cope easily with the recent surge in flights. Taking advantage of the slowdown in movements to make improvements across both sites is now proving invaluable. I'm incredibly proud of our success in such a competitive market and feel we are better positioned for continued growth in the post-recovery market."
Additionally to the investment in On Air Dining, Daniel Hulme launched its sister brand One Fine Dine with huge success and rave reviews from international media such as GQ, WIRED magazine, and Hello as well as all the major national press.