Wheeling, Illinois
Priester Aviation partners with Embry-Riddle to attract diverse talent to the aviation industry
It's said that a rising tide raises all boats. Priester Aviation Chairman and CEO Andy Priester and his team believe that efforts to elevate the aviation industry overall also benefit their 76-year-strong, global aircraft management and charter company.
Priester Aviation collaborated with the David B. O'Maley College of Business at Embry-Riddle Aeronautical University in supporting Project Liftoff to build a more diverse and inclusive aviation talent pool. In addition to a financial contribution of $50,000 in scholarships over the next five years, Priester Aviation is providing support through direct involvement. Andy Priester will serve as a mentor and guest speaker in the O'Maley College of Business.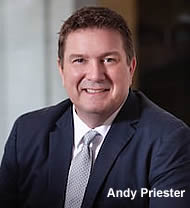 Andy is not new to the classroom. Priester served as a teacher early in his career. He earned a bachelor's degree in education from the University of Dayton and a master's in educational leadership from Concordia University Chicago. Working with young people has been a lifelong passion of his.
"We are proud to have helped support and launch a program that targets under-represented future aerospace leaders," says Andy Priester. "Project Liftoff, as part of the world's preeminent aeronautical university, will transform individual lives and, through them, our industry overall."
The first Project Liftoff student, Jerry Bracey II, joins Embry-Riddle this fall through Project Liftoff sponsorship. He will study the Business of Flight in the College of Business. The Indiana native will also become an Embry-Riddle Eagle, joining the men's 2021-2022 basketball program. As a 6'3", 180-pound guard his senior year of high school, Bracey was named the Northern Indiana Conference MVP. ERAU is preparing for one of its most anticipated seasons in its history.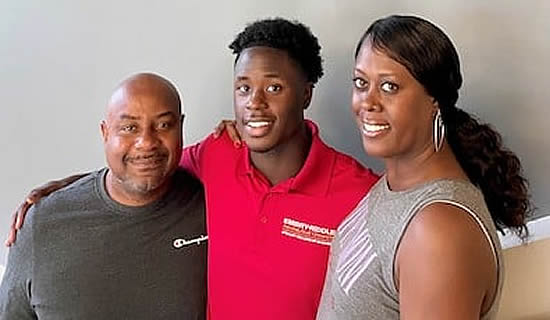 The first Project Liftoff student, Jerry Bracey II, pictured here with his parents, joins Embry-Riddle this fall.
"I have the opportunity at Embry-Riddle to greatly better myself, not just in the game of basketball, but as a person, and as a student," says Bracey. "I have so much appreciation and excitement about Project Liftoff. The same drive, dedication and competitiveness I have on the court will translate to the classroom, and I can't wait to get started."
"Jerry's passion for basketball is matched by his commitment and enthusiasm to develop as a business leader," says Dr. Shanan Gibson, Dean of the David B. O'Maley College of Business at Embry-Riddle.
The college prepares students for high-level careers that might have them doing everything from marketing a multi-million-dollar aircraft to creating a strategic plan for a global charter company. Roughly 94% of its students are either employed or pursuing advanced degrees within one year of graduation.
"The business of aviation has grown increasingly complex, and Project Liftoff helps ensure we have a diverse pool of dynamic, safety-first leaders who are fully prepared for the challenges and opportunities ahead," says Andy Priester. "We hope that our peers will join us in supporting Project Liftoff, enabling more students to experience the distinctive and transformative education provided by the O'Maley College of Business."
For more information about supporting Project Liftoff, contact Mary Lynn Ulch at 386-226-7176 or UlchM@erau.edu.