United Kingdom
Nothing is impossible in the world of private jet interiors
When talking about private jets, sleek design and quality materials are a given. But from time to time, a truly unique, sometimes even crazy, idea comes to the mind of someone who has the means to make it a reality.
Over more than 25 years in the business, Biggin Hill-based RAS Group, an established and respected aircraft interior, exterior, and completions company - and a subsidiary of global MRO services provider JET MS - has had many clients with some exceptional ideas in their minds.
"There's nothing impossible in the world of private jet interiors," Roger Patron, RAS Business Development Manager, said. "If some request is not plausible, we will find ways to get our client the next best thing without jeopardising their vision."
Exceptional materials for exceptional aircraft
Designing an aircraft interior has its own caveats that other design works might not fall into. "When working on aircraft's interior, you have to adhere to many regulations, outlines by aviation authorities," explained Roger Patron. "This makes some materials or design choices not viable - materials can be too heavy or flammable to put on an aircraft. But where there's a will, there's a way. There are many possibilities to ensure both, the materials wanted by the client and the following of regulations. We now can safely install stone, marble, or wood flooring or finishing, making sure that the client's high-class interior vision does not fall victim to prohibitions. It's our job to ensure that our clients have both - safety as well as style in their aircraft."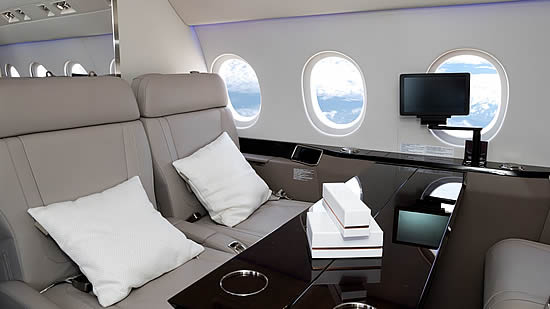 Other clients strive for opulence. "Precious stones and crystals, gold, mother-of-pearl - we've seen it all. If our customer is looking for some luxury in their design, we are more than happy to deliver some exclusive solutions," he added.
Home away from home
More and more often, especially in the face of a global pandemic, private jets become not only a means of reaching a destination but also a place for relaxation and feeling at ease. "To create a home-like experience, we have installed fully functioning kitchens, full-sized bathrooms with showers, even gyms with exercise machines - all to create what clients want.
"In the 80s, there was an actual bathtub installed in a jet, but now, because of safety precautions, this would be a way more difficult task to fulfil," he added. "But if there was a need for a bath above the clouds, we would work to find a way," he smiled.
Entertainment on-board
Some flights might take hours, so it's no wonder that jet interiors are often focused on entertainment. "Often our clients are busy people, who welcome a possibility to relax and have some time for themselves while in air," said Roger. "While some of our client requests are technical - like gaming or theatre systems, others are more traditional. We have designed some gorgeous bars for private jets and have installed quite a few poker tables."
Every tiny detail counts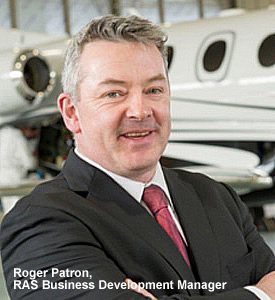 To ensure the best possible design for a luxury aircraft, RAS Group team pays attention to even the tiniest of details. "When creating an interior for a jet, you have to strive not only for beauty but also for functionality. With such limited working space, each centimetre counts. The floor plan, the flow of movement are extremely important for a convenient space. Additionally, it is crucial to ensure that in case of turbulence, nothing can cause an injury to people on board, so even decor pieces, such as vases or table lamps, have to be bolted to a surface."
Roger Patron concluded: "At the end of the day, the interior design of the business jet must please its owner and user. It is our goal to work in cooperation with our client in creating a truly spectacular space that would fulfil the wants and needs our client might have. There's nothing impossible if you're ready to look for ways to make it so."