Jordan
SITA and Crown Prince Foundation sign MOU, opening door to new career opportunities in Jordan
Agreement covers internships, apprenticeships, and graduate placements
Global aviation IT company, SITA, and the Crown Prince Foundation (CPF) have signed a memorandum of understanding to help improve the career opportunities for students and young professionals in Jordan. Apprenticeships, internships, and graduate programs form part of the three-year agreement.
With nearly 70% of the population below 30 years of age, the MOU will help young Jordanians develop new skills and grow new career opportunities in the information technology sector, a sector identified as a priority area for the local economy.
Undergraduate students at Al-Hussein Technical University (HTU) in Jordan, a CPF-affiliated university, will have the opportunity to undertake internships and apprenticeships with SITA to gain valuable skills and real-world industry experience. Recent science, technology, engineering, and mathematics (STEM) graduates can also develop their careers as part of SITA's 'Accelerate' graduate program getting practical work experience and invaluable mentoring from experts in the field.
With SITA's reputation for innovation, the agreement will also include a series of activities for students and young professionals to develop innovative solutions for overcoming specific challenges facing the air transport industry, today and in the future. These innovation activities aim to help foster an entrepreneurial skillset and start-up mindset essential for success in the IT sector and economic development.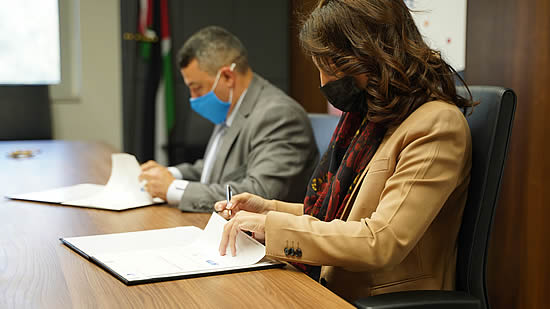 Dr. Tamam Mango, CEO of the Crown Prince Foundation and Hani El-Assaad, SITA President, Middle East, and Africa, at the signing ceremony.
Following a successful partnership in hosting a SITA hackathon earlier this year, this new SITA-CPF collaboration will serve the mutual interests of both organizations in supporting local communities and the economy. The partnership forms part of SITA's corporate social responsibility agenda to help communities within its locations to thrive through a range of engagement programs, such as education and work-based experience for students. The CPF is a pioneering organization supporting employability, entrepreneurship, and upskilling – areas critical to the growth of the Jordanian economy.
Speaking at the MOU signing ceremony, Dr. Tamam Mango, CEO of the Crown Prince Foundation, said: "We're delighted to formally extend our partnership with SITA and continue to strengthen links with the private sector. SITA's industry and technical expertise will help young people in Jordan develop vital IT skills and set them apart in the job market."
Hani El-Assaad, SITA President, Middle East, and Africa, said: "We are committed to making a difference to the lives of the communities where SITA operates. This partnership with the Crown Prince Foundation supports our mutual goals to upskill, nurture and unlock new talent and help improve career prospects with practical experience relevant to the job market."