Dubai
ArcosJet: Bombardier lineup prevails in Russia and CIS 400+ bizjet fleet
The latest market research by business aircraft sales & acquisitions specialists, ArcosJet, reveals that Bombardier models represent 30 percent of Russia & CIS owners' fleet, with the Gulfstream line right behind with a 21-percent market share.
The most popular is the Bombardier Global family, counting up to 70 aircraft, while ArcosJet analysts expect it to slightly expand its share as deliveries of the newest Global 6500 and 7500 models take place in the next couple of years.
"No surprise here as we know Bombardier products hold a very strong position in the region, with its wide Global long-range lineup and a very successful large and midsize Challenger family," says ArcosJet CEO and founder Mikhail Alenkin. "And these products are always among our strong recommendations to our customers due to their reliability, cost & performance combination, and reasonable pricing."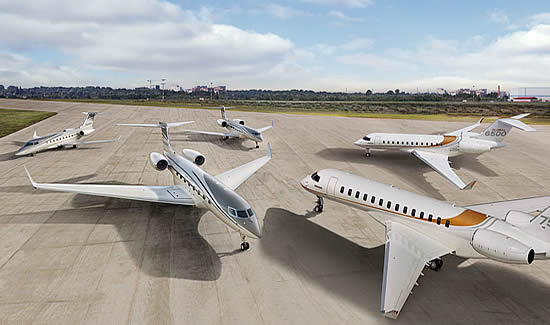 ArcosJet research also shows that 72 percent of 400+ Russian and the CIS owned aircraft are large and long-range business jets with only 20-percent share of light and midsize aircraft, the remaining 8 percent being business liners and converted airliners.
"The local owners' preferences are not driven by claims for luxury or billionaire lifestyle. When a common city pair distance approaches 3.000 km and average route is more than three flight hours, you need acceptable cabin comfort, longer range, and substantial payload," Mikhail Alenkin continued. "Meanwhile, we see an increase in the midsize and light fleet segments and expect this trend to grow stronger in the future."
The latest members of the Bombardier Global family - the Global 7500 and Global 6500 - may further expand Bombardier's long-range market share, however not at a large scale, according to ArcosJet analyst's findings.
Gulfstream's position on the Russia & CIS market is also strong, and its newest model G700 is considered as a significant market driver. Dassault's long-range Falcon 7X and 8X also enjoy solid representation on the local market, with a total count around 30 aircraft, according to ArcosJet data.
An aircraft broker and advisor firm with a proven transactions history focusing on Russia, the CIS, Europe and Middle East, ArcosJet keeps an eye on the latest market changes for a better understanding of the actual trends and customer needs, staying on the front line of new challenges and opportunities.