Air-link to Yacht Support Ship

Terry Drinkard considers airborne options for servicing super yachts.
I'm sure we've all seen pictures of a new class of ocean going ship called the Yacht Support Vessel (YSV). It is a two or three hundred foot long motor-driven tender that carries all the "necessities" that won't fit aboard the enormous mega-yacht that is apparently coming back into style as a measure of one's wealth and good breeding. Or something.
The driving intention behind the Yacht Support Ship is the storage, maintenance, and deployment of various "toys", such as dive boats, submersibles, and beach picnic support vessels. I will also say that the current generation of Yacht Support Vessels are glorious works of the shipbuilding art. They are beautiful, not just functional. As one might expect, the captains and crews are just as impressive.
One major service provided by the Yacht Support Ship, the one I want to focus on, is a helicopter, whether carried aboard or hosted from a land base. The helicopter is the high speed link to the land for people, consumables, and parts. Air is the preferred way for extremely busy owners to efficiently get from home and work to the yacht for a few days or weeks of vacation. It's fast, reliable, and highly time-efficient.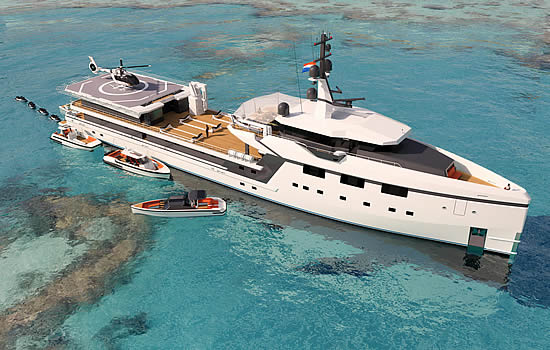 Damen YS-7512 in multipurpose configuration.
That said, helicopters as a class have relatively short ranges, high operating costs - a nice Sikorsky S-76C+ will run about $1,700 per hour - and are maintenance intensive. To add to the joy level, they tend to be very loud inside and relatively slow (notice how I avoided talking about the high vibration). It's also a bit hard to find a luxury executive interior without spending another couple of million dollars and that is going to eat into the available range because of the additional weight.
A Yacht Support Vessel is intended to sail in close company with its owner's primary yacht. And these vessels have trans-Pacific ranges, around 5,000 nmi. We might be forgiven for thinking that our air link might reach out a thousand miles or so, simply as a matter of convenience. However, the vast majority of helicopters have a range of 400 miles, give or take a bit. With reserves, that is not going to be much more than 300 miles offshore, even from an airport near the coast. Essentially, the Yacht Support Vessel will have to move inshore to pick up the owner and guests.
Fortunately, most yachting is done near shore because that's where the great seascapes are. That's where the beaches are. That's where the exotic ports are. But, that's not always where big international airports are. Nor even airports that serve business jets. However, some judicious planning will minimize those sorts of annoyances. However, there's nothing quite like starting off with a good compromise to put yourself in the mood for a vacation at sea.
Easy solutions
The easiest solution is to find an aircraft with longer range and higher speed that does not need more than the existing Yacht Support Vessel design already provides. For example, starting in 2020, Bell is willing to sell a civilian version of the V-22 Osprey for less than $30 million and it has a range of over 800 nautical miles.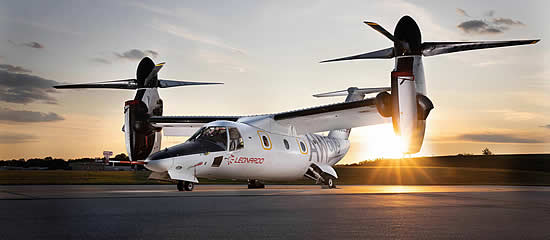 Civilian V-22 Osprey.
It's also a bit on the huge side with seating for you and 35 of your closest friends and it weighs over 40,000 pounds. That's a lot for a helicopter. The helipad might need to be reinforced for this kind of weight. It also costs a staggering $12,000+ per hour to operate. The joy of this solution is that all the parts are right off the shelf. Sort of.
An obvious alternative is to utilize a seaplane landing along side the Yacht Support Vessel without a need for the helipad at all. For example, a Japanese ShinMaywa US-2 has a range of almost 3,000 nmi which is very nice. However, one could purchase two Gulfstream G650s for the price of one US-2 (!), assuming you were even allowed to purchase one at all.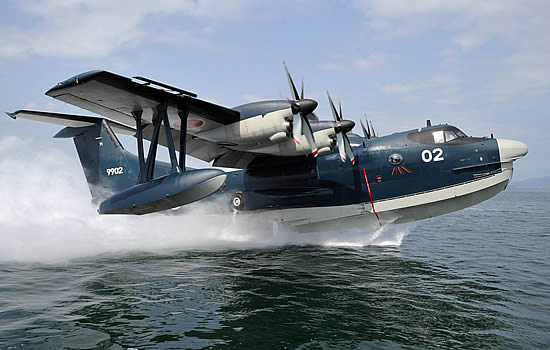 ShinMaywa US-2.
The fixed wing seaplane is actually a very workable idea. There are small seaplanes that are already being used to service the YSV. The drawback is the limitations of range and payload. To get that range and payload (for people and parts), we need a larger, heavier aircraft, few of which are currently being manufactured.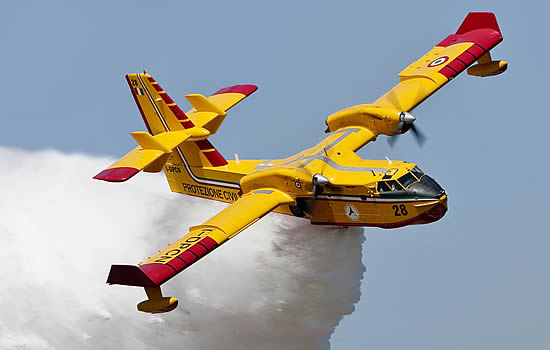 CL 415.
A Canadian CL415 can fly nearly as far, nearly as fast, and costs a quarter as much to buy as the US-2. Unfortunately, they are all configured as firebombers and not as transports, so add another million or two for a decent interior, even for the US-2.
You might think that a classic Grumman Goose would be the perfect fit and you might be right. If you can find one. They haven't been manufactured in more than seventy years and even though there is often talk to re-opening production of the turbine-powered version, the customer base really hasn't shown up. Instead, we would likely have to make do with a Twin Otter on floats, which has only about a two hundred mile range advantage and not much, if any, speed advantage.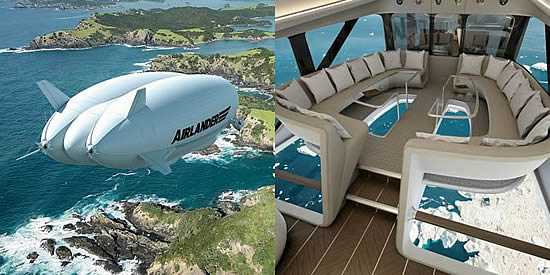 AirLAnder 10.
My "out there" solution would be to look at an AirLander 10. It's not fast, but it can say airborne for five days, which is pretty sweet all by itself, but is by no means time efficient. It has enough interior space that a luxury interior is possible without hobbling performance (and is currently available). Even more exciting is that the company is moving toward a hybrid drive system to reduce the carbon footprint, which is a very nice point in these days of climate change.
Moderately difficult solution
Back to more conventional thoughts, it may be possible to extend the helipad a bit to accommodate smaller Short Take Off and Landing (STOL) aircraft like the Quest Kodiak. A wind over the bow of twenty knots plus a sea breeze of another fifteen knots, would allow the Kodiak to land in a very short length.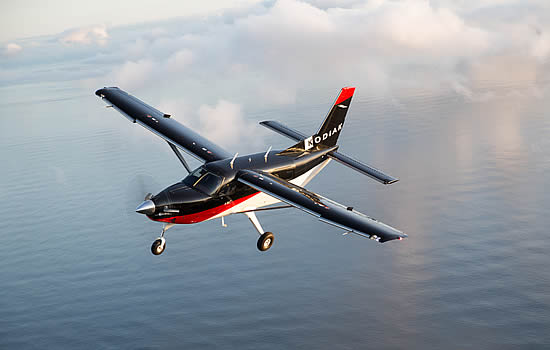 Quest Kodiak.
The new to 2021 Kodiak 100 Series II has an amazing amount of bells and whistles to go along with its eight seat executive cabin. It also has over a thousand nautical mile range and is significantly faster than a helicopter at 211 kts. Best of all, it's operating cost is less than $700 per hour and it's purchase price is around $2.4 million. My only caveat is that it's a single engine. Still, it's a turboprop and that is much more reliable than a reciprocating engine.
I freely submit that extending the helipad to such an extent would require a significant redesign, but I think it well within the capabilities of the firms that already design and build Yacht Support Vessels and the benefits could be compelling.
Paradigm changing solution
As a thought experiment, I wondered what is the best possible alternative. What might alter the very paradigm of a Yacht Support Vessel? My answer is to change the ship configuration to make it look and operate like an early through-deck aircraft carrier. Push the superstructure to one side and deck over the ship to allow a runway of perhaps three hundred feet, or about half as long as an early Independence class aircraft carrier (or a more modern British Invincible class).
Granted, the deck isn't terribly long. On the other hand, we aren't trying to launch heavily armed torpedo bombers and the like. Nor did the WW2 carrier aircraft use the entire deck length for either take off or landing, so it's a fairly reasonable number. Such a flight deck would make even helicopter operations safer. But, the real reason is to allow for heavier, longer ranged aircraft to operate from the ship with decent safety margins, perhaps even light executive jets, such as the Embraer Phenom, the Eclipse 500, or the Cessna M2. A ship of this kind would also be able to easily service larger hybrid aircraft such as the AirLander 10 and even hot air balloons.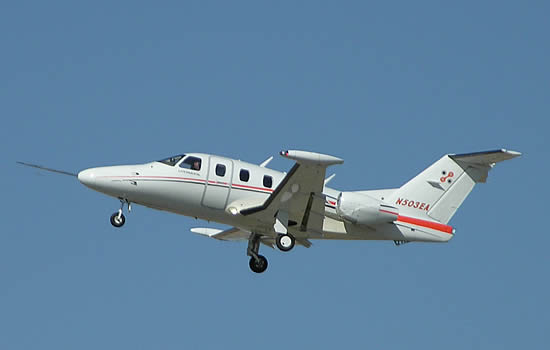 Eclipse 500.
Without question, this is a very expensive solution. It requires an entirely new design from the keel up. It may even require more powerful engines to generate more wind over the deck for flight operations. But, a clean sheet design can be optimized for modularity to ease construction, reduce costs, and improve cycle times. We might better think of the redesign more as a barrier to entry for the competition than as an excessive cost.
How can aviation contribute?
As almost everyone knows, I'm an airplane guy, not a ship guy. So, I tend to approach these things with an aviation solution in the back of my mind. What I think we in aviation can do is fairly limited. The projected market size simply will not support a new, clean-sheet design. If we got fifty new units out of a marvelous new offering, I'd be happily surprised. Nevertheless, there are things we can and should do. For example, an arrested landing system would be high on my list of "needs". Some sort of catapult launching system would also be nice, if not absolutely necessary, but that seems a more difficult problem to me.
That said, we have a great many ingenious engineers and inventors in both aviation and naval architecture. I would not want to be on record saying it cannot be done. I have myself taken a "that's impossible" from a very knowledgeable engineer and proved him wrong. I doubt things have changed much. So, I'm going to leave it at we need a simple, reliable arrested landing system and a simple, reliable way to launch aircraft to flight speed.
So, with that understanding, how can we do it properly? A Supplemental Type Certificate (STC) for an arrested landing gear system or fitting on a landing gear to accept the loads from a catapult system seems like it might be possible. Or perhaps a Technical Service Order (TSO) would be the better route. I don't know. The engineers out there in the field will have a better idea than I do of what the right administrative process might be. The one thing I do know is that we need to work very closely with the ship designers to ensure that we have the lowest total cost system.
Regardless, it's certainly worth the time to ask the customers what they think. Don't ask what they want. Show them what we think is possible and get their reaction.
---
About the Author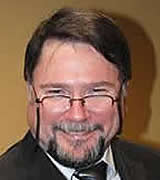 Terry Drinkard is a Contract Structural Engineer based in Mobile, Alabama whose interests and desire are being involved in cool developments around airplanes and in the aviation industry. He has held senior positions with Boeing and Gulfstream Aerospace and has years of experience at MROs designing structural repairs. Terry's areas of specialty are aircraft design, development, manufacturing, maintenance, and modification; lean manufacturing; worker-directed teams; and organization development.