WINGX Global Market Tracker:
Europe turns corner as US market surges ahead
There were 177,000 business jet and turboprop sectors flown worldwide in the first 12 days of July according to WINGX`s weekly Global Market Tracker published today, 11% more activity than the same period in 2019, more than 40% up on last year.
Comparatively, the commercial airlines are gradually coming back, with same period global activity trailing July 2019 by 33%, and a year-to-date trend of -44% compared to Jan-July 2019.
Business jet activity is roaring back in both Europe and the United States this month, with European activity up 9% versus July 2019, and US business jet demand almost 30% higher than in July 2019. There is a considerable gap between Europe and the US on a year-to-date basis, with European business jet activity still 11% behind 2019, whereas US business jet activity this year is now 4% up on 2019.
---
Global Business Aviation 7-day trend since January 2019.
[click on the image for larger format]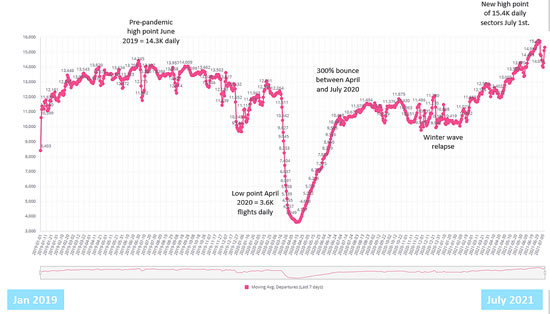 ---
North America
The US market's strong recovery is clearly leisure-oriented, with last week's surge in Fourth of July travel reflecting a year-long positive recovery in Friday- Sunday business jet traffic, contrasting with still-weaker-than-2019 weekday demand. Clearly the leisure demand is being generated through the charter market, with year-to-date charters up 10% on comparable 2019, and July so far seeing 30% increase in comparable pre-pandemic demand.
Across the charter market, utilisation rates are climbing towards 50 hours per unit per month, well ahead of historical trends. The core demand in the US is for super light and medium-cabin jets, with Phenom 300, Challenger 300, Citation Latitude seeing very high utilisation. The last month is also seeing a strong comeback in large cabin jet activity.
Geographically, there is still considerable variance in the recovery of business jet activity in the US. Florida continues to storm ahead this month, 26% more business aviation sectors than July 2019, in line with its gains so far this year. California has reasserted itself as the 2nd busiest State, flights up by half this month compared to last year, and more than 10% ahead of July 2019. But year-to-date there is still a gap to close, 7% behind Jan-July 2019, with similar deficit in New York, and still double-digit deficits for the Chicago and New York metropolitan areas.
Teterboro, restored to the global airport hub for business aviation, has doubled its activity this month vs last year, but still languishes 30% behind 2019 for year-to-date activity. Contrast Nantucket and Aspen, respectively 7th and 9th busiest airports this year for business aviation and both seeing activity well over 25% higher than pre-pandemic.
---
Business Aviation arrivals into Nantucket airport June-July 2021.
[click on the image for larger format]
---
Europe
Europe is now starting to see its own belated recovery in business jet flight demand as travel restrictions are lifted. The scheduled commercial airlines are still in a woeful state, with activity this month trailing July 2019 by more than 40%.
In contrast, business aviation flights are up 9% for the same July period 2019. The regional bounce is significantly flattered by sustained surges in demand in Greece, flights up almost 50% this month, Croatia, where arrivals are up 55% in July, also some larger markets such as Spain, sectors gaining by 25%, and Switzerland, demand 18% higher than normal. The UK and Ireland are the clear back-markets, lagging comparable 2019 activity by more than 20%. France and Germany are seeing demand inch above 2019 this month but still have big deficits for the year so far versus 2019.
---
Business Aviation activity at key UK airports in Jan-July 2021 vs 2019.
[click on the image for larger format]
---
Rest of the World
Outside of Europe and the US, strong recovery in domestic business jet travel continued for Brazil, China, India, Australia, Russia, Turkey, Nigeria, activity is well ahead of pre-pandemic. The Middle East has been a consistently strong recovery story, also including international flights, with Dubai particularly buoyant. Elsewhere, busy business aviation airports such as Toluca, Calgary, Del Norte, are seeing a decent bounce from last summer, but still well behind 2019.
The global airports with the biggest rebounds compared to 2019 include Nassau, Sao Paolo, Cabo San Lucas, Ben Gurion. Across these airports, light jets have the biggest summer gains, up 10%; whilst large cabin jets haven't caught up, sectors down by 12% and flights hours lagging by 20%.
Managing Director Richard Koe comments "The business aviation recovery has stepped up in July, with the US still dominating, heading into a summer season which is likely to surpass the normal seasonal peaks in Spring and Fall. European activity is finally on the rebound overall, but still looks fragile in Western Europe.
"The northern hemisphere's next few months should be buoyed by summer charter demand, with the upside potential of business travellers getting back on the road by September."
WINGX is a data research and consulting company based in Hamburg, Germany. WINGX analysis provides actionable market intelligence for the business aviation industry. Services include: Market Intelligence Briefings, Customised Research, Strategic Consulting, Market Surveys. WINGX customers range from aircraft operators, OEMs, airlines, maintenance providers, airports, fixed base operators, fuel providers, regulators, legal advisors, leasing companies, banks, investors and private jet users.