London
BizAv 'Supergroup' unites to launch Vulcan Aviation
Three of business aviation's most respected senior executives are joining forces to launch Vulcan Aviation as an elite full-service business aviation company serving a worldwide client base.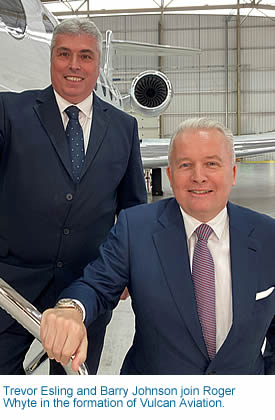 Trevor Esling, until recently regional senior vice president of sales for Gulfstream Aerospace Corporation, is launching Vulcan Aviation with Roger Whyte, one of the industry's most distinguished executives and former senior vice president of worldwide sales and marketing at Cessna Aircraft Company, and Barry Johnson, CEO of Executive Jet Charter and a highly successful aircraft management entrepreneur.
From its headquarters at Farnborough Airport, Vulcan Aviation will support a select international client group at every stage of the aircraft ownership journey, from acquisitions and sales to management, operations and maintenance.
Trevor Esling, director, says: "Under a globally accomplished leadership team, Vulcan Aviation gives owners a rare advantage in aircraft sourcing, negotiations and in maximising the benefits of ownership."
Roger Whyte.
Roger Whyte, director, adds: "Trevor Esling, Barry Johnson and I have held senior leadership positions in several of the world's foremost OEMs and flight departments, negotiated some of the industry's largest deals and built trusted relationships with many of the world's most sophisticated aircraft owners and operators. This gives us a formidable array of knowledge, skills and connections to wield on behalf of clients."
Barry Johnson, director, continues: "Vulcan Aviation offers a highly bespoke and relationship-based approach to corporate and private owners, founded on a wealth of international management and operational experience. I look forward to bringing my 30-plus years of operations management experience and high levels of customer service to our clients."