Stuttgart, Germany
Three months of successful operation for new DC Aviation Wheel Shop
Three months ago, DC Aviation put its new state-of-the-art Wheel Shop into operation at the maintenance center at Stuttgart Airport, offering a comprehensive range of services for the repair and maintenance of main and nose landing gear wheels.
DC Aviation has held its C14 approval for the repair and maintenance of main and nose landing gear wheels since 2017 and is currently performing maintenance services on the Cessna Citation XLS+, Bombardier Challenger 300/604/605/850, Bombardier Global Series and Gulfstream G650 models.
Due to demand, work is underway to further expand the Wheel Shop as the company would like to offer work on Cessna CJ series wheels, and service the wheels of Gulfstream G500, G600 and G700 jets.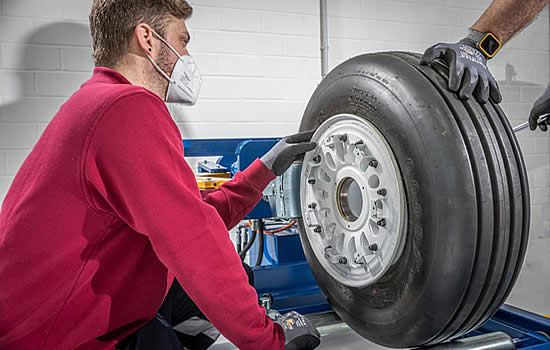 For this purpose, DC Aviation has significantly expanded the capacity of its previous Shop and has invested in state-of-the-art equipment. The floor of the new 77 m2 area has been sealed with high-gloss epoxy resin and includes two bead breakers for loosening the tyres on smaller and larger wheels, a hydraulic lift for ergonomic and effective work on wheels, a rim washing machine, along with a sandblasting cabin to prepare wheels for crack testing.
DC Aviation can now reflect on the first few weeks of the new Wheel Shop, which have been exciting and highly positive. After completing training employees were able to use the newly acquired equipment and service new customers. DC Aviation is pleased that it has been able to expand its service portfolio and are extremely pleased by the positive reaction of customers and the increased demand created by this new opportunity for maintenance work.
Jürgen Sehne, Vice President of Maintenance & CAMO at DC Aviation, said, "The expansion of the Wheel Shop is an ideal addition to our portfolio of maintenance services. By carrying out repair and maintenance work on wheels in-house, idle times can be optimized for customers and costs can be saved."
Aircraft wheels require considerable maintenance, due to their heavy load and their importance for the safety of flight operations. In the DC Aviation Wheel Shop, each wheel goes through numerous stations until, after a thorough check in the final inspection, it is released and re-certified with an EASA Form 1.