Ventura, California
JetPack Aviation VTOL goes green
Zero net carbon fuel powers personal flight
JetPack Aviation (JPA), developer of the world's first FAA-certified personal turbine JetPack, has announced a cooperative supply agreement with Prometheus Fuels Inc., inventors of the Titan Fuel Forge, which makes zero net carbon 'fuel from the air'.
Continuing its technology sprint towards environmentally responsible, personal flight mobility, JPA has made a commitment to using 100% carbon neutral fuel for its fleet of JetPacks and Speeder aircraft. Using solar and wind generated electricity, the Prometheus Titan Fuel Forge reclaims atmospheric carbon through a proprietary process that strips CO2 molecules from the air and "energizes" them into hydrocarbons which can be made into any type of fuel.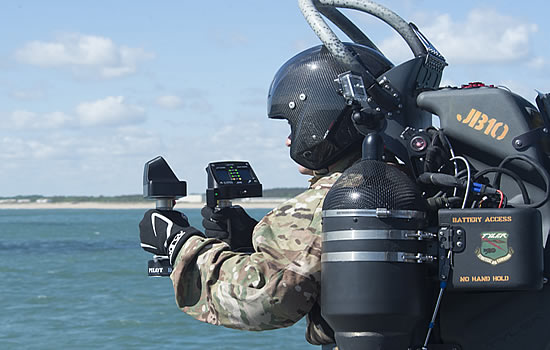 The JPA JetPack will maximize carbon neutral energy for power
"We are living in an age of extraordinarily rapid technical advancement for personal flight" said David Mayman, JPA Founder and CEO. "And along with that advancement comes increased responsibility for corporations to keep our planet clean, safe, and healthy for all its citizens. Our engineering team takes that obligation very seriously which is why we are so excited to be working with the visionaries at Prometheus Fuels."
JetPack Aviation is currently in the advanced development phase of The Speeder, an eight-turbine heavy-lift VTOL. The Speeder will save lives by reducing the time EMS and First Responders take to reach and extract disaster victims. The Speeder is also uniquely positioned for urban and rural fire fighting, providing both a means to reach upper floors in high rise buildings and unprecedented accessibility to remote conflagrations including mountain forest fires and hazardous industrial sites.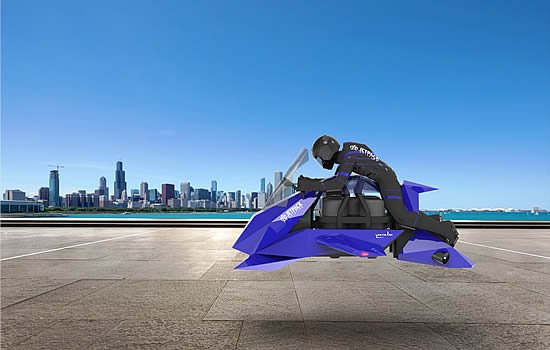 The Speeder VTOL aiming to use 100% carbon neutral energy
Unlike current experimental vehicles utilizing batteries for electric propulsion, The Speeder is capable of lifting 600lbs of cargo and/or passengers while maintaining an ultra small footprint requiring less than 10x10 ft of takeoff/landing space and flying at more than 250mph. This combination of extreme lift and small size is not achievable with current battery technology, and it is not expected to be so for many years. Turbine engines are proven, tested technology which combined with JPAs proprietary on-board engine-control computers will deliver critical support to these essential markets.
"We're excited to be part of JetPack Aviation's innovation in the technology of high-performance personal flight," said Rob McGinnis, Prometheus Founder and CEO. "We want to enable human exploration, adventure, and achievement that doesn't harm the planet, and powering JPA's JetPack and Speeder with our zero net carbon fuels is the perfect embodiment of that goal."
JetPack Aviation is on a mission to bring personal air mobility to every individual on the planet. As the engineering leader in small turbine-powered personal VTOL aircraft, the California based company made the world's first FAA approved JetPack flight in 2015 around the Statue of Liberty. Since then, the JPA JetPack Flight Team has flown at events across the globe including at Formula 1 races in front of 300,000 awestruck spectators.