WINGX Global Market Tracker:
April triples year-on-year activity, US leading the recovery
Global fixed wing flight activity is up 227% in April 2021 compared to April 2020, with business jet activity up by more than three times, scheduled airline sectors doubling and cargo activity up 15% year on year.
So far this year, worldwide all sector flight activity is trailing 17% compared to 2020, due to the still significant declines in scheduled airline flights, 25% behind same period 2020. In contrast, business aviation activity is 25% up year-to-date.

---
[click on the charts for larger format]
All Sectors April YTD - 2021/2020/2019

---
For this period, business aviation traffic is up 25% in the core North American market, up 30% In Africa, 40% in Asia, 65% up in South America. Europe has finally broached 2020 thresholds, with regional business aviation activity now trending up 8%.
North America
Demand for business aviation in the US continues to recover this month. The rolling daily average activity on Tuesday 27th April 2021 was 8,535 sectors, well over double the 2,991 daily flights trending on Tuesday 28th April, still some way below the 9,273 flights operated on Tuesday 30th April 2019.
For the month, US business aviation flight activity is now down by 5% compared to April 2019, and for the year to date, the deficit is 9% compared to 2019. Branded charter operations are record-breaking, with 32% more sectors flown this year compared to last, and 3% more sectors than in April 2019. Peak rolling 7-day average this month was 1,680 charter flights, compared to a peak of 1,1615 daily charters in 2020, with 1,617 daily charters the high point during 2019.
---
Bizav US 7-Day Trend - 2021/2020/2019

---
Ninety-six percent of business aviation sectors in the US this year have been domestic trips, with the most popular international connection to Mexico, these flights up 95% this year compared to last. Flights from the US to the Turks and Caicos Islands are double where they were last year, and 96% up versus April 2019, up 32% on January to April 2019. Seventeen percent of all US business aviation departures this year are originating in Florida, with this activity up by over half compared to last year. South Carolina has a similar growth rate this year. Other States with more than 30% growth this year include Texas, Colorado, Georgia, and now New York as well. Growth in traffic from California is double-digit, and even Washington DC and New Jersey have eked out a few points of growth this year.
Europe
There have been thirty-eight thousand business aviation flights in Europe in April 2021, twenty-five thousand more than in April last year. On a year-to-date basis, the European region is now 8% ahead of last year in terms of traffic. Austria, Switzerland, and Netherlands are still modestly behind last year's trends, and the UK is still trailing by 35%.
---
Bizav Europe - January to April 2021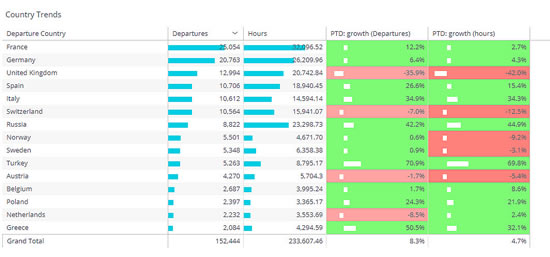 ---
Business jet and prop departures in France are trending up 12% this year, with 26% gains in Spain, 34% growth in Italy, 42% increase in activity in Russia, and 70% YTD increase in Turkey. Private flight activity is up by most, 25% more sectors this year compared to last. International flow is still the weakest, with busiest connection between France and Switzerland, still 9% down on last year.
Weakest trend is for flights between the UK and the EU, with the G Register AOC fleet flying 42% less than last year, 67% less than back in 2019.
Rest of the World
Outside the US and Europe, Canada is the busiest market for business aviation traffic, trends creeping 5% up on 2020, but still more than 40% adrift for connections with the US. Mexico has gained 15% on 2020 trends through April, but that is still 40% down on comparative 2019 activity. Business jet traffic in China has doubled this year compared to last year, with all the impetus coming in domestic flying; international flights are down 90% compared to trends in the previous two years.
As the virus surges and lockdowns are intensified in India, business aviation activity is still quite robust, down in the last few days but up 43% compared to last year. Business jet flights from the UAE have doubled this year compared to last year, with most growth in connections with Russia, Turkey, and to Maldives.
Managing Director Richard Koe comments "The key US business aviation market has turned the corner, well ahead of last year and with less than 10% shortfall versus 2019, with the momentum to surpass those levels in the second half of the year.
"For Europe, the question mark is the extent to which travel restrictions get lifted before the summer, given the market's dependence on leisure demand making up for an expected long-term drop in corporate travel."
WINGX is a data research and consulting company based in Hamburg, Germany. WINGX analysis provides actionable market intelligence for the business aviation industry. Services include: Market Intelligence Briefings, Customised Research, Strategic Consulting, Market Surveys. WINGX customers range from aircraft operators, OEMs, airlines, maintenance providers, airports, fixed base operators, fuel providers, regulators, legal advisors, leasing companies, banks, investors and private jet users.