| | | |
| --- | --- | --- |
| | | Helina Teshome, managing director at Krimson Aviation, discusses how launching a bespoke travel service at the beginning of a pandemic highlights why flexibility, agility and adaptability matter. |
---
Since we launched more than five years ago, there has been a steady increase in demand from crew and passengers for travel recommendations in Ethiopia. In response to this growing interest, we launched Krimson Koncierge at Aviation Africa in the first week of March 2020.
The show began in a pre-pandemic world and finished in a rising tide of travel lockdowns as the World Health Organisation (WHO) confirmed the global pandemic a week later on 11 March 2020.
We couldn't have anticipated that our timing would be so wrong, but in fact the global pause has allowed us to further research and develop our offering for when the border restrictions ease and regular travel is the norm. With flight movements at a near standstill for the past year, it may have seemed contrary to continue building a bespoke travel service business. However, with the gradual global rollout of the Covid-19 vaccine, we are moving closer to a major travel boom and Krimson Koncierge will be ready to accommodate both first-time and experienced travellers seeking to maximise their Ethiopian experience.
Addis Ababa, Ethiopia's capital in the highlands bordering the Great Rift Valley, is the country's commercial and cultural hub.
The genesis of Krimson Koncierge sought to provide a curated collection of travel products to ensure that visitors receive bespoke travel experiences, from excursions and accommodation to entertainment, transportation, and airport services. Ethiopia offers an eclectic variety of food, awe-inspiring culture, and a rich history. Travellers coming to our beautiful country want to experience the most from their sojourn, regardless of the nature of their trip and, from this demand, Krimson Koncierge was born.
While we still offer these services, we recognised that we needed to modify the offering to ensure that our customers know, and are comfortable with, the health and safety protocols we have established. Our focus is as much about ensuring a healthy experience as it is about creating an unforgettable set of memories. Our partners share our concerns, and we are only working with suppliers who emulate our own high standards. Initial questions now relate to sanitation and covid protocols rather than in-room services or checkout times.
Darwin is reputed to have coined the phrase Adapt or Die and this became our approach to Krimson Koncierge. We had to revisit, review and rebuild our offering to address the now imperative needs to meet healthy, safe, and secure travel requirements. We had to harness all our experience of securing and servicing flights during the pandemic to remould the product offering.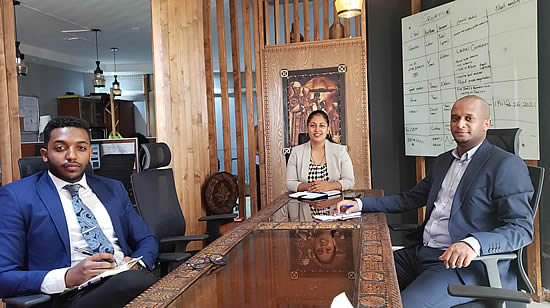 The Krimson management team: (L to R) Gideon Girmar, Commercial Manager; Helina Teshome, Managing Director; and Michael Mesfin, Koncierge Services Manager.
With no physical FBO available for visitors at Bole International Airport, we are now delivering a virtual experience with the Krimson Koncierge service. In response we have seen an upsurge of requests for the meet and greet services from international executives and diplomats who consider the fast-track service as extra protection during arrival, transit, and departure. As we strive to reduce the spread of the virus, Koncierge offers private tarmac transfers, VIP ground transportation, and separate shuttle services, all of which are frequently requested and used by our clients. A positive first impression when travelling can make all the difference to the perception of a country which is why we introduced these offerings.
We have worked equally hard to develop an approved selection of trusted partners and providers who practice only the highest level of safety and privacy for our customers in accordance with the sanitation protocols as per the WHO recommendations. Our partners are evaluated and ranked based on their compliance with the WHO guidelines, and we then use these rankings to make suggestions to our clients for booking services.
Recognising the high levels expected by international travellers, our new team member Michael Mesfin, Koncierge's service manager, has advised us about modifying our offering to meet the expectations of our elite customers without completely diluting the experience in an abundance of caution. Bringing a wealth of experience from his time supporting United Nations members and visitors to Ethiopia as the Carlson Wagonlit representative means we know our guests are in experienced hands.
Based in Addis Ababa, it's only natural that this is where our journey begins, and our strategy is to develop our services across East Africa and eventually partner with like-minded companies in other African regions. There are many opportunities for African companies to offer similar services as first-time travellers seek authentic experiences and reliable advice to discover the many gems on offer. We are cautiously optimistic about the potential for 2021 and beyond and anticipate that visitors will continue appreciating our new offerings as the desire to explore has been reinvigorated by our loss of liberty.