Denver, Colorado
Bye Aerospace unveils 8-seat all-electric eFlyer 800
Safran to support propulsion design
L3Harris Technologies collaboration to develop all-electric multi-mission aircraft
Bye Aerospace has announced an eight-seat all-electric twin turbo-prop class airplane, the eFlyer 800, in response to growing demands for regional all-electric airplanes with significantly reduced operating costs, plus increased capacity and utility.
Performance estimates for the eFlyer 800 include up to 320 knot cruise speed, 35,000 feet ceiling and 500 nm range with 45-minute IFR reserves at normal cruise speed of 280 knots. Safety features include two wing-mounted electric motors, each with dual redundant motor windings, quad-redundant battery packs and a full airplane parachute.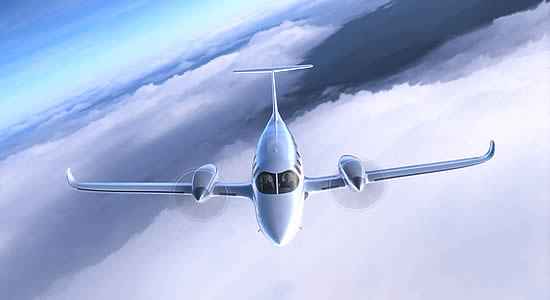 Additional potential features include emergency auto-landing system, intelligent algorithm ensuring envelope protection, terrain avoidance and routing for emergency auto-land, and also an option for supplemental power solar cells and in-wheel electric taxi. The airplane's 8-seat configuration consists of up to seven passengers and one or two pilots. The eFlyer 800 will have only one-fifth the operating costs of traditional twin turboprops and is geared for the air-taxi, air-cargo, regional and charter aircraft markets.
"The eFlyer 800 is the first all-electric propulsion technology airplane that achieves twin-turboprop performance and safety with no CO2 and extremely low operating costs," said CEO George E. Bye. "This type of remarkable economy and performance is made possible by the electric propulsion system and advanced battery cell technology that results in significantly higher energy densities."
Bye Aerospace and Safran are currently assessing the most efficient electric powertrain for the eFlyer 800 (dual ENGINeUS electric motors and GENeUSGRID electric distribution and network protection system).
"Safran product lines with the ENGINeUS motors, rated from 50kW to 500kW/1MW and GENeUSGRID systems, perfectly fit with the Bye Aerospace portfolio of e-aircraft," said Hervé Blanc, Executive Vice President and General Manager Power with Safran Electrical & Power.
"Building upon our successful cooperation on eFlyer2 and eFlyer4, we are very proud to bring our best expertise to support Bye Aerospace in the design of the new eFlyer 800."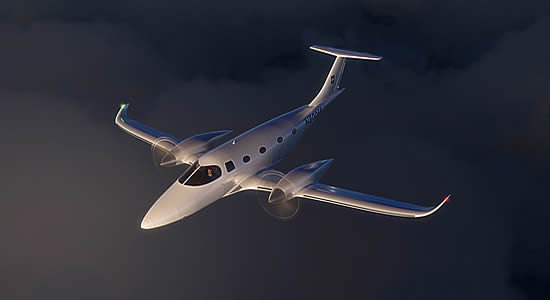 Bye said eFlyer 800 customer deposit agreements are complete, and several are being developed with US and European air-taxi, air-cargo and air charter services. "Details about those agreements will be announced soon, and as they are finalized."
Bye Aerospace is in the process of obtaining FAA Part-23 certification for the eFlyer 2 for the professional flight training mission and the four-seat eFlyer 4 for air taxi, cargo and advanced training uses. All the company's current and future families of aircraft feature engineering, research and electric aircraft solutions designed to specifically address compelling market needs. Benefits include five-fold lower operating costs, no CO2 emissions, and decreased noise. Bye Aerospace estimates the eFlyer will eventually eliminate the release of millions of metric tons of CO2 each year as its deliveries begin and the general aviation fleet is replaced.
L3Harris Technologies collaborates to develop all-electric multi-mission aircraft
In further news, Bye Aerospace announced on Wednesday (April 28th) that it has signed an agreement with L3Harris Technologies to develop an all-electric, multi-mission aircraft that will provide intelligence, surveillance and reconnaissance (ISR) capabilities for domestic and international ISR mission operators.
The companies will modify the eFlyer 800 aircraft, which features twin 500 kW (670 HP) electric engines - well suited for the ISR mission. The eFlyer 800 will offer excellent mission range, persistent overwatch and payload capacity with the added benefits of one-fifth of a traditional turboprop's operating cost, zero emissions and a minimal logistical footprint for operations in the field.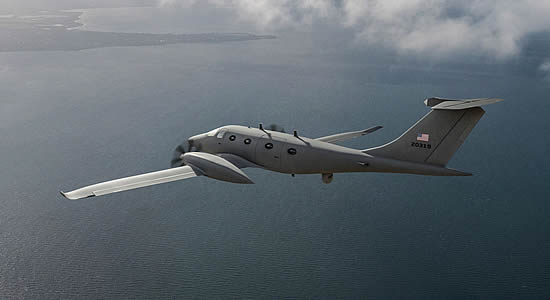 L3Harris will collaborate with Bye Aerospace using the latest digital engineering tools to model survivability, mission effectiveness, logistics and platform performance in multiple mission configurations.
The eFlyer 800's all-electric motors do not combust fuel with air, creating torque from electricity alone, removing legacy turboprop engine limitations. All-electric propulsion allows the aircraft to operate with low thermal signature and in virtual silence both inside and outside of the cockpit, which will enable new flexibility for both low and high-altitude mission operations.
L3Harris will collaborate with Bye Aerospace using the latest digital engineering tools to model survivability, mission effectiveness, logistics and platform performance in multiple mission configurations. L3Harris is a world leader in providing multi-mission airborne ISR solutions, with decades of experience in missionizing aircraft for a variety of missions using virtually all aircraft types.
"Applying our missionization expertise to Bye Aerospace's all-electric platform will help drive future mission applications," said Luke Savoie, President, Aviation Services, L3Harris. "These platforms offer sustainability and mission advantages that will benefit a new generation of tactical manned ISR mission aircraft."
Bye Aerospace is a pioneer in applying innovative electric propulsion systems to its aircraft, which will dramatically reduce operations cost and eliminate CO2. The company also develops and integrates structural and mechanical systems and aerodynamic advances for increased performance.
"L3Harris is the Gold Standard in mission systems, providing the technologies and solutions critical to our government and military customer needs," said George E. Bye. "We are excited to be partnering with L3Harris to develop the next-generation, all-electric, aircraft for multi-modal military applications. We are honored that they believe in our vision for eFlyer 800 electric aircraft and look forward to our journey together."