Lebring, Austria
AXIS updates Cessna 560XLS simulator for UPRT
Austrian FFS manufacturer provides full UPRT capabilities to meet EASA requirements
Full flight simulator manufacturer AXIS recently upgraded a Cessna 560XL simulator at the Austria Aviation Academy to provide advanced Upset Prevention and Recovery Training, using data gathered from flight tests performed in the real aircraft. The resulting update has been qualified by Austro Control (ACG).
EASA defines Upset Prevention and Recovery Training (UPRT) as a combination of theoretical knowledge and practical training to enable flight crew to prevent and recover from situations in which an aeroplane unintentionally exceeds the parameters for line operation or training.
This includes stall prevention and recovery training as well as the serious issue of wake turbulence. Advanced UPRT has been mandatory as of December 2019, with a one-year transition period, and AXIS is providing retrofits for its installed simulator base.
In this case, in the summer of 2020 flight tests were performed on behalf of AXIS in a Cessna 560XLS in different attitudes and configurations to assess its stall and recovery behaviour.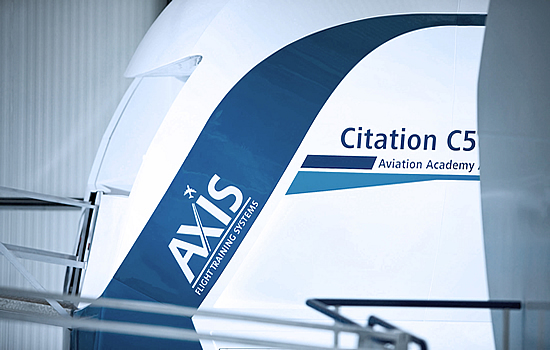 This included wings level and accelerated stalls, with all flap settings. High altitude stalls in clean configuration were also flown. The flight data was gathered from the flight data recorder and installed sensors. The simulator's stall and post stall model was then adjusted and extended based on that data, and the resulting simulator behaviour assessed during a subject-matter expert evaluation by the test pilot who flew the stall manoeuvres in the actual aircraft. The Qualification Test Guide was updated to provide SOCs and updated test results to show compliance with EASA CS-FSTD (A) Issue 2 requirements for UPRT and full stall training. In January of this year the update was duly evaluated and qualified by Austro Control (ACG).
With this update the simulator can now be used for full stall training tasks as well as for manoeuvre-based and scenario-based (MBT and SBT) Upset Prevention and Recovery Training. AXIS provides three each MBT and SBT scenarios by default, and for the Cessna 560XLS simulator AXIS provided three additional MBT scenarios for a total of six MBT and three SBT.