California
Signature hits 1 million SAF delivery milestone
Signature Flight Support is celebrating an exciting milestone in its quest towards net-zero carbon emissions by 2050 by exceeding 1 million gallons of Sustainable Aviation Fuel (SAF) supplied through its Signature Renew program at the San Francisco International Airport in San Francisco, California.
This marks the first time a single FBO location globally has delivered such a substantial and consistent supply of SAF to business aircraft operators.
Furthermore, Signature has expanded availability of Signature Renew SAF through the introduction of new on-airport supplies at both the Oakland Int'l Airport (OAK) in Oakland, CA and Boeing Field/King County Int'l Airport in Seattle, WA. With these two additional locations, Signature is now providing a consistent, always-available source of sustainable Jet A fuel at six locations globally, more than any other FBO operator.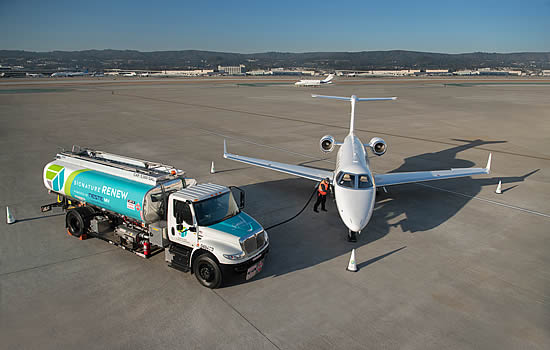 "The 1 million gallon milestone is a significant achievement that, together with our ongoing expansion of SAF, continues to propel the business aviation industry towards adopting sustainable fuels on a consistent basis," remarked Tony Lefebvre, Chief Operating Officer of Signature Flight Support. "Last September, we promised a permanent supply of sustainable jet fuel at SFO, and we delivered on that promise in December - now in April, we've demonstrated that critical mass with SAF is possible." He continued, "We're proud to have saved over 10,000 metric tonnes of CO2 from entering the atmosphere via our efforts at SFO, and we aim to replicate that success at additional locations as we expand physical Signature Renew supply."
"This is a major milestone to decarbonize the business aviation sector, and proof that Signature is leading the way in this race," said SFO Airport Director Ivar C. Satero. "This achievement firmly establishes our Airport as a center for the growing adoption of sustainable aviation fuel, and we thank Signature for making this bold commitment to the environment."
Through the Signature Renew program, which encompasses many FBO and operator environmental sustainability initiatives, Signature has made strides towards the industry goal of reducing global CO2 emissions generated by business aviation, which currently total over 1 billion tonnes of output annually.
Signature Renew SAF uses a 30/70 blend of renewable feedstock and conventional Jet A that yields a 25% reduction in direct carbon output from aircraft versus traditional jet fuel. To date, Signature offers aircraft operators a choice of renewably sourced jet fuel at SFO, BFI, and OAK, as well as Mobile Downtown Airport (BFM) and Van Nuys Airport (VNY) in the United States and London-Luton Airport (LTN) in the United Kingdom. In 2020, Signature facilitated the uplift of 90% of publicly announced SAF gallons and continues to leverage its worldwide network of FBO locations to introduce physical SAF supplies at a greater pace than any other FBO network.