WINGX Global Market Tracker:
Europe left behind as other regions approach 2019 trends
Global business aviation activity this April is more than double April 2020, little surprise given the contrasting phases of the pandemic.
The comparison is not exact, as Easter is earlier this year, but the 7-day rolling trend is confirming a big improvement, running at 11,992 sectors on Easter Day this year, compared to under 4,000 sectors on Easter Day last year. This however is still 6% short of the 12,700 business aviation sectors flown on Easter Day on 21st April 2019.
According to WINGX`s weekly Global Market Tracker, published this morning, the global picture for business aviation coming into Q2 is much healthier than for the commercial airlines, with scheduled sectors up 140% up on locked-down Easter 2020 but still more than 40% behind Easter 2019.
---
[click on the charts for larger format]
All Sectors - Global - 2019/21

---
Since the start of 2021, global business aviation traffic is up by 5% compared to same period 2020, contrast 39% deficit for scheduled airlines. Cargo traffic is up 14% over the same period. In terms of business jet movements, we saw a new post-pandemic peak on 27th March, 8,571 daily sectors, close to last year's pre-pandemic peak of 8,669 sector, though substantially lower than the 8,900 daily peak back in April 2019.
The US recovery has been most impressive, with daily activity trends above 6,100 sectors last week, compared to 4,500 during the initial phase of the recovery in the second half of last year. Europe shows a totally different picture, with this Easter's 1,000 daily sectors far above the trough of 260 sectors at Easter last year but well short of 1,300 sectors flown on Easter Sunday 2019.
---
US Bizav - 7 Day Trend - 2019/21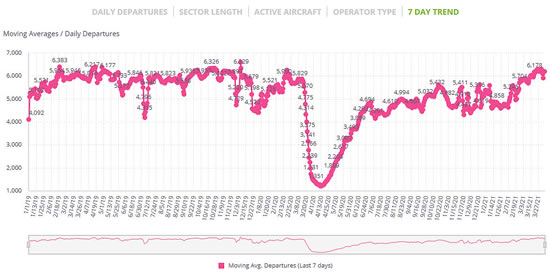 ---
North America
The comparative 2021, 2020 and 2019 trends confirm that the US is driving the global rebound in flight demand. Business jet hours in the US are up 15% year-to-date 2021 versus same period 2020. Branded charter flights are up 20% this year, and even Private and Corporate Flight Departments are 11% busier in the first 14 weeks of 2021.
Teterboro is yet to regain top spot, but trends this year are down 21%, versus 50% declines last year. West Palm Beach is number 1 and has seen nearly 30,000 movements this year, up 56% on same period last year and 25% higher than pre-pandemic records. Texas is the second busiest US State this year, recovered from the big freeze and lockdowns to post a 22% increase on 2020. Business jet usage in Texas is now as high as it' s been since 2018.
Europe
Over in Europe, the United Kingdom continues to see the worst declines in flight activity this year. Compared to the handful of flights last Easter, the most recent weekend was four times busier, but still 40% down on Easter 2019. This year, the UK ranks 7th busiest in Europe, posting 55% fewer business jet flights than in same period 2020.
Both Spain and Italy are seeing around 5% gains in flight activity this year, whereas France and Germany are still 10% behind. Overall, the European area is seeing 10% fewer business jet flights this year than last, but there are a bunch of countries already ahead of 2020 trends, including Greece, Ukraine, Poland, Serbia, Romania, Hungary, Cyprus. Le Bourget is narrowly the busiest airport this year, activity down 20%, with Vnukovo 2nd movements up 23% vs 2020.
---
Rest of the World - YTD 2021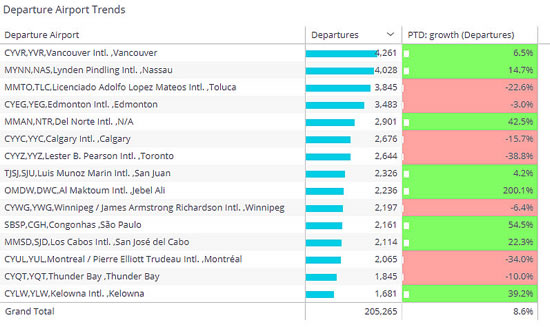 ---
Rest of the World
Outside the core European area, several countries have seen a full rebound from the pandemic and have sustained new higher levels of business jet activity. Movements in Russia are trending 10% higher than in 2019. Turkey had 27% more flight activity this Easter than in Easter 2019. Excluding the US and European area, business jet activity is at 94% of comparative 2019 levels this month.
The UAE saw double the number of business jet flights during the Easter break in 2021 than in 2019. Overall, the Middle East is seeing some 30% more traffic this Spring than in comparable 2019. Contrastingly, Canada has seen 25% less business jet activity this year-to-date compared to 2020, and activity this Easter was 40% down versus Easter 2019.
Managing Director Richard Koe comments, "Through the lens of the US market, business aviation has rebounded faster and fuller than most optimistic predictions last year, with activity fast approaching 2019 levels, matching the frenetic pace of business jet transactions.
"In contrast, the European market is sluggish, with the UK's inactivity suggesting that regional recovery in travel demand will not automatically result from successful vaccination programs."
WINGX is a data research and consulting company based in Hamburg, Germany. WINGX analysis provides actionable market intelligence for the business aviation industry. Services include: Market Intelligence Briefings, Customised Research, Strategic Consulting, Market Surveys. WINGX customers range from aircraft operators, OEMs, airlines, maintenance providers, airports, fixed base operators, fuel providers, regulators, legal advisors, leasing companies, banks, investors and private jet users.