Let's be confident over Brexit

George Galanopoulos, Luxaviation Group's head of charter sales, Europe, and CEO of Luxaviation UK.
No one would deny Brexit creates challenges for EU/UK aviation. But our industry has been resilient before and will be resilient again. With hard work, cooperation and creative thinking, we will find solutions for every one of those challenges.
Let's look at a particular problem. Our industry is fully, and in some cases painfully, aware of the jet charter legislation which changed because of Brexit on January 1 2021. Even with a bilateral agreement in place, aircraft registered under a UK Air Operator Certificate (AOC) can only fly commercially to and from a particular EU state but not within the European Union, and aircraft registered under an EU Aviation Safety Agency (EASA) AOC can only fly commercially to and from but not within the UK.
These new restrictions could prove costly for UK owners who rely on charter business within the EU but now is the time for optimism, not negativity. Across Luxaviation Group, we want to help UK-based owners keep their aircraft flying commercially within Europe. We believe the regulators are committed to progress too and will ultimately come to the most productive agreements for everyone. And we know, without doubt, ourselves and our industry colleagues, including the members of the British Business and General Aviation Association (BBGA), are working hard to ensure a positive outcome in negotiations.
Long-term clarity desirable
Right now, the situation is difficult but not impossible for UK owners. The paperwork involved takes time and can be rejected. We all want more straightforward, permanent solutions.
My hopes are high there will soon be bilateral agreements between all EU member states and the UK, improving on the current situation and making operations easier.
The BBGA regularly meets officials from the UK's Department for Transport and CAA, discussing the advance of these bilateral negotiations. BBGA chief executive officer Marc Bailey says: "Our goal is to encourage reciprocity in whatever shape the final agreement takes with each individual country." Although reports suggest a 'standard' bilateral agreement may not be the final outcome in each case, I believe the creativity, flexibility and willpower exists among the negotiators for permanent solutions to be found.
The story so far . . .
Many EU countries have already agreed, or are very close to agreeing, the right for an aircraft on a UK AOC to fly between the UK and that specific state, and vice versa. Block annual permits will be issued to operators. At Luxaviation Group, we're confident all EU states will soon have agreed to these arrangements.
A further issue then remains that UK aircraft will only be allowed to fly between EU states by applying for a non-objection agreement on a specific flight. This process, although technically achievable, is in reality time-consuming and impractical in our industry. We hope to see a more viable solution reached – perhaps allowing the UK similar rights in this matter to the rights enjoyed by Switzerland – and understand this issue is part of the negotiations underway.
A final challenge is the right for a UK aircraft to fly between points within a single EU state. How these negotiations are resolved may depend heavily on the eagerness of each particular state to secure similar rights to fly within the UK.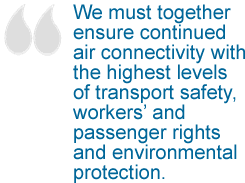 Commercial need to succeed
We would all agree with the European Business Aviation Association's statement that: "Air transport is an essential driver of economic benefits in EU-UK relations." We must together ensure continued air connectivity with the highest levels of transport safety, workers' and passenger rights and environmental protection.
Communication critical
As an industry, one of our key tasks now - especially for management companies - is to keep lines of communication with owners open, clear and vibrant. Because of coronavirus, that challenge to maintain a lively flow of dialogue has been difficult in the past year, but owners have rightly wanted to know we have all still been working hard even when jets have been grounded by the pandemic. Inactivity in the air is no excuse for inactivity on the ground and we must ensure owners see we are dedicated to solving the problems of Brexit and COVID-19.
We must be proactive in reassuring UK owners we can continue seamless management of their aircraft despite any changes caused by Brexit. If new regulations prove prohibitive, and those desired bilateral agreements are not arranged as quickly as we would like, we still have flexible options to keep business aircraft flying.

Bombardier Global 6000 | Luxaviation UK
A management company might, for example, offer owners the opportunity to change their AOC registration from the UK to Europe, allowing commercial flights within the EU. In such a case, only the AOC moves. The aircraft base can remain the same.
And let's not forget not every UK-based aircraft owner is affected by the new rules. An owner might, for example, choose to remain on a UK AOC if only flying commercially directly into and out of Europe. And owners who only operate their aircraft privately do not need to respond to these new commercial rules.
Our industry will find solutions to every challenge raised by Brexit, and we need to ensure our clients understand that commitment. With hard work and perhaps a little luck, those solutions will be permanent and productive for everyone.