Brazil
Private aviation marketplace, Flapper, raises $2m to fuel Latam expansion
Roadmap includes launch of 4 new offices in Latin America and development of new technology solutions for the aerial mobility sector
Flapper, Latin America's leading on-demand private aviation company, has announced its $2 million Series A investment, led by the aerospace-focused fund, Confrapar.
Other participants included the crowdfunding platform SMU, and an angel investor group, Investidores.VC. A number of foreign and local investors, including three undisclosed air taxi companies, also participated in the round. The company has previously raised $1m Seed funding, led by Confrapar and ACE, Brazil's largest accelerator.
According to Paul Malicki, Flapper's CEO, the capital will be used primarily to fuel its international expansion in Latin America. "We have proved that the business model, based on on-demand charter flights and seat-sharing is not only scalable but also highly profitable", he said.
"We hence consider our Series A as purely growth capital, we intend to use to replicate the success of our Brazilian operations elsewhere in the region, while continuing to develop our core product and new solutions for air taxi operators."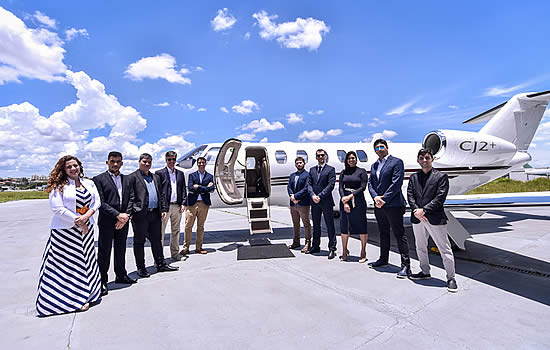 Flapper Team.
Kadu Guillaume, Confrapar's Managing Partner and Board Member at Flapper, said: "The present pandemic has fundamentally changed the travel sector and Flapper is well-positioned to further democratize access to business aviation services. We've seen a number of disruptive technologies - including eVTOL, hybrid-electric aircraft and flight sharing interfaces - getting closer to technical maturity and it's clear that in the next five years we will experience a fundamental change in the way aerial mobility is being consumed." Confrapar has previously invested in the energy storage provider Unicoba and the UAV company xmobots.
In 2020, Flapper grew its year-on-year revenues by 100%, having reached 250,000 mobile app users by the end of January 2021. The company has so far accrued more than 550 safety-vetted aircraft on its charter platform, roughly 55% of the charter fleet available in Latin America. It estimates the market size of the Latam charter market to be the equivalent of at least $2bn, mostly split between Brazil and Mexico.
Today, Brazil boasts a network of 2457 airports, out of which roughly 120 are connected through commercial aviation. The country is considered the second largest business aviation market in the world - just behind the US. Lack of consumer technology and an efficient seat distribution strategy results in an under-utilized sector, where only 22% of all flights are commercialized by air taxi companies, according to the Brazilian Civil Aviation Authority (ANAC).
Flapper's own research demonstrates that Brazil has more than 400.000 potential clients for charters and 2.7 million future pay-per-seat buyers. Mexico, the world's third largest business aviation market, has recently surpassed Brazil in the number of private jets, but it lags behind in terms of turbo-props and helicopters. www.flyflapper.com