Columbus, Ohio
NetJets enhances partnership with Corporate Angel Network
Hundreds of flight hours donated to adult and pediatric cancer patients travelling to treatment
NetJets has announced its extended partnership with Corporate Angel Network (CAN) to offer NetJets Owners a new way to fly while helping others.
With this partnership, Owners can purchase a 25-hour NetJets Corporate Angel Card and NetJets will contribute one flight hour to patients with cancer traveling to and from treatment.
For over 20 years, NetJets has supported CAN, a charitable organization that helps cancer patients access the best treatment by arranging free travel on corporate aircraft. In 2018 they built upon their partnership to increase the amount of flights NetJets secures for patients by matching Owner flight-hour donations up to 50 hours annually. Since the extended partnership, NetJets Owners have donated almost 180 flights from 2018-2020. Over 200 Owner flight hours were donated to this important mission in 2020 alone, with 50 hours matched by NetJets.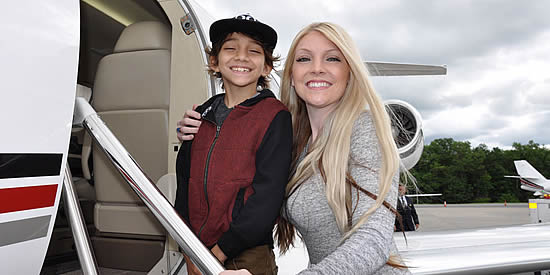 "We're thrilled to continue our relationship with Corporate Angel Network through our Corporate Angel Card," says Pat Gallagher, President of Sales, Marketing & Service. "It's an excellent cause that is close to the hearts of our Owners and NetJets as a whole, and the partnership is one that helps us further our commitments to the greater good through our philanthropic and sustainability pledges."
The new NetJets Corporate Angel Card provides Owners with additional benefits including:
Access to the best-selling Citation XLS for all flights under 3.5 hours. (For longer flights, fly a mission-capable midsize or super-midsize aircraft, up to eight passengers)
365 days of guaranteed access to the NetJets fleet, including 30 Peak Period Days at 25% premium for international flights
Only 10 hours' notice required for non-peak days (120 hours on peak days)
No long-term commitment
"Our partnership with NetJets is critical to the success of our mission, as donated hours provide guaranteed flights for our most fragile patients," said Gina Russo, Executive Director of Corporate Angel Network. "We are honored to expand the relationship this year and provide Owners with a tangible way to impact those in critical need with their Card purchase."
CAN was established in 1981 and since its founding has completed over 64,000 cancer patient flights. Last year, during the pandemic, CAN completed over 900 flights for more than 300 patients.