United Kingdom:

easyJet contract and business transformation keeps 2Excel Engineering working hard

By Paul Eden.
Back in July 2020, 2Excel Engineering (2EE) announced a three-year contract with easyJet for base maintenance and end-of-lease checks on its A320 Family aircraft.The work is performed at 2EE's Lasham, Hampshire airfield facility, previously ATC Lasham, a business 2Excel took over in December 2015 and was swift to invest in.
Given its comprehensive approvals - including Boeing 727; 737-200, Classic and NG; and 757, and Airbus A320 Family - 2EE was better paced than some MROs to survive the trials of a COVID-depressed market, but Chris Norton, 2Excel Engineering's Chief Executive and Accountable Manager, says the contract with the LCC couldn't have come at a better time.
Speaking late in November, Norton confirmed that the majority of 2EE's current work was on easyJet lease returns, with the company's engineering bays full and more aircraft outside waiting their turn. But while he acknowledges the contract's importance in the moment, he also recognises its strategic significance.
"We're establishing a long-term relationship, we've already doubled what we agreed to do to keep pace with the level of change and we're delivering on our promises. Ultimately, I'm aiming for C-checks. I want 2Excel Engineering to be where easyJet wants to go for its heavy maintenance. I want those aircraft at Lasham."
Eyeing cargo expansion
He has similar ambitions for other airlines and plans to extend into the cargo market, where he has an eye to providing 737 freighter MRO services to a market that's experiencing increased demand. Again, the desire for deep maintenance work is the driving force but, Norton says, "We have all the skills to do production line work. A line of passenger to freighter conversions would be really good work for the summer when all the airlines are flying."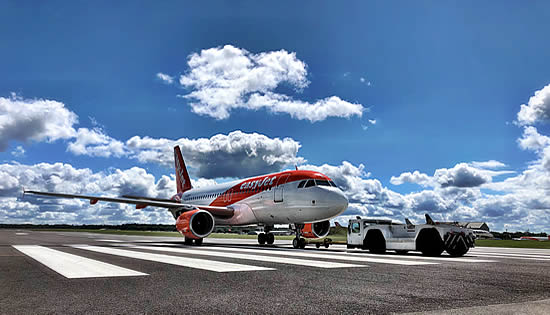 A number of easyJet A319s has already cycled through Lasham and 2Excel Engineering continues to perform return-off-lease checks for the carrier.
Chris Norton has led decisive change at Lasham, turning an ailing business around in just five years. He got into the MRO business because 2Excel Aviation's first oil spill dispersal Boeing 727 was 'in pieces on the hangar floor' when ATC went into bankruptcy and the desperate experience of that particular crisis prepared him and 2EE for the industry's most recent travails.
Already a transformed organisation, 2Excel Engineering planned for COVID resilience, resulting in a still tighter, even more efficient facility. Providing just one example, Norton says careful control on purchasing saw the materials buy decrease by 65% over the previous six months.
Norton is clearly proud of the team at Lasham, but speaking to him it's obvious that through his leadership, 2Excel Engineering's careful cost control, effective management and the easyJet contract, his biggest reward yet at Lasham is that from a once desperate situation where it seemed the majority of jobs would go, right now, even through the global pandemic, the majority of Lasham's jobs have been saved.
---
| | |
| --- | --- |
| | A life-long, profoundly passionate aviation enthusiast, Paul E. Eden began writing about aircraft in 1996 and became a freelance aerospace writer and editor in 2003. He says his addiction began with a Matchbox Spitfire model kit and the Ladybird Book of Aircraft, around 1975. Since then, he has written for the Official RAF Annual Review and Salute publications, and currently edits and writes Executive and VIP Aviation International magazine. A regular contributor to a number of specialist publications, including Aerospace, the journal of the Royal Aeronautical Society, and airline, cargo and flight test magazines, he also blogs for Runway Girl Network. |
His first book for Bloomsbury, The Official Illustrated History of RAF Search and Rescue, was published on 25th June 2020.
Blog: https://pauleeden.wordpress.com
http://uk.linkedin.com/pub/paul-e-eden/15/9a5/671
Twitter: @TwoDrones
---