Tradeshows:

Roadtesting 'VBACE'

Virtual Shows and events have become the norm this year and all the signs are that there will be more to come in 2021 in this COVID restricted world. Liz Moscrop took on VBACE as a virgin virtual exhibitor. This is her review.
On the plus side my feet remained in pristine condition and I didn't gain 20 pounds in the two days during NBAA's "VBACE Go" earlier this month. Networking at the National Business Aviation Association's show was rather like calling a home-based colleague from the tradeshow floor in Orlando or Vegas. "Can you hear me? Sigh . . . Never mind, I can't get a signal . . . "
Four years after Gearup Media debuted at NBAA 2016 with our physical booth and pioneering livestreaming video content it was interesting to see how the tech had evolved for our first virtual booth. Many people tend to shy away from video generally. Those that did saw some really great offerings. The OEMs were showing beautiful jets and interiors and there were some fabulous and slickly presented topics on air during the educational sessions. Too many played safe with downloadable pdfs and PowerPoint presentations, which was a shame as the VBACE platform lent itself to video content in various forms.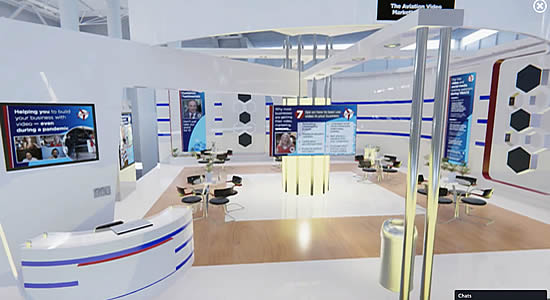 The "Go" tradeshow looked spiffy with plenty of cool graphics and tech to browse. It was also fantastic to connect with people in real time, but my biggest challenge was the fact it constantly dropped. Two thirds of my time were spent logging back in again which was a shame considering the investment committed.
The speaker sessions were really slick and well done, considering people are using their laptops to film still. There was an option to give away freebies (if you haven't logged on yet do nip in and avail yourselves of ours).
The show paid for itself for us and the information gathered is really valuable - unique visitors and their email addresses and what they've been interested in. We also wanted to be present to see what our clients are going through when moving to virtual tradeshows and what they have to do to create to build a booth. It is a LOT of work. We are now highly skilled at making eye-catching graphics to spec, and the right kind of interactive content (our giveaways were a mini course, which was our most popular piece, followed by our 'how to' video advert).
I'm going to ask NBAA what they intend to do for those of us whose experience was impaired by this first outing. Given we were there to do business, which comes from conversations, it was frustrating to be so hampered by the tech. We were not the only people experiencing that, judging by the discussions I've had during and since the show. I do think it has potential as an offering for the industry - even as a hybrid. The tech needs more breaking in.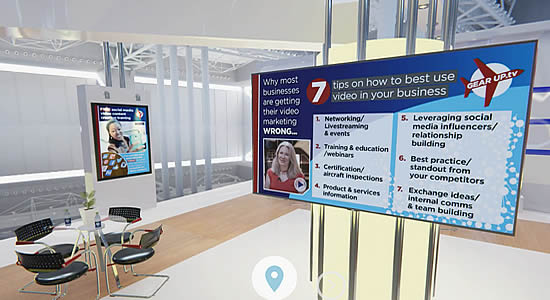 Gear Up TV's virtual booth at VBACE
What I'd recommend for anyone considering exhibiting at the next shows is to take a long lead-time and prep with the excellent training NBAA has provided on how to get the most out of the platform. It will want to work on ironing out the glitches as soon as possible.
Add more interactive content, I'd suggest, and if necessary follow the lead of some of the major players and just offer a cash prize incentive as a lead magnet. Not as imaginative or fun as some of the giveaways on offer - however, they were there. Also, please don't spam in the group chat boxes, it just looks a bit desperate and nobody reads it.
Our booth will remain online until the end of this month. I've been back a couple of times to check on any extra traffic - there hasn't been much at all. After the event finished there hasn't been much virtual footfall. That could be a more attractive incentive for organisers to offer - as it was one of the selling points that we'd live on in virtual tradeshow nirvana until the end of the year. Extra marketing until the end of the time the show remains 'live' also welcome.
I'd be very grateful for your feedback on our booth if you're an NBAA member (you can still log on and browse the show). And please do head on over and grab yourself our freebie. I promise it won't hurt either your feet or your waistline.