Cambridgeshire, UK:

Fenland & West Norfolk Aviation Museum survives COVID threat - but faces three-year deadline to extinction.

By Paul Eden.
There's a retail park on the outskirts of Wisbech, my Cambridgeshire, UK hometown. It sits just off the A47 trunk road between Birmingham and Lowestoft, a main artery to Sandringham and the beautiful North Norfolk coast.
Standing tall behind a bathroom shop and garden centre, to the left of the pet store, the fin of an English Electric Lightning is an obvious signpost to something special nestled away in the park's corner. There can be few sites in the UK, possibly the world, where you can stop off for compost, cat food and cake, and see a fighter jet built to fly at twice the speed of sound.
The Lightning belongs to the Fenland & West Norfolk Aviation Museum, which also houses a de Havilland Vampire, the substantial remains of an Avro Shackleton fuselage and a Spitfire replica, none of which, honestly, boasts any particular rarity. They would certainly attract the casual visitor, but an aviation person might well drive on.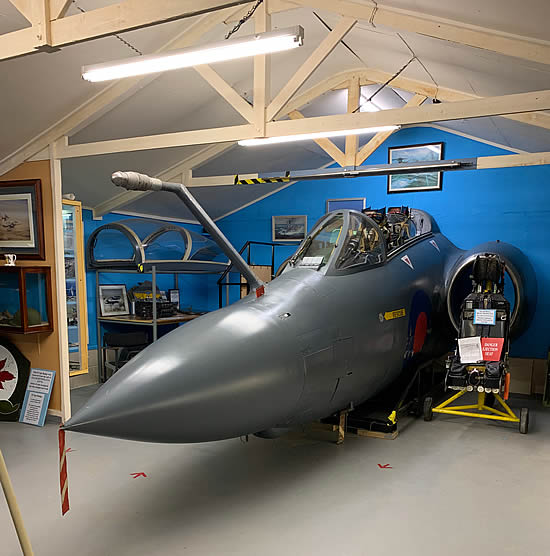 The indoor collection includes the forward fuselage and cockpit of a Buccaneer strike aircraft.
And that would be a huge mistake, because the complete aircraft on display are but the smallest part of the story this unusual Museum tells. It is primarily a collection of artefacts, mostly recovered from aircraft crash sites within a 25-mile radius of Wisbech.
Even that will mean little to most of you, but Wisbech is located in the northwest of East Anglia, with Lincolnshire to the north and given the density of RAF and US bases in the region during and in the decades following World War II, that means a large number of exciting aeroplanes are represented.
Among them, relics from the famous Lancaster, Hurricane and Spitfire will thrill most visitors, but aviation enthusiasts will be surprised and delighted at parts recovered from the B-29 bomber and C-141 transport.
The Museum displays a mix of restored and as-found items, providing a fascinating glimpse at the process of aviation archaeology. But the hook is in the volunteers' efforts to tell the stories behind the collection. Where possible, archive photographs, memorabilia and careful research bring the exhibits to life. The result is an absorbing and often moving exploration of the cost of peace, paid in lives, over the UK.
Up until its winter recess began in November, the Museum opened as much as COVID restrictions allowed and against all odds, had a very good 2020.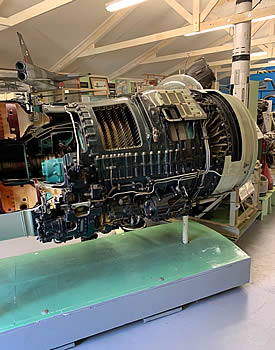 The attraction was more popular than ever and there's even a little money in the bank, yet the team went into the closed season under a cloud. Admission charges and fundraising are helping cover running costs and pay maintenance bills, yet the Fenland & West Norfolk Aviation Museum faces an uncertain future.
In 2023, the lease on the Museum site expires. Before then, it needs to decide whether it buys the land and remains in Wisbech, or bears the costs of finding, moving to and leasing, or buying, new infrastructure. Ideally, the volunteers would like to stay, but any successful outcome requires an injection of funding well beyond the Museum's modest reserve.
The Museum's cutaway Avon jet engine will delight the technically minded.
So here's the crunch. There is an aviation museum of national, even international significance. It has survived the worst ravages of COVID-19 without asking for a penny in support, and increased its visitor numbers in 2020; it seems so unlikely it might be made up. But in just three years, it could be lost forever. And that would be a tragedy.
The Fenland & West Norfolk Aviation Museum reopens to visitors at Easter 2021. Even now, it's reasonably difficult to swing a cat in East Anglia or Lincolnshire without hitting aviation. So, if you're based in Norwich, work at RAF Coningsby, Marham or Waddington, or from offices in Lincolnshire, please do visit, show your support and surprise yourself with what it has to offer. You could even buy some food for the cat.
In the meantime, take a look at www.fenlandaviationmuseum.org.uk and if you feel you can help financially or in any other practical way, please contact Peter Munro on info@fenlandaviationmuseum.org.uk

---
| | |
| --- | --- |
| | A life-long, profoundly passionate aviation enthusiast, Paul E. Eden began writing about aircraft in 1996 and became a freelance aerospace writer and editor in 2003. He says his addiction began with a Matchbox Spitfire model kit and the Ladybird Book of Aircraft, around 1975. Since then, he has written for the Official RAF Annual Review and Salute publications, and currently edits and writes Executive and VIP Aviation International magazine. A regular contributor to a number of specialist publications, including Aerospace, the journal of the Royal Aeronautical Society, and airline, cargo and flight test magazines, he also blogs for Runway Girl Network. |
His first book for Bloomsbury, The Official Illustrated History of RAF Search and Rescue, was published on 25th June 2020.
Blog: https://pauleeden.wordpress.com
http://uk.linkedin.com/pub/paul-e-eden/15/9a5/671
Twitter: @TwoDrones
---