2020 - the year airlines were forced to reset

John Strickland, aviation consultant and broadcaster reflects on a turbulent year.
This year has been unlike any other for the airline industry and one that few people will be sad to see the back of. As the coronavirus began to enter public consciousness early in the year it was already apparent that there would be a significant impact on airlines in China and more widely, on those exposed to the Chinese market.
It was impossible to imagine that by the end of March almost the entire global industry would be approaching a state of complete grounding. Since then, the decimation has been incredible to witness along with the destruction of careers and the hopes of thousands of people working in, or dreaming to, work in the industry.
At the end of the year, it is sad to report that there is little sign of improvement, yet with rapid moves to roll out vaccines there are signs that while 2021 will be far from normal, we have reasons to hope that it will be a much better year.
Indeed, I believe that the "normal" we have known is gone and that looking back from a few years hence, we will see 2020 as a year which marked the beginning of a major reset for the industry with significant structural change, but which led to a renaissance of sorts and a new chapter in aviation history.
As the year has played out, there have been winners and losers though inevitably, losers predominate. With schedules reduced to minimal levels and thousands of aircraft grounded, airlines have been haemorrhaging cash at a rate of millions of dollars a day and in most cases, it is not cash that they have available.
Those that are in a strong liquidity position are the exception, Ryanair, Wizzair and IAG have all shown diligent management of costs, have significant liquidity and have been able to go to the market to raise additional funding. All three can ride out this crisis and seize new opportunities, Ryanair and Wizzair in particular are expanding their fleets and announcing new bases and routes.
Other airlines including Air France KLM and Lufthansa have received Government funding and state backed loans. These come with added debt burdens and potentially increased political interference.
Some business models, particularly long haul low cost, have been severely challenged by the crisis. We have seen Norwegian shrink dramatically in size, suspending all of its long haul operations and divesting much of its long haul fleet. Outstanding orders have been cancelled and protection from creditors has been sought under both Irish and Norwegian law. Whether this allows the airline to survive will not be apparent until 2021.
There has already been a significant shift in the mix of aircraft in airline fleets, especially the retirement of many large widebodies including 747's, A340's and even A380's. This has a bearing for the size and shape of airline networks in the years ahead and I expect to see a more risk averse approach, offering typically smaller amounts of capacity per flight on long haul services, using more efficient aircraft.
British Airways' B747 early retirement
From a personal perspective I found the retirement by British Airways of its 32-strong 747-400 fleet very poignant. I worked at BA when the first 400's were delivered in 1989 and watched the first two arrive with simultaneous landings. I had to be there at Heathrow when the last two left on a drizzly October morning. It really is the end of an era for this iconic aircraft.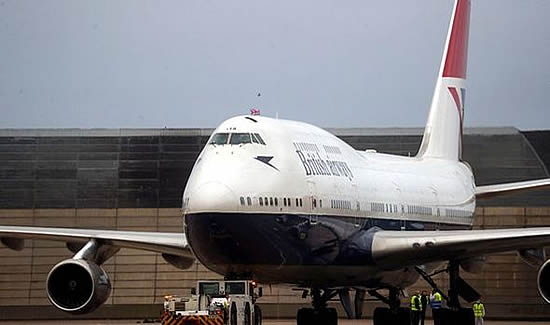 The last two 747s left London Heathrow Airport on 8th October 2020.
One thing that this strangely surreal year has meant is that I have had the opportunity to chair a number of webinars discussing how the industry should tackle the challenges it faces and putting questions to a number of airline leaders.
It has been an honour to interview Sir Tim Clark, President of Emirates on a number of occasions and this year it was great to hear his optimism on how airlines will take the covid-19 crisis in their stride and come out the other side. He does not under estimate the challenge but is confident of the industry's future success and implores young people who would like to make a career in the industry to take any job that comes along, regardless of what it might be and gain experience until the right opportunity materialises.
I also enjoyed my interview encounter with Michael O'Leary, CEO of Ryanair who was very upbeat and optimistic in his outlook too. He remains very focussed on maintaining Ryanair's market leadership having just ordered an additional 75 Boeing 737 Max aircraft. He will use these to lower ticket prices and believes short haul travel will come back strongly in 2021 under pinned by low fares. Jozsef Varadi CEO of Wizzair talked to me of how his airline had waited 10 years for the opportunity which this crisis presents and the importance of strong liquidity. Wizz can survive over two years with no flights or passengers.
Speaking with these determined airline leaders underlines the fact that our industry has a real future ahead of it. We certainly need to summon up every bit of belief and resilience, but the storm will pass and a new era will dawn.
---
| | | |
| --- | --- | --- |
| | | John Strickland, Director, JLS Consulting, is a graduate of the University of York and has held senior positions including network planning and revenue management with a number of airlines including British Caledonian, British Airways and KLMuk. He was instrumental in the decision by KLM to establish the low cost airline Buzz and helped shape its network. His 38 years of experience have exposed him to the business models of regional, global, legacy and low cost carriers.  He established his consultancy in 2003, providing strategic insight, guidance and advisory services for the air transport industry for a wide range of clients including airports, airlines and investors. |
John provides expert independent business and financial commentary on the sector for leading media, including the BBC, Sky, Bloomberg, CNN and the Financial Times.  He is also a regular conference chair and moderator at industry events, frequently interviewing leading senior executives.
www.JLSConsulting.co.uk | @JohnLStrickland
---