San Francisco and London
Signature, Neste and NetJets celebrate official launch of SAF with ceremonial first gallons at SFO and LTN
A continuous supply of Sustainable Aviation Fuel has arrived at Signature FBOs at San Francisco Int'l and London-Luton airports and is now available for purchase
A practical solution to help business aviation reach its carbon emissions goals has arrived.
Signature Flight Support, through its company-wide Signature Renew program, and Neste are making low emission, renewable fuel a reality for business aviation, starting with the first two locations of Signature's worldwide network. The world's leading FBO has pumped the initial ceremonial gallon of Sustainable Aviation Fuel (SAF) at San Francisco Int'l Airport (SFO) and London Luton Airport (LTN), marking the start of a global initiative to provide a permanently available supply of SAF to private aircraft.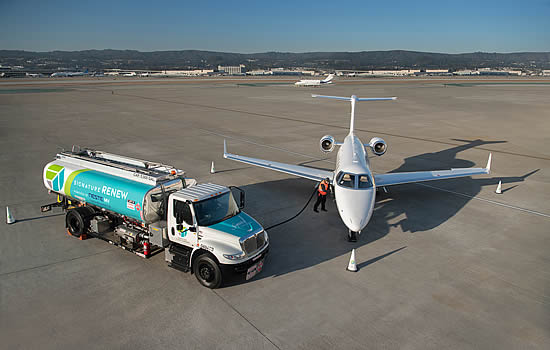 This new era of SAF availability is driven by supportive regulations, voluntary commitments and growing customer demand. By having a consistent blended SAF supply available on airport, Signature Renew is providing a safe, affordable, and dependable low-emission option via Neste MY Sustainable Aviation FuelTM at SFO. This investment is the first program of its kind, allowing customers such as NetJets to help meet their own sustainability goals by taking advantage of more than a 25% reduction in direct net lifecycle greenhouse gas emissions from this blended fuel. With a full commitment to fuel all private and business aircraft with blended SAF at SFO by Q1 2021, Signature SFO, Neste and the San Francisco Int'l Airport stand apart for their meaningful environmental leadership.
"The wait for SAF is over. We're filling aircraft right now - thousands of gallons a day, every day - at SFO and LTN to meet the growing market demand," said Tony Lefebvre, Chief Operating Officer for Signature. "SAF is the cornerstone of aviation's answer to environmental responsibility. Creating an affordable alternative to traditional Jet A is vital to ensuring we're able to help our customers reduce their carbon footprint. We're proud to be able to deliver this capability to all private aviation customers at SFO and LTN and look forward to growing our capacity at additional locations and launching new sustainability programs next year."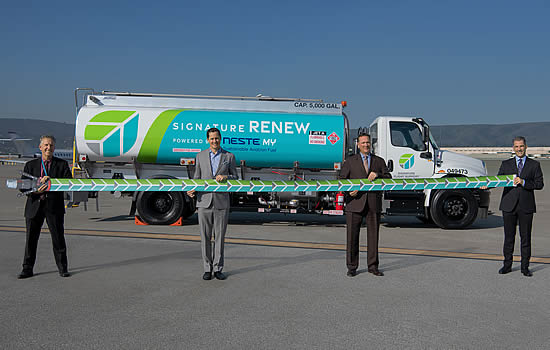 (L to R): Ivar Satero, Airport Director, San Francisco Int'l Airport | Tim Luceno, Senior Vice President, Sales, NetJets | Chris Cooper, Vice President North America, Renewable Aviation, Neste | Tony Lefebvre, Chief Commercial Officer, Signature Aviation.
Neste, a leading producer and supplier of renewable fuels for road transportation and the aviation industry, is committed to helping grow the supply of SAF globally. The company expects to have the capacity to produce some 1.5 million tonnes (515 million gallons) of SAF annually by 2023. Neste's SAF is made from sustainably sourced, renewable waste and residue materials – such as used cooking oil for example. It is a drop in fuel that offers an immediate way to reduce the direct greenhouse gas emissions from aircraft, requiring no new investments, modifications to aircraft or fuel distribution systems, or changes to procedures. When used in neat form, Neste MY Sustainable Aviation Fuel can reduce greenhouse gas emissions by up to 80% on a life cycle basis compared to fossil jet fuel.
"We're giving operators what they've been asking for - an easy, simple way to travel more sustainably," says Chris Cooper, Vice President, Renewable Aviation North America, Neste. "This pioneering collaboration is really driven by two things, the demand for private and business air travel is growing and the people onboard these aircraft want their carbon footprint to go down. Neste, Signature and NetJets, as industry leaders, decided to work together to connect the dots from fuel production, to supply and distribution and to aircraft operations to make sustainable business and private air travel a reality. This is just a first step, and I look forward to working with these great partners to get more SAF to more airports and in more aircraft."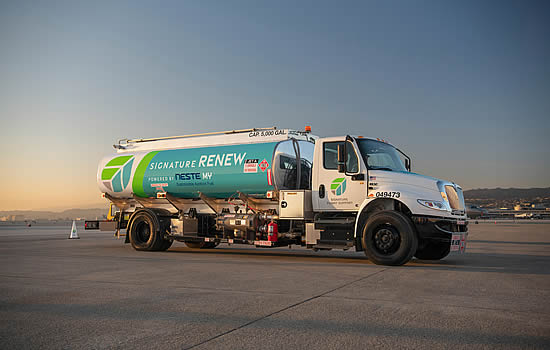 NetJets, the world's largest private jet company, was the inaugural recipient for the first uplift of SAF in San Francisco. The initial load consisted of over 1,000 gallons pumped into a Bombardier Challenger 350. As the primary launch customer, NetJets has committed to purchase up to 3m gallons of SAF through Signature Renew for all flights out of SFO and its Columbus Int'l Airport (CMH) home base. Similarly, NetJets was the inaugural customer for Signature Renew's Jet A product at London-Luton Airport in the United Kingdom, marking the start of continuously available SAF at the major European gateway for private aircraft.
"Sustainability has been foremost on the mind of our clients and of NetJets, as we recently announced our expanded Global Sustainability Program," explained Brad Ferrell, NetJets Executive Vice President, Administrative Services. "Signature and Neste have provided the solution of SAF in the market, and NetJets' purchasing commitment helps ensure SAF's continued availability. We are proud to join our partners in taking the lead in commercializing renewable fuel sources and adoption."
Signature Renew is a comprehensive initiative by Signature Flight Support to obtain net-zero global emissions by 2050. Embracing sustainable aviation fuels as a core pathway towards reducing greenhouse gas emissions, Signature Renew also encompasses electrified ground service equipment, LEED certified new construction, and increasing reliance on solar energy to power FBO locations.