United States
Woman at the Helm
Wheels Up first Chief Growth Officer Stephanie Chung prioritizes growth and diversity.
By Kelly Murphy
Despite the challenges of the pandemic, Stephanie Chung, Wheels Up's first Chief Growth Officer, has been leading efforts in growth and diversity since she joined the leading brand in private aviation in August 2020.
Focusing on generating revenue through new client acquisition, she brings her more than 30 years of experience to expand the company's membership base by targeting corporations, associations, executives, entrepreneurs and sports and entertainment personalities as the next generation of private flyers.
"Wheels Up is an incredible brand that is uniquely positioned to serve the full lifecycle of a private flyer, and I look forward to amplifying that message to more audiences," says Chung. Reporting to Founder and CEO Kenny Dichter, Stephanie and Dichter had known each other for years. "She shares our commitment to the diversification as a driver for growth and new member acquisition," he notes.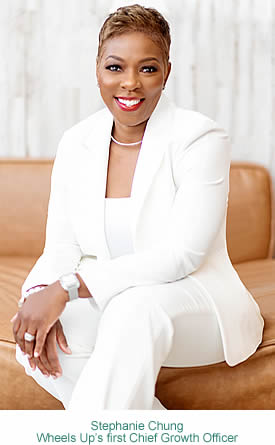 Recognized as a trailblazer as the first African American president of a major private aviation company, Chung previously served as the president of JetSuite where she repositioned the brand from a commodity service to a luxury customer experience, upgrading the fleet, and elevating the client experience.
In recognition of this work, JetSuite was named to the Dallas Business Journal's 100 Fastest Growing Private Companies and voted one of the Best Places to Work by the Human Rights Campaign. Chung also served as VP of Sales for Flexjet where she oversaw a sales organization and strategic deal team that together generated over $835m in revenue. She also held influential roles at US Airways (now operating as American Airlines), Delta Air Lines and Bombardier.
In an interview with Aviation for Women magazine last fall, Chung's unique leadership and professionalism is evident as she advises, "You have to be confident. You have to know yourself because there are many times people will challenge you. You have to have the confidence in yourself to stay strong. Once you've taken on a position, there is no one else to look to.
"It's hard to say, 'I know what I know. I know what I'm good at,' and then create the style you need. I look at Oprah. No one else does it her way. Know what it is that drives you, and just do you. When you're coaching and developing people - women in particular - one of the most important things is teaching them how to say no and not feel guilty about it."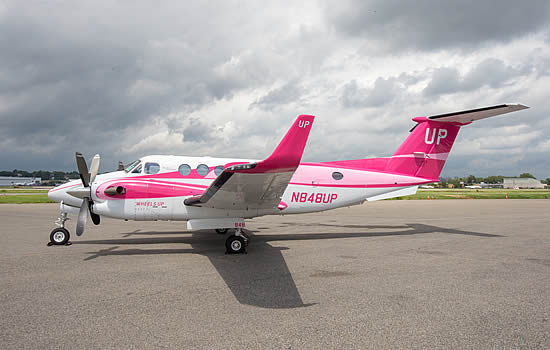 Wheels Up supports Breast Cancer Awareness Month every October with its pink King Air 350i.
The Wheels Up executive team was also expanded earlier in the year with the appointment of Gail Grimmett, as the company's Chief Experience Offer to oversee every aspect of the Wheels Up member experience, including event programming, marketing, public relations, social, digital and member benefits. This newly created role came after Wheels Up announced a groundbreaking partnership with Delta that combined Delta Private Jets with Wheels Up and introduced cross-platform benefits for Wheels Up members.
As Delta's Senior Vice President - New York, Grimmett oversaw the transformation of Delta in New York State, delivering the airline's first-ever profit in the state and ultimately contributing $6bn dollars in annual revenue while deepening the company's brand presence in the market. Grimmett also led the $1.4bn redevelopment of Delta's state-of-the-art Terminal 4 at JFK, which first opened in 2013, and the largest hub expansion in over 40 years at LaGuardia, which grew Delta's schedule out of LGA by more than 60 percent, in 2012. Most recently, Grimmett was President of Travel Leaders Group Luxury Brands, where she had responsibility over $5 billion of revenue, leading five separate luxury brand companies.
Thomas Fry, who previously worked with Stephanie Chung at JetSuite has also joined Wheels Up as Director, Growth Marketing & PR.
The private aviation industry will continue to observe how Wheels Up leadership blazes a trail of success and takes this membership based company to the next level.

---
Kelly Murphy

, Emerald Media, USA and Director of Communications Women in Aviation International.
---