Brussels
Swissport demonstrates handling of Covid-19 vaccine
In preparation for the global distribution of Covid-19 vaccines, Swissport has put its facilities and processes to the test. Its Brussels cargo team demonstrated their ability to handle temperature sensitive air cargo in a dry-run under real-conditions and under the eyes of experts and trade reporters at the company's state-of-the-art Swissport Pharma Center.
Swissport around the world is busy establishing operational readiness for the handling of highly temperature-sensitive vaccines. Vaccines and indeed many pharmaceuticals require rigorous temperature control throughout the entire supply chain. While some types Covid-19 vaccines might only call for temperatures around -20°C or in a range from 2°-8°C, others will likely require extremely low temperatures in the range of -70°C.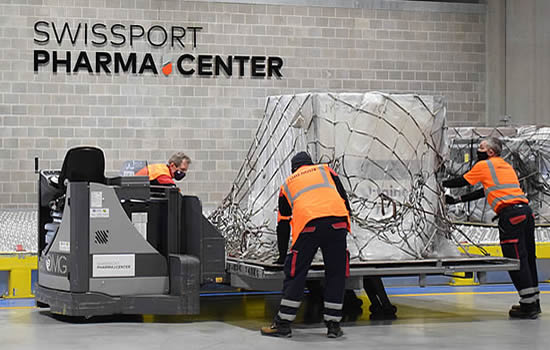 In collaboration with Brussels Airport, Air Cargo Belgium and Hazgo, Swissport demonstrated its ability to handle highly temperature-sensitive air cargo at its state-of-the-art 3,620 sqm Pharma Center in Brussels. Two separate shipments were delivered to the facility, which is part of an end-to-end cool chain. One shipment arrived in a container cooled to -70°C, while the other shipment was transported in a more conventional 2°-8°C temperature range. Swissport's top-notch infrastructure, combined with know how regarding dry-ice handling allows for a seamless temperature-control throughout the entire airport handling process, from the acceptance at the cargo warehouse to the transport on the apron with special vehicles and right into the aircraft.
"Today's demonstration shows that, thanks to the successful and long-standing collaboration with our airport partners, Swissport is ready to play its part in the logistical challenge to globally distribute a Covid-19 vaccine," says Koen Gouweloose, Head of Swissport Cargo Services Belgium. "We are ready."
Of 115 cargo warehouses which Swissport runs around the globe, 72 are equipped with temperature-controlled facilities. At this time, 13 Swissport facilities are certified under the IATA Center of Excellence for Independent Validators (CEIV) Pharma standard, the British MHRA (Medicines and Healthcare products Regulatory Agency) and other recognized organizations.