New newsletter tackles aviation workforce issues
Despite furloughs marking the Covid-19 epidemic, aviation workforce issues remain in critical areas that go uncovered. For that reason, veteran aviation journalist and occasional BlueSky/Resilient Aviation contributor Kathryn Creedy has launched Future Aviation/Aerospace Workforce News, to fill an industry void.
"Before the pandemic businesses were leaving billions on the table for lack of workforce," said Editor in Chief Kathryn Creedy, who launched the new site and Facebook Page.
"Now businesses are saying we must use this time to prepare for the future. While industry has been proposing regulatory and training changes, others have been promoting aviation careers.
Corporations are adding apprenticeships and there is a strong move toward career and technical education. These initiatives have largely gone uncovered leaving many to reinvent wheels that have been successful for others. Future Aviation/Aerospace Workforce News (FA/AW News) will change that."
This twice monthly subscription newsletter is available now for a free trial and will deliver deep, analytical stories dissecting what industry is doing to address workforce challenges and what needs to be done on the educational, regulatory and legislative fronts to bring aviation into the 21st Century. The first issue covered the skills gap in advanced air mobility and MRO and how aviation educators are planning for the future.
FA/AW News covers a host of topics most in aviation are unaware of. Many agree that the industry's work in promoting aviation to future generations falls short. This new title will develop tools needed to overcome the perception problems that constitute barriers, says Kathryn.
While the forecasts for pilots and aviation maintenance technicians are covered elsewhere, there is little coverage of career issues relating to airlines, aerospace, OEMs, interior design, drones, advance air mobility, ATC, flight dispatch, engineering, aviation innovation programs, FAA & industry skills gaps, advance materials, MRO, aviation education, IT, data analysis, cybersecurity, and airports. There are also moves to reform pilot and AMT training which needs to be supported, but has so far gone uncovered.
Aviation is competing with Silicon Valley
"We are facing acute shortages because they have always been driven by retirements. Covid accelerated retirements so when the industry builds back those shortages will be far more acute," said Creedy, who outlines what the industry faces on her website.
"Aviation and Aerospace are competing with Silicon Valley, but we know with unmanned systems, advanced air mobility, aviation innovation incubators, commercial space, environmental issues, changing powerplant technology and connected aircraft, the industry can give Silicon Valley and others a run for their money. We just need the tools to get the message out there."

---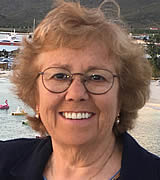 With 40 years' experience in the aviation industry, Kathryn will cover all these workforce development issues. With an eye toward identifying gaps in aviation opportunities, she began her aviation career creating Commuter/Regional Airline News to cover the intense activity of the post-deregulation regional airline industry. C/R News became the bible of the regional airline industry leading to the development of C/R News International in the UK with Editor Alison Chambers. Kathryn has also developed and edited several other aviation publications.
She has reported on aviation workforce issues since 2013 and continues to write extensively on the subject including work rule issues, aviation maintenance technicians and pilots. Her byline has appeared in CNN Travel, The Points Guy, BBC Capital, Los Angeles Times, Forbes Online, Air & Space, The Washington Post, Flyer Talk, Business Traveler, Business Travel Executive, Afar, FlightGlobal, Centre for Aviation, Aviation Week & Space Technology, Low Fare & Regional Airlines, Inflight, Business Airports International, Airports, Centerlines, Regional Gateway and Runway Girl Network. In 2018, she was cited for the Sapphire Pegasus Business Aviation Award for her coverage of business aviation. Creedy is also the author of Time Flies - The History of SkyWest Airlines.
https://futureaviationaerospaceworkforce.com/