United States:

Knowledge is on the up at Satcom Direct

By Jane Stanbury
Satcom Direct has experienced a significant rise in demand for its Entry into Service, EIS, training program since the start of the pandemic. Aircraft operators and corporate flight departments are taking advantage of the enforced reduced flying time to up their connectivity knowledge levels, the company highlights.
Customers are registering for the EIS training programmes to ensure all members of the flight operations team can optimise increasingly complex, individually configured and customised connectivity solutions.
The bespoke sessions, delivered by the SD EIS technical professionals, focus on educating participants about the individual components of each system, and how it all links together using the full SD ecosystem of hardware, software and infrastructure. Content includes sessions devoted to the Satcom Direct Router SDR; the SD Pro operating system and its integrated modules, as well as the SD ground infrastructure including the SD Data Centre which can support virtual private networks. It also highlights how the open architecture of the system integrates with external third parties to streamline operations.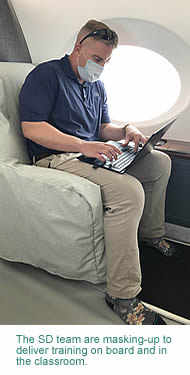 Training normally takes place at the SD EIS Hangar at the company's headquarters in Melbourne, FL., or on site, at the customer's location. With the pandemic restrictions the SD training team is stepping up to deliver, and meet the demand for, the vital information.
"Owing to the recent lack of interstate and international travel, we have seen a surprising increase in training requests. We've noted some flight departments combining the logging of flight hours to maintain currency with a training visit to us. It makes sense and ensures it's not just their flight logs that are current, but their technical knowledge too," explains SD senior technical manager and trainer Marcos Vargas. "One customer even commented that everyone involved with flight operations should attend this training."
For customers choosing to visit Melbourne the technical experts strictly adhere to the US' Centre for Disease Control and Prevention guidelines while delivering the classes. Masks are worn at all times; safe distances are observed, and restricted numbers attend the class. "Following the stated safety measures instils confidence, trust and peace of mind for the customers. This means they can focus on taking in the information about their connectivity service in the dedicated environment," adds Vargas. For larger flight departments sessions are being carried out in multiple phases to allow team member rotation to ensure everybody accesses the valuable materials. "We even had one Fortune 100 customer visit us in three phases to go through their systems."
When it comes to operating the equipment in flight the SD EIS team conducts on board testing of the system with the customer and works through troubleshooting scenarios. Numbers are currently restricted with a maximum of six people flying in a large cabin aircraft to complete the process.
As a global business SD is also supporting customers restricted by travel lockdowns. Multiple online training sessions ensure customers can still garner a full understanding of a system for when regular flying resumes. "It is obviously not the same as having the client in the classroom with us, but presenting the training online does a good job of emulating the onsite experience. The customers achieve similar results, even though the classes are completed virtually," says Vargas who goes on to explain the significance of this for operations. "A single customer can have multiple Wi-Fi networks on the aircraft with multi-layered connectivity restrictions including content filtering and guest bandwidth restrictions, all of which is managed by a virtual private network. This is a complex connectivity solution but enables optimised connectivity in the cabin. Through the online training, the professionalism of the SD team, and the enthusiasm of the customers, we are able to complete the training and make sure customers are ready to return to the skies."
In addition to the EIS offering, SD continues to provide a variety of educational options. SD created the world's first accredited IT aviation certificate, aeroIT, for IT professionals, and aeroCNCT, created to support industry professionals that work with, or are responsible for, connectivity during flight and has been delivering these courses remotely with the first remote aeroIT certification taking place this summer. A series of training webinars initially slated as a temporary pandemic measure have now been made a permanent feature of the SD training schedule.
"Connectivity is essential for business aviation and we have a responsibility to ensure customers can maximize the significant investment made in on-board connectivity solutions. Our training, the EIS program, and our customer support services form an integral element of the SD Xperience solution and we will modify them as necessary to continue delivery throughout the pandemic," concludes Vargas.

---
Jane Stanbury has over 30 years' professional experience working in the media, communications, aviation, and luxury travel sectors.

She has run and sold two successful companies - an educational dot.com and a luxury travel consultancy which was her springboard into business aviation.

She launched Arena Group in January 2017 after a decade working across the aerospace spectrum with Emerald Media, with whom she remains an associate.
Jane provides support to a range of organisations from innovative next-gen start-up companies through to international corporations with marketing, comms and copy-writing services, in addition to writing regular features for a number of trade publications.
She has lived and worked in London, New York, Mallorca, and Japan. She moved to Montreal in Spring 2016 and is now settled there with her aviation consultant husband.
---