United Kingdom:

Hybrid Air Vehicles and 2Excel Aviation agree Airlander cooperation

By Paul Eden
In September, Hybrid Air Vehicles (HAV), the Bedford, UK-based creator of Airlander, and 2Excel Aviation, headquartered at Sywell Aerodrome, Northamptonshire, announced a partnership to offer the hybrid airship as a role platform.
To date the radical Airlander has struggled to find a market niche for its unique capability, perhaps in part because that capability is so broad in its potential. Is the Airlander a military airlifter? A persistent intelligence, surveillance and reconnaissance platform? An airborne cruise ship for VIP Polar safaris? A communications node? It could be all of those things.
2Excel has long experience in missionising airborne platforms, as well as operating VIP charters, all of which it brings to the HAV partnership, although the arrangement goes even further. 2Excel Aviation's Commercial Director, Scott Loughran, explains: "Our agreement with Hybrid Air Vehicles is to assist them with the operation of their platforms and to give prospective customers the option of a fully managed service as well as platform purchase options."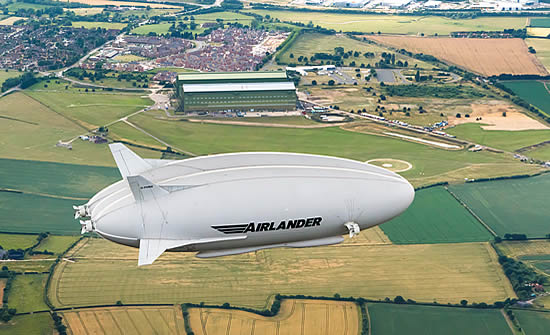 Airlander 10 over its Cardington base, near Bedford.
In the past, 2Excel has modified Boeing 727, King Air, Navajo and Panther aircraft for a variety of special missions, with work just beginning on a dramatic Boeing 757 conversion programme, but these types have a proven support network behind them; the Airlander does not.
Undaunted, Loughran says: "We welcome the challenge of developing all the necessary elements of safe and assured operations on a new type, especially as it is so well aligned with our aspiration to move towards lower emissions and greener air travel."
Combining aerodynamic lift with the hydrostatic lift of a traditional helium-filled airship, the Airlander currently flies on the power of four diesel engines, but hybrid-electric and all-electric solutions are under development. The aircraft therefore has enviable green credentials, but Loughran reckons that's just a start.
"It has plenty of cabin space, carrying capacity, power and persistence for the VIP charter and potential military roles. The marketing of those capabilities or the decision to pursue particular roles is for HAV, but should they choose to develop them, 2Excel will apply its experience in high end military capabilities and service delivery to the benefit of the team."
Loughran nevertheless remains realistic about the task ahead. "There are many challenges to introducing a new type into service, especially one as innovative and novel as Airlander. However, that is the strength of the teaming agreement between HAV and 2Excel. An OEM with a detailed understanding of its platform and an operator experienced in doing difficult things well, in a safe and assured aviation environment. As a team we offer a really diverse range of options to potential customers, from an individual platform that they operate themselves with minimal infrastructure, through to a fully managed service that covers all aspects of a complex requirement."

---
| | |
| --- | --- |
| | A life-long, profoundly passionate aviation enthusiast, Paul E. Eden began writing about aircraft in 1996 and became a freelance aerospace writer and editor in 2003. He says his addiction began with a Matchbox Spitfire model kit and the Ladybird Book of Aircraft, around 1975. Since then, he has written for the Official RAF Annual Review and Salute publications, and currently edits and writes Executive and VIP Aviation International magazine. A regular contributor to a number of specialist publications, including Aerospace, the journal of the Royal Aeronautical Society, and airline, cargo and flight test magazines, he also blogs for Runway Girl Network. |
His first book for Bloomsbury, The Official Illustrated History of RAF Search and Rescue, was published on 25th June 2020.
Blog: https://pauleeden.wordpress.com
http://uk.linkedin.com/pub/paul-e-eden/15/9a5/671
Twitter: @TwoDrones
---