United Kingdom
New brand Echelon Air adds simulator to bolster Cirrus SR20 flight training
Resilient Editor Alison Chambers speaks with Founder Philippe Polman
In the teeth of the pandemic, Cirrus ambassador and pilot Philippe Polman has launched a new business, Echelon Air, offering premium flight training to private, affluent individuals on the advanced Cirrus SR20.
In August he added a full Cirrus G6 SR20 flight simulator and moved to a bigger home at London Biggin Hill Airport's Hangar 2, adjacent to the main passenger terminal. Its new website is coming in a few weeks' time.
Built by US-based Flight One Technologies, the simulator replicates the full ergomonic layout of the Cirrus, including its full working avionics. It shows active traffic, GPS and moving maps, and even simulates its unique airframe parachute system.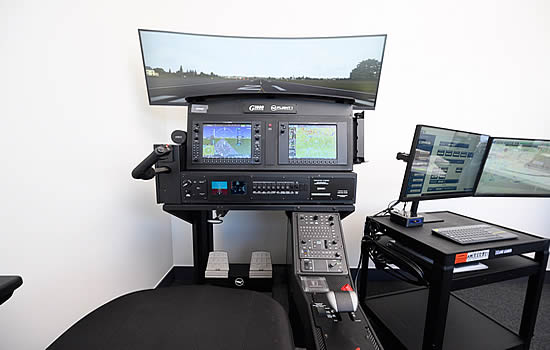 Echelon Air's Cirrus G6 SR20 flight simulator
Echelon Air also offers procedural training, instrument rating and proficiency checks for existing Cirrus owners and those looking to transition to technically advanced aircraft.
"We are very excited to bring the US mindset to EASA flight training in that it is built around the customer," highlights Philippe. "With the addition of the simulator we can now offer a fully integrated training package," he adds.
Its model is a good fit for Echelon Air's discerning clients, who are affluent individuals seeking a high-end flight training experience.
"With us they can fulfil that childhood dream of learning to fly, albeit in a very advanced aircraft which suits their lifestyle. Our clients value every penny they have earned and their flying time must fit around them and their busy lives. Many of them are highly educated, motivated and successful business people. They are time poor, so every day they allocate to you for their flight training has to be high impact."
Their flying training, for example, takes in visits to their second homes, or visiting family living all over Europe. This means experiences such as crossing borders, flying through fronts and down instrument approaches while enroute to Spain, or the Alps.
"It might take them slightly more hours to get to standards, but in our training programme, we may incorporate mountain flying, gliding, backcountry flying, and certainly, many different airports. All this combines to make our clients well-rounded, confident pilots who can maximise their PPL and go on to enjoy a wide spectrum of flying, enriching their lives," he says.
It is a very different experience from the typical 1980-built PA28 trainer synonymous with the local flying school, he agrees.
Echelon Air currently has three instructors, including Philippe himself and a fourth instructor will join by year end. The business is keen to add more part-time instructors. They don't have to be Cirrus rated, he says, because we can train them on the type.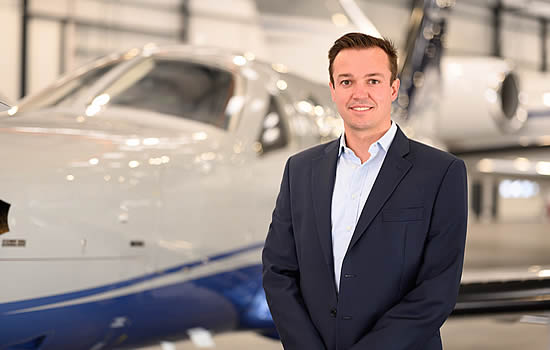 Echelon Air founder, Philippe Polman
He is also looking to increase the number of Cirrus aircraft offered for training. Some Cirrus owners already allow their aircraft to be used by the flight school, which helps recoup some of the costs of ownership. Echelon Air currently has a 2017-built G6 SR20 and a 2018-built G6 SR22T. A third Cirrus will be added in January.
Its London Biggin Hill home is an ideal base, offering strong client synergy with some Cirrus owners (some 150 in the UK) also using larger business jets for their business or personal use. "We draw great benefits from its ongoing investment in additional approaches, new hangarage, new lighting systems, repaving surfaces, engineering training facilities and a future airport hotel," acknowledges Philippe.
Echelon Air in partnership with Lone Mountain Aircraft
Echelon Air is a partner and brings synergy to Cirrus' long-established aircraft sales brokerage, Lone Mountain Aircraft. It specialises in pre-owned, owner-flown aircraft sales, with deep knowledge of Cirrus Aircraft plus other types, to fit client demand. Philippe is Lone Mountain's UK and Europe sales representative, taking on the responsibility after several years working inhouse for the manufacturer. Lone Mountain has built its reputation helping discerning owner-pilot clients transition from piston to turbine powered aircraft as well as delivering 'worry-free transactions,' he summarises. Currently it has a range of aircraft types on its inventory, ranging from a CubCrafters EX-3 to a Phenom 300.
As we spoke last week, Philippe was preparing to head out from his London home to inspect a farmer's field in Surrey for its suitability for a private farm strip. "We like to know each of our clients' drivers and motivations. Our value is being able to offer them such touchpoints that make their experiences unique to them."
Amazing days, lifestyle package adds to the appeal
Complementing its flight training, Echelon Air is currently devising a number of lifestyle events, which Charlotte Wroe, through her new business Charlotte Wroe Travel will help organise. Clients will be able to fly Cirrus aircraft to these events and build up their hours.
In February it is organising a five-day, four-night all-inclusive trip to Austria, taking in skiing, mountain gliding and glacier flying, finishing with a visit to Salzburg and lunch at the Hangar 7 home of Red Bull Racing. A small event in Northern Ireland had to cancelled in October (owing to Covid-19) but Philippe is keen to put on regular lifestyle trips in 2021.
Other excursions planned include a trip to Bordeaux in an eight-bedroom country chateau with a sommelier for two days' wine tasting and fine cuisine. "This will be something our clients can look forward to after months of lockdown and disruption," Philippe concludes.
Philippe started his Cirrus flight training business in 2018, following several years with Cirrus Aircraft in their sales team. Having grown up in several countries around the world, he flew solo aged 16 in France, and quickly fell in love with flying. He has spent many years instructing international students from the US and the UK and has led aircraft sales strategies across Europe. He also draws on a background in business consulting with large industrial firms, inside and outside of aviation. @pilotpolman