Germany:

Berlin Brandenburg opens . . . and new commercial airlines wait in the wings.

By Chloë Greenbank.
Nearly a decade behind its original schedule and an impressive €4bn over budget, Germany's Berlin Brandenburg Willy Brandt Airport finally opened at the end of October.
Originally billed as a major hub airport to rival the likes of Frankfurt, London Heathrow and Paris Charles de Gaulle, the airport's opening was marked by the arrival of easyJet and Lufthansa. Alongside Ryanair the three low-cost carriers currently dominate the airline services offered by the German gateway.
However, Engelbert Lütke Daldrup, CEO, Flughafen Berlin Brandenburg, remains optimistic for the airport's future, saying: "We want to make a contribution to boost the local economy following the COVID-19 pandemic. We will work hard to boost connectivity by attracting new carriers and increasing services from the airport."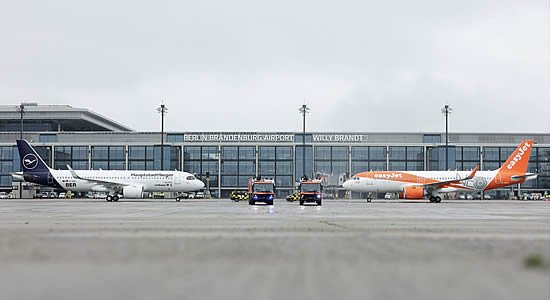 Going against the grain and opening amid a global aviation downturn might seem like madness to some, but Berlin Brandenburg is not alone in believing that the show must go on.
South African start-up carrier Lift is preparing to launch domestic flights next month. The airline is the brainchild of Kulula founder, Gidon Novick, and airline leasing company, Global Aviation. According to one report as well as offering a flexible booking option for passengers Lift will also offer wine tasting on board.
Green Africa Airways, is another African carrier (based in Nigeria] that is planning on launching in the coming months. Its website states the airline is "taking off soon" and the team is "busy building a brand-new value airline for Nigeria and the entire African continent." However firm details of when and where the airline will fly are yet to be announced.
Meanwhile, flypop, the UK's only international long-haul low-cost airline start-up, which plans to launch in 2021 with scheduled flights to India, recently announced significant investment from the UK Government's Future Fund. The carrier now plans to begin negotiating low-cost airport deals in both the UK and India and will continue discussions with aircraft manufacturers to secure the best deals which will ensure it can keep passenger fares low.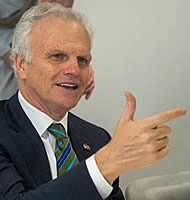 Over in the US, Breeze Airways is another new airline scheduled to take off in 2021. The brainchild of David Neeleman, who launched JetBlue 20 years ago,
Breeze will target mid-sized US city pairs that don't currently have nonstop service. "We brought humanity back to the airline industry with JetBlue," Neeleman said. This new venture, he pledges, will be "the World's Nicest Airline."

David Neeleman's Breeze Airlines plans to fly E-190 and Airbus A220 aircraft.

---
Chloë

Greenbank wrote her first airline magazine nearly two decades ago and has been immersed in aviation magazines ever since. She is a highly experienced editor and reporter who has worked for over a decade in the publishing sector specialising in the global aerospace industry. As senior editor at one of the world's leading travel media companies, Ink, she was tasked with launching and overseeing various titles including two inflight magazines for Brussels Airlines. With a solid understanding of the inflight market, she has also contributed to magazines for airlines including easyJet, MyTravel, Thomas Cook, Virgin Express, Ryanair, British Mediterranean Airways, Air Burkina and Korongo Airlines.
In 2017 Chloe moved over to the B2B publishing industry when she joined HMG Aerospace for whom she edits Regional Gateway and contributes to a number of titles including LARA and Inflight. She also contributes to the Times Aerospace Group's African Aerospace. Having strengthened her knowledge and understanding behind the global aviation community Chloe has been a working journalist on the Emerald Media team since early 2018, primarily supporting its client Air bp.
---