United Kingdom:

A more resilient industry than ever!

Chloë Greenbank, Regional Gateway Editor reports from AOA's virtual AGM.
"The aviation industry might be experiencing its darkest hour, but there is hope."
That was the message from the UK Transport Secretary, Grant Shapps, who delivered a pre-recorded keynote speech at the Airport Operator Association's (AOA's) AGM on Monday 9 November.
He added that, "The safe and sustainable return of international air travel depends on us getting rid of the virus, but that aviation will recover and it will be a more resilient industry than ever before."
Despite the UK being in its second lockdown with a ban on all non-essential travel including flights, Shapps stated: "We now know more about the virus than previously, including how it spreads and how to protect the health of passengers and staff in airports."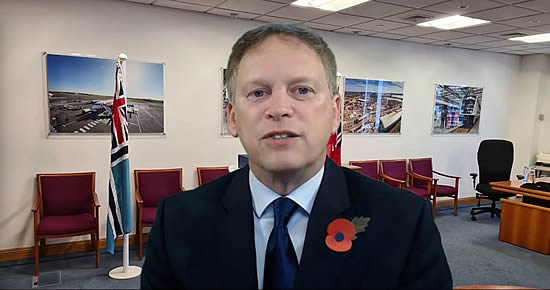 UK Transport Secretary, Grant Shapps gives keynote speech at AOA's AGM.
He also indicated that with a greater understanding of testing, the Global Travel Taskforce has made good progress on a 'test to release' programme that is expected to be launched when the UK exits the current lockdown on 2 December.
"The primary solution has to be getting passenger flying again safely ideally through a vaccine, but before then through effective testing," Shapps said.
Meanwhile, with the end of the Brexit transition period looming Shapps acknowledged that significant differences do remain between the UK and the EU, but that talks are ongoing and the UK Government is "determined to get a deal . . . We are committed to ensuring flights between the UK and Europe can continue to operate safely and efficiently."
He wrapped up his keynote speech recognising what airports across the UK have had to endure this last year and how they've rallied in recent months. "The way you've responded has been extraordinary - providing a safe environment, moving goods safely and adapting to difficult circumstances. I pay tribute to you all," he concluded.
More support needed
Also referencing the critical role that the UK's regional airports play both in the country's economic recovery and in providing regions with a sense of pride, Jim McMahon, Shadow Secretary of State for Transport, argued that the government needs to do more. "There is no strategy for our regional and sub-regional airports to ensure they will receive the support they need," he said. "Government must do more to support these vital hubs." He also underlined that there hasn't been enough cross-governmental support between European countries as he stated: "Frankly, the UK Government has been too late in coming to the table on this and leading the way especially for airports."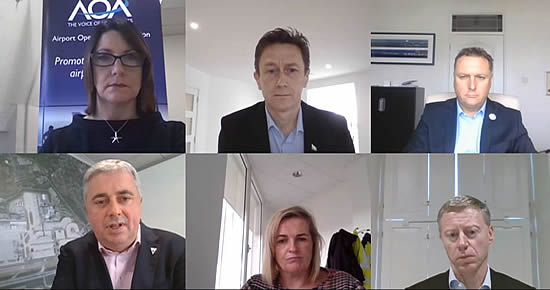 Karen Smart, Managing Director at Manchester Airport agreed that not enough support is being offered to airports. As a result of the current lockdown and the subsequent scaling back or cancellation of airline services the gateway to the North West of England has temporarily moved all its operations into one terminal. "Airports are high-cost businesses," she said. "You can't just furlough staff, shut the doors and say costs have gone away. But our government has failed to recognise that and provide adequate support," she added highlighting the financial support being offered to supermarkets despite them remaining open and busy throughout the year. She argued that lower aviation taxes, a temporary reduction in APD and financial support are all desperately needed to keep UK airports afloat.
Robert Sinclair, London City Airport's CEO described the current quarantine restrictions as "a patchwork quilt of travel restrictions that are crippling the industry." However, he was also cautiously optimistic about the future, saying: "Demand is there for air travel - we saw that in July when travel restrictions were relaxed . . . But harmonised departure protocols must be put in place."
Alongside his fellow panellists Sinclair declared that although they have been an absolute last resort, job losses as a result of the global pandemic have been, "One of the most devastating measures affecting people's lives and livelihoods." He added, "In many cases we're talking about a significant number of skilled staff that it will be difficult to replace."
Building back better
Picking up on Shapps' reference to the UK building back better and leading the way for sustainable air travel, Gatwick Airport's CEO, Stewart Wingate, said he wanted to "see increased production and supply of sustainable aviation fuel, and we want to work alongside government in developing clear strategies for the use of hydrogen and electric technologies."
Derek Provan, CEO at AGS Airport Group (which owns Aberdeen, Glasgow and Southampton airports) agreed that looking forward, "I believe the industry will grow and build back better. That's what aviation does - the world gets smaller every day and the need to travel increases every day."
Provan also referenced the need to learn from the challenges of this year, a sentiment echoed by the UK CAA's Director of Safety and Airspace Regulation, Rob Bishton. "How do we avoid condemning the industry to the same challenges next year as it's undergone this year?" he asked, underlining the urgent need to implement effective pre-departure testing and the need for government to listen to industry leaders and heed their advice.
Resilience and optimism - Stewart Wingate
Wrapping up the airport panel discussion, Wingate determined that as much as this year has been about battening down the hatches to survive the storm, it's also been about resilience and optimism. He concluded: "The UK has been leading the aviation sector for decades. Now we just need to all pull together to ensure that remains the case in the decades to come!"

---
Chloë

Greenbank wrote her first airline magazine nearly two decades ago and has been immersed in aviation magazines ever since. She is a highly experienced editor and reporter who has worked for over a decade in the publishing sector specialising in the global aerospace industry. As senior editor at one of the world's leading travel media companies, Ink, she was tasked with launching and overseeing various titles including two inflight magazines for Brussels Airlines. With a solid understanding of the inflight market, she has also contributed to magazines for airlines including easyJet, MyTravel, Thomas Cook, Virgin Express, Ryanair, British Mediterranean Airways, Air Burkina and Korongo Airlines.
In 2017 Chloe moved over to the B2B publishing industry when she joined HMG Aerospace for whom she edits Regional Gateway and contributes to a number of titles including LARA and Inflight. She also contributes to the Times Aerospace Group's African Aerospace. Having strengthened her knowledge and understanding behind the global aviation community Chloe has been a working journalist on the Emerald Media team since early 2018, primarily supporting its client Air bp.
---