Sylvie Peron

Alison Chambers speaks with the doyenne of business aviation Sylvie Peron about the big shift to digital, how much she misses valuable networking parties and her fears for business in aviation in France.
How have you been managing during the pandemic professionally and personally?
I live on the French Riviera - up in the hills in Fayence between Cannes and St Tropez, a very scenic area, well known for its gliding. I've been working from home for over 10 years so on that side no real change.
Positively, I have found industry leaders much more accessible. Many are working from home too and we chat on Zoom or Teams. Various webinars and town halls keep me up to date with news and developments. The Ultimate Jet team is especially busy with an emphasis on digital right now. Editor Fred Vergneres has significantly upped our social presence too. It was disappointing that EBACE and NBAA were cancelled. And I do fear deeply for the magazine industry if these shows don't return early into 2021. Business aviation will survive for sure, but publications rely on advertising and sponsorships.
Alas, as of two weeks ago, France is now in the dark red zone so we have to be super careful. I have asthma so that's an added concern. I go to the shops and the market, but that's about it. I really miss going out with friends or friends visiting us, as they used to regularly.
Covering aviation stories these past ffew months, who has stood out for you?
Without hesitation, Steve Kelly and Robert Bourke at Global AVX in Dublin. They have an exciting new venture introducing business aircraft auctions online.
This is a brand new concept and I think the timing is exceptional. Prospective aircraft buyers are confined to home, working off their laptops. I think they will enjoy the experience. It will be exciting to watch when the first auction of a 1997 Citation Ultra goes live on November 12 and 13.
My view is that HNWIs spend an incredible amount of money on art. This is a new resilient way of marketing aircraft which Global AVX have sourced from lessors, liquidators, receivers and other sellers.
I am also following activity in sustainable aviation fuel and green initiatives moving apace. I have listened to online sessions and just wrote a story about Air bp and Neste bringing SAF into Scandinavian airports.
Other heroes are the pioneers of eVTOL and urban air mobility projects which are really ramping up. Covid-19 has become a perfect storm for them. Aerion, too, the first supersonic business aviation programme, has just broken ground on its new Melbourne, FL campus. The space coast in Melbourne is a smart HQ choice with a lot of knowledge and experts there. It's close to the Atlantic, meaning flight testing is unhindered. They have an energetic new marketing team, but Technology Officer Dr Richard Tracy, is as active as ever on the programme. AMAC Aerospace in Basel have been resilient, turning their attention to MRO work. Business aviation owners and operators are not flying so much and using the down time to have their aircraft checked over.
What have you missed the most during this time?
A real disappointment was missing the opportunity to go on a flight of the newly fitted out Acropolis Aviation ACJ320. I met Acropolis CEO Jonathan Bousfield in Farnborough in January and discussed the plan, which had the approval of the owner. I planned to do a big interview with designer Yves Pickardt at Alberto Pinto. Then Covid came along and I didn't even get to see the aircraft at its planned EBACE debut.
What are you working on at the moment?
I'm doing a profile feature on Anne Devilliers, international sales director of Dassault for Great Britain, Ireland, the Balkans and Greece. I love promoting women in aviation and Anne is young, super bright and passionate about her work. Anne joined Dassault in 2003 in marketing in the US. By 2016 she was sales manager for pre owned Falcons and two years after that was sales manager for new aircraft. She follows in the footsteps of Anne Catani a pioneering business aircraft sales professional who retired a few years ago.
Do you think the Covid pandemic will help business aviation?
Clearly, business aviation has had a good run these past months - with repatriation flights, flying PPE equipment, medevac flights. Their performance has certainly eclipsed the commercial airlines who are all suffering. Yet, it is still an upward battle to shed that image of 'fat cat' privilege. A lot of education is still needed because only the business aviation community really understands how brilliant it is. In France, there is suspicion that if you have made a lot of money you obtained it through ill-gotten gains. Yet industrialists do business and entrepreneurs start new businesses and in order to develop they need to hire people. Dassault Falcon CEO Thierry Betbeze (he replaced Jean Rosanvallon after 23 years) is warning against a proposed new tax on business aviation that threatens to see passengers pay up to 2,400 Euros per person on a long range business jet charter. More education that business aviation accounts for just 0.4 per cent of aviation emissions is needed, in my view.
"The parties we had at Altitudes were legendary."
How is the landscape changing for journalism?
I took over Altitudes Magazine in September 2004 coinciding with the Monaco Yacht Show. It was my 'DNA baby' and I had the freedom, working under the guidance of Alexandre Lombard, to do anything with it. When the new Dubai owners came on board in January 2018 I moved to a freelance capacity but the commitment and passion for the title the previous owners had, wasn't shared. I resigned after six months. The title is no longer, sadly. It's very hard for magazines. Lack of shows and events have had a big effect on publishers' revenues. We just heard that MEBAA has been moved to February. Becoming digital means we can do so much more. While a glossy magazine is nice to flick through and put on a coffee table – you can do so much more with digital – e.g a multitude of photos and the ability to take a detailed look inside an aircraft. To PRs we ask, please, for high res photography, video.
What are you looking forward to when we are out of this?
I miss the great people we have in our industry. The parties we had at Altitudes were legendary. Not just the beautiful setting, canapés and champagne. They brought people together in a casual setting. A lot of business was done during those parties. Most prolific was GainJet instigating GainJet Ireland at one such party. I really hope we can have similar events in the future. They are greatly missed.
---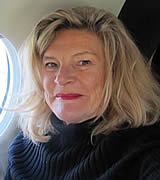 Sylvie Peron is Co-editor of Ultimate Jet and Helicopter Industry magazines.
Former Editor in Chief of Altitudes, a lifestyle magazine dedicated to business aviation founded in 2003 in Cannes, France, Sylvie joined the Ultimate Jet Media team in September 2019 as Co-editor of Ultimate Jet.
Grasse, France-born Sylvie holds a Master of Arts Degree from Emerson College, Boston, Mass, USA as well as a Master of Literature & American Civilization from Aix-en-Provence, France. She attended Milton Academy, (Mass, USA) and graduated with the class of '71. Living in Boston from 1978 to 1988, she interned at three TV stations (shooting a documentary at WBZ in the News department titled 'Behind the Scene in Television News') and was offered a position at CNN upon graduating from Emerson. She also co-founded Saint Botolph Associates Real Estate in 1984 In Boston, Ma.
In 2000 Sylvie became Editor in Chief of Yachting World France, in Cannes. She took over at Altitudes four years later.
---